How To Get Heavenly Design For Your New Season (My #1 Technique)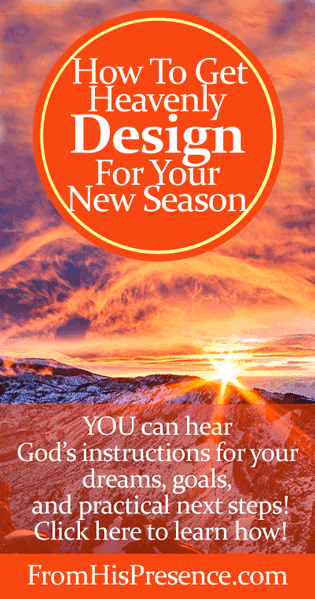 You've been tracking along with me in the last two posts (Heavenly Downloads For Your New Season and Heavenly Directives For Your New Season) in this series about the change in spiritual seasons. Now, it's time for what everybody wants to know: HOW to get God's vision for your new season and the practical next steps He wants you to take.
So today, I'm going to share with you my #1 technique for how to hear God for the next season of your life. I'm also going to make something available to you that I've never offered before. It's something I made especially for my personal mentees, and I've never offered it to anyone else before.
First, let's talk about how to get God's vision for your new season, practically:
THE #1 way to get God's vision for your life is to go on a vision retreat.
What is a vision retreat? A vision retreat is simply getting alone with God and being ready to receive. It can happen anywhere:
In your spare bedroom;
In your study;
In a cabin in the woods;
In a tent; or anywhere else you can be alone!
Your vision retreat doesn't have to cost money. It doesn't have to be fancy, and it doesn't have to be long. It doesn't even have to happen all at once.
Here are some examples of vision retreats I have taken, personally:
A couple of years ago, in November and December–my vision retreat happened over the course of two totally separate weekends. In November, I got alone with God while I was on vacation, and He began to talk to me about next year.
Then in December, I was in my bedroom, when the Holy Spirit whispered to me that I should get my planner out because He was ready to download for my next season. I did, and He unloaded.
In 2012, I went on a vision retreat at Cades Cove, Great Smoky Mountains National Park. My husband and I stayed in a tent, and while he went sightseeing, I had an hour or two alone with God. It was at that time that God called me to build this blog.
A couple of years ago, I took an entire New Year's Day to hear God and get organized for my new year. It set the tone for my whole year, and helped me feel rested, refreshed, invigorated, and READY for everything God had for me.
I also took two of my mentees on a vision retreat awhile back:
We went to a cabin in the woods. We laughed together, ate a lot, and talked about God and His purpose for their lives.
We had so much fun that we didn't get anywhere near finished, so we're continuing to have our vision talks on an ongoing basis as God continues to download to them about their next seasons.
So anyone can go on a vision retreat. This means YOU can. Here's how:
1. Think of a place you can be alone with God.
It may be a cabin. It may be your bedroom. It may be locked in your bathroom with the fan turned on high, so you can't hear your family making noise. It doesn't matter where it is! God can speak to you in a fancy hotel or in your bathtub. Just find a spot where you can hear God. 🙂
2. Set aside a specific day and time.
Plan it. Plan it today, or tomorrow, or this weekend. Remove all hindrances and distractions for that time! If you wait for "someday" or "maybe" to go on your vision retreat, chances are it won't happen. Do it now!
3. Take your Bible, your planner, some goal forms you like, and your journal.
And pens and highlighter and everything else you use when you study the Word and pray. 🙂
4. Begin with normal quiet time with God. 
Pray and get in the Word. Ask God to draw you close to Him. Worship awhile. Ask the Holy Spirit to speak to you about your next season.
5. Then, when you feel Him starting to lean on you to pick up your journal and/or planner, etc, that's your cue. He's ready to download.
Listen! Write down what you hear–even if it feels outrageous or impossible!
Listen to spontaneous ideas. Pay attention to deep desires that suddenly arise (an urge to become something or do something). Then begin to pray about the things you hear.
Ask God if this is really Him. If you have peace about something, and if it produces the fruit of the Spirit in you, then it's likely Him!
6. Then ask God what the next steps would be. 
Break things down into baby steps. Write down the baby steps. Examples of baby steps could be:
Pick up an application for that job you want to apply for;
Start to go to bed earlier so you'll feel better in the morning;
Purchase healthy groceries if you want to get fit this year; etc.
7. Then make specific goals, with deadlines, for each step.
Make one-week, one-month, and 12-month goals. Your goals are where the rubber meets the road; where faith meets action. Your goals, empowered and inspired by the Holy Spirit, are what make your new season happen.
A vision retreat is easy. It can be of any length. It can be totally free. The only thing that matters is that you are alone with God and ready to receive. If you will get alone with God and get His action plan for your next season, everything can change. Your life can look totally different in one month, one year, or five years.
And I have something special that is going to help you:
I wrote a vision retreat handbook for my personal mentees. Trust me, I love these guys, so I poured my heart and soul and everything else I've got into this handbook for them. And the Holy Spirit sat down on me powerfully to write it with these insane bursts of inspiration.
This handbook, called "Arise Shine," takes every part of a vision retreat and breaks it down step-by-step. It includes all the forms, all the activities, all the teaching you'll need, plus more.
I will have a special, limited-time offer of "Arise Shine" for you tomorrow, AFTER I share all the FAQs you sent me (that you would ask if you heard God tell you He's bringing you into a new season).
So stay tuned! Your questions were amazing, and I'm believing God to bless you with them as He brings you into YOUR new season!
In the meantime, what questions do you have about taking a personal vision retreat? Please leave a comment below!
Related: Read all 5 posts in the New Seasons series!
1. Heavenly Downloads For YOUR New Season: Here's how to discern when the seasons are shifting, and how to hear God's downloads for your new thing!
2. Heavenly Directives For Your New Season: A heavenly directive is a specific instruction from God that unveils His strategy for your next season. When God downloads His heavenly directives into you, you can pray and move into His strategic plan as He opens doors–and you can start preparing those doors to open. Here are the three kinds of directives God will give you, and how to act on each of them.
3. How To Get Heavenly Design For Your New Season (My #1 Technique): Do this to get a very clear picture of what God's design for your next season is. 'Nuff said.
4. Answering 19 Reader FAQs About Entering Your New Season, plus a special offer of mentoring material I wrote for my personal spiritual sons and daughters (that I've never released to anyone else before). This post is the most in-depth question and answer posts you'll find about new seasons. HUGE amount of encouragement and helpful information.
5. No Need To Fear Your New Season (My Story About A Season That Hurt): One of the questions submitted by a reader was, "What if my new season hurts?" In this post, I share from my personal, heartrending experience why you don't have to be afraid… because even the seasons that hurt will only promote you.
Are you ready for your new season? God is! Read these posts, get my mentoring material, and get alone with God to get His design for YOUR new day!
Image courtesy of Michael Bolognesi on Flickr via Creative Commons license. Image has been edited and the text and graphics have been added.