Heavenly Downloads For YOUR New Season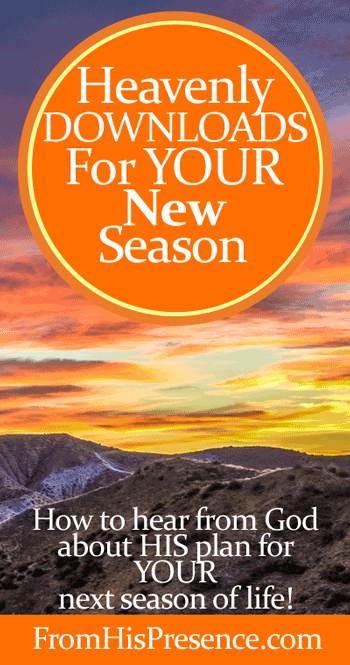 The spiritual season is shifting. Right now in the Body of Christ, we are in a kairos moment: a choice moment, pregnant with opportunity and a new day.
Today's post is the first in a week-long series of posts about how to receive all of God's heavenly downloads for your new season. Just to tease you, here's a look at what's ahead:
I pray that God will use it to bless you mightily, and also to transform everything in your life that needs to be transformed.
Also, as I talk with you about this, I pray that you will see the Father's bigness and love, as well as His watchcare over your life. I want you to see that FULLNESS of everything He has is your portion—both in this life AND in the age to come.
Learning how to receive God's heavenly downloads can change everything.
But first things first. Let's start at the very beginning.
Why should you care that the spiritual season is shifting? Why does it matter?
It matters because God works in times and seasons. When the seasons shift, it means it's time for a new thing in your life. And the shifting of seasons does not have to be a surprise. God's new work doesn't have to be a secret. As a matter of fact, God wants to tell you all about it IN ADVANCE.
Yes, you read that correctly. God wants to tell YOU all about what He is doing, in advance.
Did you know there's actually a specific anointing (also called a gifting) God gives that empowers you to discern the changing of times and seasons, to know what God is doing and how you ought to respond? It's true. That gifting is commonly called the anointing of the sons of Issachar.
The anointing of the sons of Issachar is a special gift God originally gave to the Israelite tribe of Issachar (1 Chronicles 12:32). It was the ability to discern the times and the seasons, and to know what their whole nation ought to do and when they should do it.
To put it simply, the anointing of the sons of Issachar empowered this tribe of Israel to discern political and spiritual time as well as chronological time:
They could tell when one leader was rising and another falling.
They could tell what God was doing before He did it.
They studied the stars and called the nation together for their holy worship festivals when the moon stars aligned (literally).
When divine strategy was needed, they knew what the whole nation ought to do. They had influence, because the whole nation waited for (and took) their advice.
You can read more about these bad boys and girls here: Radical Prayer #4: The Anointing of the Sons of Issachar.
And the cool thing is, you can have this anointing that God gave the tribe of Issachar. All you have to do is ask for it.
Ready to ask? Pray this with me:
Heavenly Father, I come to You in Jesus' name. Your Word says You are no respecter of persons; you give to all of your children who ask. You will not withhold any good thing from those who walk uprightly.

Father, I know that the gift You gave the tribe of Issachar is a good thing. Being able to discern what You are doing and when You're doing it is a good thing. Knowing what You're doing in my life and when is a good thing. And I desire to have that ability, Father.

So Father, in the name of Jesus, I ask right now that You would give me the anointing of the sons of Issachar. Give me the ability to discern the times and seasons, to know what I ought to do. As my character and influence grow, help me to know what others ought to do whom You call me to lead.

Father, You said that if we ask anything, believing, we shall receive. I'm asking this in Jesus' name, and I believe that You hear me and are answering me. So I thank You for this gift of the anointing of the sons of Issachar. Please teach me how to use it, and may I always use it for Your glory. Thank You so much for this beautiful, wonderful gift.

In Jesus' name. Amen."
A couple of personal stories:
I began to pray for the anointing of the sons of Issachar shortly after I met Jesus. God always answers that prayer, and He definitely did for me! The more diligent I am to pay attention, the more He has shown me what He's doing in various times and seasons.
I could tell you many stories, but we don't have time here. However, a couple of fun examples are:
1. A couple of years ago, I carried out a big new idea at a special event. It was a huge victory, and it led me into some new relationships.
I wanted to keep building on the success of that event, but God told me very specifically not to take on anything else because something was about to happen. I had no idea what would happen, but I strongly felt that I needed to wait just a bit and see.
Sure enough. About two months later, I got an invitation to minister in a new way that has set me up for huge discipleship and teaching opportunities on an ongoing basis. If I had taken on anything else during that new season, I would not have been able to take advantage of the new door God opened for me.
2. On Memorial Day weekend one year, I took a team to work at our local tattoo convention, giving free tattoo and dream interpretations. We experienced a huge, CRUSHING victory. It was amazing. God really moved, and we were able to hug, encourage, and bless many people.
At the end of the weekend, I was tired. I drove home Sunday night, pulled the car in the garage, and walked into my home. I was NOT thinking about anything particularly spiritual; my mind was really just on my need for sleep and food.
However, when I walked into my kitchen, I very clearly felt the spiritual season shift, and I heard the Holy Spirit tell me also that the season had just changed.
(By the way: I've had people ask me what it feels like to physically feel the seasons change. The only way I can explain it is: Remember the old TV show called "Quantum Leap"? Remember how the hero or the guy with the calculator would be in one place and time, then he would step through almost like a portal in time—as if he were stepping through a tear in fabric—and he'd suddenly be in another place and time? The shifting of the seasons feels just like that. That's the best way I can describe it. For what it's worth.)
But back to my story. I heard God tell me the season had shifted and I felt it change as well. I got really excited when that happened. Because of the huge victory in ministry I had just seen, I thought and hoped that the new season would be a season of even greater victory.
Well, in a couple of days, something dramatic happened and then God told me exactly what the new season was. It wasn't exactly what I had thought it would be, but it turned out even better. (I'm going to tell you more about that story later on this week—so check back—you're going to want to know that because it has very significant information for you. 🙂 Nothing like a little anticipation, right?) 😉
But one cool thing that I will tell you about that Memorial Day weekend is that shortly thereafter, Doug Addison (a prophet very well-known for his ability to discern times and seasons) came out with a prophetic word announcing that the spiritual season had shifted on that Memorial Day weekend. I was ecstatic when I read that – not only because of all the specific information he had in his word, but also because it was such an encouraging confirmation! (Thank You, Jesus!)
So God is helping me to notice times and seasons, but it has all been strictly in answer to prayer. Nobody ever imparted it to me (that I know of). Nobody ever taught me a three-point lesson about it. I simply heard about it and asked God for it.
That's how I know He will do it for you too, if you ask! The same way I have felt the seasons changing and have heard God tell me that He was doing a new thing (and what He was doing), YOU can hear Him tell you about the new season of your life too.
What exactly does God want to talk to you about during this next season?
Well, everything. I'll talk about very specific things in tomorrow's post, but for now, know this:
You're His beloved child. He wants to affirm you.
You're His student. He wants to teach you.
You are growing. God wants to talk to you about your growth, and about how He desires for you to continue to grow (and in what areas).
You have a dream. God wants to talk to you about your dream.
But most importantly, God has a dream for you.
God's dream for you is called your destiny, and it was ordained for you before the foundation of the world. Ephesians 1:4 tells us that God chose us in Christ before the foundation of the world. Ephesians 2:10 gets even more specific:
For we are His workmanship, created in Christ Jesus for good works, which God prepared beforehand that we should walk in them."
All the good works that God created you to do were prepared beforehand for you.
What does "beforehand" mean? Well, according to Hebrews 4:3:
… the works were finished from the foundation of the world."
The good works that God wants you to do in your life were prepared and finished for you from the foundation of the world! Can you believe it? That right there should rock your world.
Maybe that's why Psalm 139:16 says:
Your eyes saw my substance, being yet unformed. And in Your book they all were written, the days fashioned for me, when as yet there were none of them."
Related: You Existed In Heaven Before Your Birth
So the point is, in this new season, God is doing a new thing in your life. He knows exactly what it is. It's already finished, and He wants to tell you about it and manifest the next part of your destiny in your life. He won't tell you everything at once. But He will tell you a lot, and He'll keep on telling you more and more as the days go on.
What is the advantage of knowing what God is doing and when He is doing it?
It's not useless information. It's actually very key, strategic information if you want to move forward with God and go all in with His plan for your life.
Here's why you want to know:
You want to know what God is doing so you can get on board with what He is doing.
If you know what God is doing in your life, you can flow with it even if it's uncomfortable at first. You can flow with it because He told you in advance what to expect, even in general terms; so when it happens, you can recognize it; and then you can go all-in and obey Him, following Him in it.
On the other hand, if you don't know what He's doing in this new season, you're easily distracted. You don't know what's from God and what's you. That leaves you ripe for the enemy to come in and sidetrack you, which just makes things take longer than they should.
Teaser: One of the questions that you emailed me (when I asked for your top two questions about new seasons) was: How can I accelerate this new season? Read the answer to that question here.
So can YOU hear God's downloads for your new season? Yes, absolutely!
I've heard some people try to teach others that you might not hear all the time. That He might not be talking.
That theory sounds good and comforting. It makes room for our doubt and unbelief. However, the theory that you might not hear God or that He might not be talking is simply not Biblical.
How you can know that He's talking:
God's name is THE WORD (John chapter 1). "The Word" is WHO He is. It's His very nature to communicate, even when that communication involves only staring at Jesus.
God's name is The Word. He always has something to say. If you have no faith in Who He is, you might discourage yourself from paying attention to what He is saying, but that doesn't change the fact that He is ALWAYS talking.
How you can know that YOU, too, can hear Him:
You can know that you hear God because Jesus said so. In John 10, over and over Jesus said that His sheep hear His voice, and they know Him, and they follow Him.
For example, look at John 10:27-29:
My sheep hear My voice, and I know them, and they follow Me.

And I give them eternal life, and they shall never perish; neither shall anyone snatch them out of My hand.

My Father, who has given them to Me, is greater than all; and no one is able to snatch them out of My Father's hand."
Saying anything other than what Jesus said is simply not Biblical. Don't let people tell you that you can't or don't hear God speak. Yes, you hear Him.
Even though you may you mess up and sin sometimes, you still hear Him. Like the rest of us, you may not always choose to obey what you hear

… but you DO hear Him! Jesus said so!
(Can you see the bigness and mercy of God here? He saved us; He gives us a repentant heart; He forgives our sins when we repent; He speaks to us; He causes us to hear… it's ALL about His work in our lives and our just receiving how awesome He is! Isn't that wonderful?)
So how do you know God will really tell you what He is doing?
Because the Bible says that God LOVES to tell you about new things before He does them.
Check out Isaiah 42:9:
Behold, the former things have come to pass, and new things I declare; before they spring forth I tell you of them."
And then there's Isaiah 43:18-19:
Do not remember the former things, nor consider the things of old. Behold, I will do a new thing, now it shall spring forth; shall you not know it? I will even make a road in the wilderness and rivers in the desert."
Related: Download our free worship album on Soundcloud here, in which my friends and I recorded some awesome prophetic worship. We sang through the passage from Isaiah 43, above, in song #8 (called "I Am Convinced").
But somebody may be thinking inside, "What if this new thing in my life is something God doesn't want to talk about?"
I can understand the thought process behind that question, but rest assured that you don't have to worry about that. He DOES want to talk to you about it. We know this because Amos 3:7-8 tells us:
Surely the Lord God does nothing, unless He reveals His secret to His servants the prophets.

A lion has roared! Who will not fear? The Lord God has spoken! Who can but prophesy?"
When God speaks, you WILL hear and prophesy! ("Prophesying" simply means "saying what He says.") And God does NOTHING without first revealing His secrets. So there is NO THING that He wants to do that He does not want to tell you about first. Nothing. Not one thing. So whatever He wants to do in your life in this new season, He DOES want to talk to you about.
Somebody else may think: "Hearing God like that is just for prophets. I am not a prophet and I don't have the gift of prophecy at all."
Ahhh, prophecy. Let's talk about that for a minute.
Prophecy is the supernatural gifting to hear God and say what He says. And even if you don't occupy the office of a prophet in your church, God has called all of His people to hear His voice and prophesy, so the principle is still the same.
That principle is this: God is powerful enough that when He speaks, He makes sure you hear. And regarding the gift of prophecy, you can have it if you want it. (And I strongly recommend that you want it!)
How can you have the gift of prophecy?
We know you can have this gift because the apostle Paul told us in 1 Corinthians 12:31 that we should earnestly desire the best spiritual gifts. Furthermore, the whole chapter of 1 Corinthians 14 tells us that we should especially desire to prophesy, above all the other spiritual gifts; and that if we pray for specific spiritual gifts (e.g. the gift of interpretation to go along with the gift of tongues), God will give them to us.
So if you don't have the gift of prophecy yet, ask God for it. He will give it to you! God is not holding back any good thing from you. Psalm 84:11 says so:
For the Lord God is a sun and shield; the Lord will give grace and glory; no good thing will He withhold from those who walk uprightly."
Even after those proofs, do you still wonder if the gift of prophecy can truly be yours?
Let me put it this way: Jesus was a prophet, wouldn't you agree? He had the gift of prophecy. He operated in both prophecy and words of knowledge all the time. (Prophecy is forth-telling what will happen in the future. A word of knowledge is when the Holy Spirit whispers something in your ear about someone or something that you wouldn't otherwise know.)
Jesus operated in these gifts. And that right there is the ultimate reassurance, because we are to become like Jesus:
Jesus operated in prophecy; we need to operate in prophecy.
Jesus healed the sick; we need to heal the sick.
Jesus raised the dead; we must raise the dead.
Can we do it alone? No; the power to do these things belongs to God. However, we are not alone; God is in us!
If you have a personal relationship with Jesus Christ and have made Him the Boss of your life, the Holy Spirit and Jesus dwell in you. And Jesus said that the Holy Spirit would take of what is His and transmit these things to us. Check out Jesus' exact words:
However, when He, the Spirit of truth, has come, He will guide you into all truth; for He will not speak on His own authority, but whatever He hears He will speak; and He will tell you things to come.

He will glorify Me, for He will take of what is Mine and declare it to you. All things that the Father has are Mine. Therefore I said that He will take of Mine and declare it to you" (John 16:13-15).
Everything that Jesus has is ours. That includes:
His heart;
His power;
His gifts;
His anointing;
His love;
His mind; and more.
It also includes the gift of prophecy. And until the complete and perfect has come and we are all in Heaven with Him, we need the gift of prophecy!
So how do you obtain the gift of prophecy?
Ask God for it in faith, acknowledging to Him that His Word says you should be operating in this gift.
Claim His promise that He will give us every good thing, and will not withhold any good thing from us.
Thank Him for hearing and answering your prayer, and for giving you the gift of prophecy.
Then ask Him to start revealing things to you about your life!
(By the way: many fathers in ministry say it takes 10-20 years to hone the gift of prophecy to use it in all its true capacity. So after you ask God for it, I would recommend you look for Him to tell you things about yourself and what He wants to do with your own life—NOT other people's lives. Then start to develop it and learn how to use it by learning everything you can from reputable prophetic people like Kris Vallotton, John Paul Jackson, and Mark and Patti Virkler.
After reading all this, can you see how BIG God is? Can you feel His Spirit wooing you?
God has given you His Word that He will talk to you and guide you. The Holy Spirit is speaking God's Word to you even now. You ARE hearing His voice, and you know Him, and you WILL follow Him.
Our Father is such a huge God. He's big and beautiful and all-powerful, and by saying that NO MAN can snatch you out of His hand, He's giving you His reassurance that HE is in charge and HE will perfect you. Like it says in Philippians 1:6:
being confident of this very thing, that He who has begun a good work in you will complete it until the day of Jesus Christ…."
God has a plan for your life, and He's giving you His Word that He will bring it to pass. He's giving you an insurance policy, and that insurance policy is HIMSELF.
No man can snatch you out of God's hand. As long as you are of His sheep, You do hear His voice, and you do know Him, and you WILL follow Him. That is your portion if you have made Jesus Christ the Boss of your life.
God desires to talk to you about your new season right now. He desires to download secrets from Heaven; new revelation and understanding; practical direction; and bring you into new levels of intimacy with Himself.
And most importantly of all, no matter what new thing He's going to do in your life in this new season, it's first and foremost going to bring you closer to your eternal destiny, which is to become just like Jesus.
What's the next step?
The next post in the series is about the kind of directives I believe God is downloading right now. The post after that contains the specifics about how to get alone with God and hear these directives for yourself. Then after that, we talk about the FAQs that you sent me.
But for now, I'd love for us to have a conversation about the material above. What are your thoughts about this subject? Are you ready to ask God to speak to you? Do you believe you can hear Him? Please leave a comment below and share your thoughts!
Image courtesy of Jeff Turner on Flickr via Creative Commons license.