To Hell With Redemptive Suffering!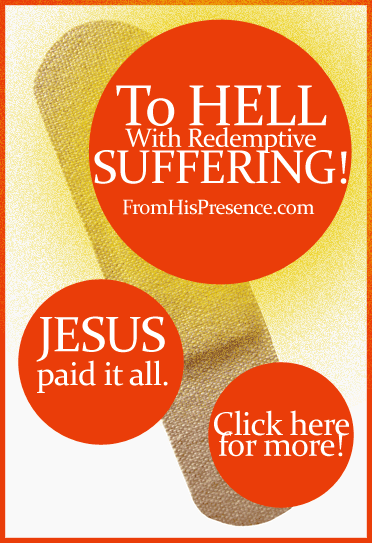 To hell with redemptive suffering!
I probably just offended all the religious people by saying that. Now that only the truly interested people are still reading, let me tell you why I made such a shocking statement!
Have you ever heard of redemptive suffering? I have heard people adopt this theory many times, but I never knew what it was called until recently. Now I do. "Redemptive suffering" is the mindset that God wants you to be sick or in pain so that He can use you or teach you something.
Redemptive suffering is a lie and belongs in hell with the enemy and his angels, and THAT is why I say "to hell with redemptive suffering!"
Why redemptive suffering is a lie:
People that believe in redemptive suffering believe that GOD actually gave them their disease or pain. Yes, I have actually seen someone say, "God gave me a gift by giving me this disease!" Errrrrrrrr… (insert buzzer sound here). Wrong answer!
God cannot give anyone a disease, and He cannot give anyone aches and pains. Why? Because He doesn't have any diseases, aches, or pains to give.
God is perfect and holy in every way. He is the Author of perfection. Only perfect things proceed from the Father. By His very nature, He cannot be anything but Good. In Luke 18:19, Jesus stated this clearly:
So Jesus said to him, "Why do you call Me good? No one is good but One, that is, God."
The apostle James also wrote, in James 1:17:
Every good gift and every perfect gift is from above, and comes down from the Father of lights, with whom there is no variation or shadow of turning."
Our Heavenly Father gives good and perfect gifts. Good and perfect gifts are the only gifts He gives, too. There is no variation with Him. He never changes. He is Good, and only good things can proceed from Him.
The redemptive sufferer might then say: "Oh, but this disease is a good and perfect gift." No, it's not. How do I know? Because disease, by its very nature, means that something in your body is malfunctioning. God didn't make malfunctioning bodies. Psalm 139:14 tells us:
I will praise You, for I am fearfully and wonderfully made; marvelous are Your works, and that my soul knows very well."
When God made you, He did a wonderful job. He did such a good job, it's scary! He did a marvelous work by creating you. You functioned perfectly.
So where did those diseases, aches, and pains come from?
They came from the enemy, the devil. We know this because Jesus went about constantly healing the sick, the lame, the blind, the deaf, etc, and His entire purpose on earth was to destroy the works of the devil:
 He who sins is of the devil, for the devil has sinned from the beginning. For this purpose the Son of God was manifested, that He might destroy the works of the devil" (1 John 3:8).
Additionally, Scripture plainly tells us that sickness is from the devil. Acts 10:38 says:
how God anointed Jesus of Nazareth with the Holy Spirit and with power, who went about doing good and healing all who were oppressed by the devil, for God was with Him."
And Matthew 9:35 makes it clear that Jesus targeted EVERY sickness and disease among the people:
Then Jesus went about all the cities and villages, teaching in their synagogues, preaching the gospel of the kingdom, and healing every sickness and every disease among the people."
So what is the solution?
The stripes of Jesus are the solution. Isaiah 53:5 tells us that Jesus purchased our healing by taking an inhumane whipping:
But He was wounded for our transgressions, He was bruised for our iniquities; the chastisement for our peace was upon Him, and by His stripes we are healed."
Jesus Christ paid the price on Calvary for our complete and total healing.
He paid for it all. Listen to me: If there is any price left to be paid–if there is any inadequacy in Jesus' suffering–then God the Father is a horrible monster to have allowed His Son to suffer that way. It would have been for nothing: an ineffectual, weak, insufficient sacrifice–an impotent attempt at redeeming mankind and destroying the works of the devil.
But we do not hold a weak Gospel. We do not serve a weak Savior. We serve a God who is alive and full of power. We serve a Savior whose life, death, and resurrection paid the complete price for you and me to have total, complete forgiveness, healing, and restoration in our spirit, soul, and body.
THAT is the Gospel.
So how does this apply to you?
We have learned the following:
God made you perfectly healthy and perfectly whole when He created you. Your body functioned perfectly.
If you're sick, the malfunction in your body is a work of the devil.
Every single disease or malfunction is from the enemy. There is not one single exception.
Jesus came to destroy the works of the devil.
Jesus' stripes and blood paid the full price for your complete healing and restoration.
With all of that laid out, there is not much more to be said. The only thing yet to be done is to receive.
Sit back and ask the Holy Spirit to heal you. Receive the healing that Jesus bought for you in your mind, body, emotions, and spirit.
To hell with redemptive suffering! Jesus paid the total price for your healing. Will you believe and receive His healing today?