The Storehouses In Heaven Are Full!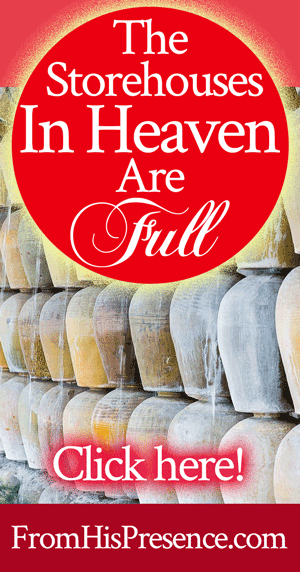 A few days ago, the Lord gave me probably the most powerful revelation about His provision that I've ever received. It's about the storehouses in Heaven. I acted on it immediately and saw immediate results. I want to share that revelation with you today, and I believe it will help you too.
The foundational Scripture for this word is Philippians 1:19-20.
Philippians 1:19-20 says:
For I know that this will turn out for my deliverance through your prayer and the supply of the Spirit of Jesus Christ, according to my earnest expectation and hope that in nothing I shall be ashamed, but with all boldness, as always, so now also Christ will be magnified in my body, whether by life or by death" (emphasis mine).
First, notice the word "supply."
When I read this verse, the word "supply" leaped off the page at me, and the Lord immediately began talking to me about it.
As a lactating mom to a new baby, the word "supply" is pretty important to me (and to my son). Among other things, "supply" is a breastfeeding term. English-speaking moms all over the world refer to the amount of mother's milk they have available as their "supply."
For those of you who may not be familiar with the feeding of babies, let me share a few key points that are essential to this revelation.
First:
Each mom's "supply" is very important.
If a mother has enough supply, she can feed her baby (or babies) with no problem. However, if she has what's called a "low supply"–meaning that her body doesn't produce enough milk for her child–then she is going to have problems.
The baby will scream if he or she is hungry due to mom's low supply.
The baby will have to nurse longer than otherwise necessary to fill his stomach, which is time-consuming and can be painful for mom.
Moms often face discouragement because of low supply. They can feel inadequate or helpless because they feel they aren't fulfilling what's often presented as a basic tenet of womanhood.
However, if a woman has low supply, there are lots of things she can try in order to increase her supply. For example, she can:
Use a breast pump;
Eat oatmeal;
Take certain herbal supplements;
Drink lots of water;
Drink sports drinks (such as Gatorade); and more.
For a woman, increasing her supply is very hard work.
It takes dedication over a long period of time. It also takes time spent each day pumping; and, it can cost a lot of money (to purchase the pump, sports drinks, herbal supplements, etc). You have to really, really want it if you're going to do all that work to increase your supply.
When I read Philippians 1:19 the other day, and saw Paul mention "the supply of the Spirit of Jesus Christ," I immediately thought of the word "supply" as a breastfeeding and/or provisioning term.
Why? Because God is El Shaddai: "The Many-Breasted One."
In Genesis 17:1, God revealed Himself to Abram as El Shaddai. (The word translated "Almighty" in English is actually "El Shaddai" in Hebrew.) El Shaddai means "The Many-Breasted One," and God revealed Himself to Abram as El Shaddai because Abram had been trying to provide for himself.
Abram had just conceded to Sarai's bright idea to have a child through a surrogate, her servant Hagar. That didn't work out very well for Sarai. Yes, technically, Abram got a child. But, the child–Ishmael–wasn't Sarai's child and Sarai got a lot of misery from her bad decision.
After those things happened, God appeared to Abram and revealed Himself as The Many-Breasted One. He then reassured Abram that yes, He was in fact still going to give Abram a child–but it would be Sarai's child. He changed their names to Abraham and Sarah, symbolizing their new start with GOD in charge as Provider.
And that's key.
The fact that God revealed Himself to Abraham as The Many-Breasted One in Genesis 17, PLUS the fact that He talks about the supply of the Spirit of Jesus Christ–in other words, Holy Spirit's supply–in Philippians 1, is HUGE.
Why?
Because Holy Spirit has an abundant supply, and He wants us to think of it that way.
Think about it. In this passage, Paul was saying that he would be okay in his situation because Holy Spirit would take care of him. That "taking care of him" requires resources. It requires power, love, compassion, and God's ability to hear and answer our prayers. It also requires physical provisions such as money, food, water, clothing, and more.
But you know what? These things are easy for Holy Spirit, because He's God. HE HIMSELF is not lacking in any way, so He is not short on resources.
Holy Spirit is NEVER short on resources! He has all the supply you need!
His supply is abundant. He has everything you need, and He never runs empty.
But you know what else makes this cool? Just this:
When a child is drawing on his mother's supply, the human breast makes milk on a supply-and-demand basis. The more milk that child drains out, the more milk they can get!
Did you hear that?????
You are a child of God! This applies to Y-O-U! And the more you drain out, the more you can get!
The more you drain out of God, the more you can get!
It's all about room to store things. In the human body, there are only a certain number of tiny milk storage units available to hold milk. As soon as those storehouses are drained, the body can and will make more milk for that baby.
Also, speed matters!
The faster a baby drains the milk from his or her mother, the faster her body will make more milk! It's supply-and-demand in every aspect! The more you drain out, the more you can get; and the faster you drain it, the faster you will receive more!
Why is that important? Because then God spoke to me that the storehouses of Heaven are full.
There are storehouses in Heaven holding the stuff we need, too. And the storehouses of Heaven are full.
First Corinthians 2:9 says:
But as it is written:

'Eye has not seen, nor ear heard, nor have entered into the heart of man the things which God has prepared for those who love Him.'"
God has prepared things for us. He has prepared things for YOU!
But how do you get those things? You have to drain them out of God's storehouse!
And in order to drain them out, you must create a place to put them. My son won't nurse if his tummy is too full. He can't; there's no place to keep the milk. And, if he even tries, he'll spit it right back up. There's simply no room in that little body.
So how do you create a place to put the new stuff you want to receive from God?
You give.
Here's how and why it works:
Wherever you are right now is ground level for you. Whether you're barely getting by or whether you're a multi-gazillionaire, your current state is your ground level. It limits what you can contain right now.
So, if you want to walk to a higher level, you need something that's going to take you higher than your current level.
You can never get higher than your current state by yourself. You always need a ladder to go higher. That ladder needs to be something that you can put in the hole you've dug at your current level. Then, it will need to grow for you. And when it grows, you can then climb it up out of the hole you made. You climb it up into a whole different level.
So what grows in holes and gets bigger than that hole? SEEDS!
A tree seed will fall in a hole and get a million times bigger than the hole it fell in. A flower seed will go higher than its hole too. Even a vegetable seed will grow higher.
Hey, even a mustard seed will grow higher. 🙂 🙂 🙂
So, if you want to go higher, you have to create a hole in that ground level. The hole is a place where something that you can climb up on will grow.
You create a hole in your current level by giving. When you give out of your substance, whether your substance is large or small–wherever your current level has you–you create a hole. You create a need; a space in your tummy for more milk.
And because God is good, He considers the giving you just did to be a seed. When you give, you both dig a hole AND fill it with a seed AT THE SAME TIME.
Second Corinthians 1:6-11 says:
But this I say: He who sows sparingly will also reap sparingly, and he who sows bountifully will also reap bountifully. So let each one give as he purposes in his heart, not grudgingly or of necessity; for God loves a cheerful giver.

And God is able to make all grace abound toward you, that you, always having all sufficiency in all things, may have an abundance for every good work. As it is written:

'He has dispersed abroad, He has given to the poor; His righteousness endures forever.'

Now may He who supplies seed to the sower, and bread for food, supply and multiply the seed you have sown and increase the fruits of your righteousness, while you are enriched in everything for all liberality, which causes thanksgiving through us to God."
When you give, the act of giving creates a hole in your "tummy" into which God's provision can flow.
And at the same time, God has sovereignly decided to call the act of giving a "seed" that He will then multiply back to you with more supply.
Stop and think about that. This is really, really big.
Remember the key principles:
God is The Many-Breasted One (El Shaddai).
His supply is ABUNDANT.
The more you drain out of Him, the more you can get!
The faster you drain it out, the faster your provision replenishes!
You have to create space in order to receive His gifts.
Giving creates that space.
And when you give, the gift you gave becomes a seed that multiples back to you over and over!
And beloveds, the storehouses of Heaven are full!
Father God has more provision than you can possibly handle right now! He wants to give it to you; He wants you to "nurse" at His breast!
But, in order for Him to get that provision into you, you've got to make room! You've got to give!
when you give, your gift both creates room AND becomes a seed! Your seed will then bring provision down out of the storehouses of Heaven. The storehouses of Heaven are full! Papa's supply is backed up, just waiting to flow out to you!
Do you see it???????
This is why Jesus said:
"Ask! And you shall receive!"
"Seek! And you will find."
"Knock! And the door shall be opened to you!"
"Give! And it shall be given to you. Pressed down, shaken together, and running over shall be put into your bosom"!
He said these things because He's trying to get you to see Father's provision that is available to you. He's trying to get you to draw on the Many-Breasted One. And He's trying to get you to make room!
The storehouses of Heaven are full! Papa is trying to empty His storehouses into YOUR life!
And beloveds, this works.
When the Lord showed me this principle, I acted on it right away. Here's what happened:
We have owned a small house lot for many years. We were planning to build a house on it, but we bought another house instead many years ago, and the land never sold. We tried and tried to sell that land and never could.
Well, we had been talking with a real estate agent about trying again to sell the land. He told us we'd take a bath on the land, with over a 25% capital loss, but we just need to sell at this point. We are hoping that the price of the land can get us a little closer to purchasing a new-to-us vehicle for my husband. So, we told the real estate agent to list the land.
Well, when the Lord showed me the revelation above, I knew I needed to have a financial seed in the ground for the selling price on that land. We already knew we were going to lose money, since the market has tumbled. But we had to have the full listing price of the land.
We had already sown a seed for the sale of the land, but the Lord quickened in my heart that I need to have seeds in the ground equal to 10% of the selling price of the land. The seed we had given was only 2/3 of 10%. So, we gave the other 1/3 of the seed money to the Lord to equal a total of 10% of the listing price.
And beloveds, less than a week later, WE HAVE A FULL-PRICE CONTRACT FOR THE SALE OF THAT LAND.
I'm serious. You can't make this stuff up. We've been trying to sell that land for nearly 10 years. It wouldn't ever sell. But the Lord gave us revelation, and we sowed a seed into it, and He brought us a buyer for that land. We close the deal on May 30.
Beloved, the Word of God works.
The question now is: What are you going to do with this revelation?
Go to the Lord. Ask Him what you need to do. Meditate on the Scriptures above until you really KNOW Him as El Shaddai, The Many-Breasted One. Study what God's Word says about this, and see where you are in the process:
Do you need to create a hole in your ground level?
Do you need to pray over the seed you've already sown, asking God to multiply it?
Do you need to sow a seed?
Do you need to sow more seed?
WHAT do you need to do?
I don't know, because I don't know you. But, God knows, and He will show you immediately if you ask. When He does, don't second-guess yourself or what you heard. Do what Father asks you to do. He's the one who provides seed to the sower and bread for food, and He will supply and multiply your seed.
Go ahead! Drain the storehouses of Heaven! Father is waiting on you right now to latch on and receive.
Does this word sparkle in your spirit like it does mine? If Father is speaking to you through this word, leave a comment below! I love hearing from you!