You Existed In Heaven Before Your Birth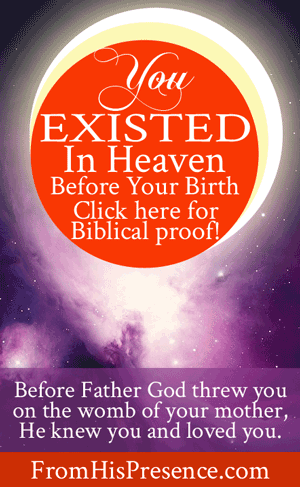 Did you know that you existed in Heaven before your birth?
It's true. There are several Bible verses that show us this beautiful truth.
First, in Jeremiah 1:5, God told Jeremiah:
'Before I formed you in the womb I knew you; before you were born I sanctified you; I ordained you a prophet to the nations.'"
God clearly says in that verse that He knew Jeremiah before He (God) formed him in his mother's womb. You can't know someone that doesn't exist.
Then there's Psalm 139:15-16, which says:
My frame was not hidden from You, when I was made in secret, and skillfully wrought in the lowest parts of the earth. Your eyes saw my substance, being yet unformed. And in Your book they all were written, the days fashioned for me, when as yet there were none of them."
This passage again tells us that God knew you intimately–and knew everything that would EVER happen to you–before you ever lived your first day.
Before you ever took your first breath, He knew you.
Before you even had a body–before your mother's egg and your father's sperm came together–God knew you. That means you had to exist.
Check out this amazing story:
I heard a story recently about some parents they knew of who had two children. One child was very young; not even school age yet. The other child was a baby.
One night, one of the parents heard the older child in the baby's bedroom, talking to the baby. The parent was concerned and stopped to listen… only to hear the child say: "Tell me what Heaven is like. I'm starting to forget."
Wow.
That child knew what Heaven was like.
In order for Papa to have known us, we have to have existed in some form in Heaven.
Can you imagine all the children in Heaven that Papa knows, that have not been born yet? Do you think they are all saying to Him, "Pick me! Pick me! Let me go now!"
Maybe that was you.
Before He formed you in the womb, you existed in Heaven. I don't pretend to understand how it works. But somehow, in some form, you existed in Heaven before your birth.
That means Father God ordained your birth. He chose this moment in time for you to be revealed on earth. He planned your birth and rejoiced over it!
Whether you feel like it or not, our Father's heart beats for you. He thinks of you every moment.
And He wants a relationship with you. You are His, you see. His baby. And He loves you. He craves you.
Will you answer His call and seek Him today?