Power Lift: Wisdom, Strength, and Favor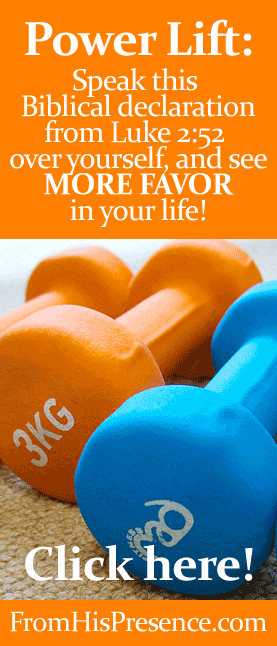 Do you need favor this week? If so, did you know that you can bring it upon yourself?
In the Kingdom of God, nothing happens until it is spoken. That's why God SAID, "Let there be light." He spoke it into existence. When we know what God's will is for us, He has empowered us to also speak it into existence.
God's will is for us to be like Jesus, and Jesus had favor (Luke 2:52). You and I need favor too, and we can have it!
Why is favor so awesome?
Favor makes awesome, unexpected things happen to us at unexpected times. It's what God uses to bring you the best table at the restaurant, the best seats at the show, and the unexpected discounts.
Favor brings opportunities and blessings our way. It's what causes your boss to pick you for the best projects, causes people to give you gifts, and causes unexpected doors to open for you.
Favor brings us relationships that we never thought we could have. It's what causes people that you never had a relationship with (or thought you could) to suddenly start talking with you.
Related: Read "5 Ways to Protect God's Favor On Your Life" here.
Favor is awesome! So, let's add some into our lives today by making the following declaration:
I am constantly increasing in wisdom and strength, and in favor with God and man."
Say this out loud over yourself all day long, and all this week. Accompany it with prayer, asking God for favor.
Then watch for the results. Rejoice over every bit of favor you receive, and it will increase.
In what situation do you need favor from God and men this week? Leave a comment below!
Image courtesy of Rob Allen on Flickr via Creative Commons license. Graphics and text added.