Tiny Steps of Faith Are Crucial to Reaching Your Destiny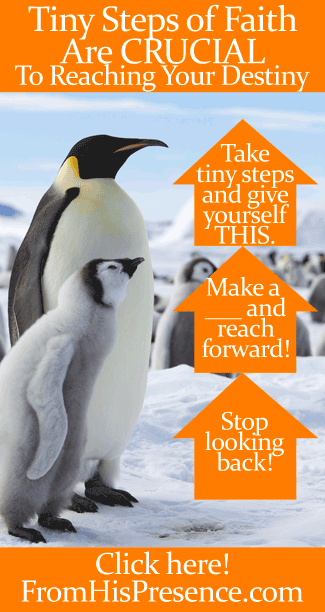 Have you ever wondered when "your best life" is actually going to happen to you?
I've found that it happens when you start to press toward it.
Philippians 3:13-14 tells us:
Brethren, I do not count myself to have apprehended; but one thing I do, forgetting those things which are behind and reaching forward to those things which are ahead, I press toward the goal for the prize of the upward call of God in Christ Jesus."
The apostle Paul forgot about the past. He stopped looking backward, and he started looking forward. There's a huge lesson in that for you and I. Why?
Because it's all about starting, really. Your best life happens when you stop looking back and start reaching forward.
You don't even have to grasp what you're reaching for, not at first. But if you start reaching, all of a sudden, your life can change.
My life has.
When I started this blog, it was a step of faith. A step into territory I knew NOTHING about. I only knew that I had something to say to the world, and no other way to say it.
So, taking a step of faith…
I bought a domain name.
I signed up for hosting.
I started watching YouTube tutorials about how to blog and reach people with my message.
I knew nothing about blogging or building websites. I knew little about social media. But the Word of God was burning in my heart. And bit by bit, step by step, I learned (and continue to learn). And as I have learned, my life has changed:
God has given me a voice.
He's given me precious people like you to encourage.
He's given me relationships and favor as a result of my writing, and a community of people to write with.
These things are a huge part of my dream. But it all started with one step. One thing I wanted to try–and it was something I had tried several times before, and failed. But this time, God moved. He came up under me and took my tiny step of faith and has changed my life for the better.
God can change your life when you take one step of faith toward your dream, too.
You don't have to have everything figured out yet. It's ok if you don't. And you don't have to change your life all at once. But tiny steps of faith, taken consistently, make a big difference over time. 
We humans tend to overestimate what we can do in a day, but we underestimate what we can do in a year. We really underestimate what we can do when all our tiny steps add up over the period of two years, five years, or ten years. But if you'll keep taking tiny steps over time, your life will change.
So how do you get started?
You take a step of faith. You set a goal, then take tiny steps toward completing that goal. And you give yourself time.
Related: Your Dream Is Not Too Big For God
When you take that first step, you don't even have to know what the end result will be. Maybe you aren't far enough along in vision for your life to know exactly what you want to be or do. But, if you have even a vague idea, you can still take steps right now that will help you get there faster.
This is a big part of what living from the presence of God is all about. We have to realize that God is with us; that He's for us; and that He gave us those holy dreams that are in our heart.
We have to actually believe that He wants us to accomplish our dreams. As evidence of that, we have to honor Him by starting to move towards our dreams.
Hebrews 11:1 tells us:
Now faith is the substance of things hoped for, the evidence of things not seen."
The writer is telling us here that faith is the actual tangible substance of the realized dream of our heart. It's the proof that what we dream of will actually happen.
So what's your dream?
Want to become a missionary? Start looking into short-term mission trips and see where doors open up.
Are you single and dreaming of being married? Then take a step of faith and start to become the person that you know your future spouse will want to marry.
For example: If you're lady who wants to marry a godly man, then become a woman of prayer and the Word. That's who a godly man will want to marry. (Also read: Encouragement for Singles Who Desire To Be Married.)
Do you dream of being used by God in ministry? Then become a person God can use:
Learn how to hear the voice of God.
Develop a prayer life.
Read books about spiritual subjects by reliable, reputable authors.
No matter how slow your progress–even if you can only start praying 5 minutes a day or if it takes you a year to read an entire book–you have still made progress. You're showing yourself faithful to the call.
Do you dream of being healthy and fit? Then start today to drink water instead of soda. Start today to walk 15 minutes each day, or even 10 minutes. Start wherever you are.
Tiny steps matter. The details will either propel you into your destiny or will hold you back. And the beauty of it is: everybody has time and energy enough for tiny steps. Over the course of a year, two years, five years, your steps will add up.
Do you have the courage to take a tiny step today? If not, what's holding you back?
Related reading: If you need to take tiny steps toward ANY dream, I highly recommend that you read Jon Acuff's book entitled Start: Punch Fear in the Face, Escape Average and Do Work That Matters. It's worth your time. It will inspire you, spur you on, and give you practical guidance for how to chase your dream without trashing your life. Go get it today!
The link above is my affiliate link. If you purchase this book on Amazon using my affiliate link, Amazon will pay me a small commission (at no additional cost to you of course). 
Image courtesy of Ian Duffy on Flickr via Creative Commons license. Graphics and text added.