Worship Is Like Bird-Dogging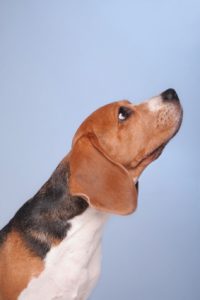 It struck me recently that really worshipping God is like being a bird dog.
Ok, you're laughing. Yes, it's a funny analogy! But think about it:
Bird dogs seek after their prey with all their heart.
To really worship God, you've got to seek Him with all your heart.
When bird dogs find their prey, nothing else matters. The prey gets their total attention.
When we find our Lord, our heart's desire, nothing else matters. He's so beautiful that the vision of Him surpasses every other thing. He gets our total attention.
A bird dog uses his body language to show what he's found. His nose and tail point just so. His paw shows the hunter where the bird is. Everything he's got is focused on that bird.
When you're really worshipping God, you can't help but use your body language to point to Him. We stand to our feet because we feel like we'll burst if we don't. We raise our hands to Heaven to get that much closer to Him. We lift our faces up to Him because we're desperately hungry for more of Him. We point to Him with everything we have.
That's why worship is like bird-dogging. It makes us so full of God that we just can't help but use everything we've got to point to the God our spirit is already embracing.
God actually tells us to hunt Him all throughout the Bible. Check out these Scripture verses:
Jeremiah 29:13: "And you will seek Me and find Me, when you search for Me with all your heart."
Matthew 11:12: "And from the days of John the Baptist until now the kingdom of heaven suffers violence, and the violent take it by force." 
Matthew 6:33: "But seek first the kingdom of God and His righteousness, and all these things shall be added to you."
If you'll seek God in worship with bird-dog focus, you can't help but catch Him.
Can you identify with feeling like a bird dog when worshipping God? Leave a comment below and tell me what you think!