Encouragement for Singles Who Desire to Be Married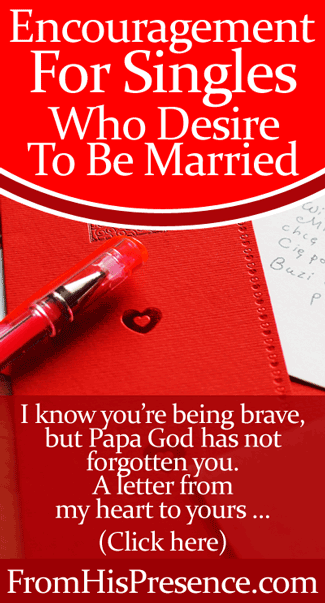 Today is Valentine's Day. It's a day that I love, but I didn't always feel that way. For many years, before I got married, Valentine's Day made me very sad, lonely, and discouraged. If you are single and desire to be married, I would like to share my heart with you today.
First, I get it. I know what it's like to try to put on a brave face in front of everyone else, but to crumple in tears as soon as you're alone. I know what it's like to see everyone else get flowers and candy from their spouses, but you get none. I know what it's like to see seemingly-happy couples everywhere you go–holding hands, kissing, going on dates–when your heart aches to be with the one God has for you.
I know.
But precious friend, I would like to reassure you today.
Papa God has not forgotten you. He also knows how you feel. He knows every pain in your heart, and He sees every tear you cry.
He knows you desire to be married. He knows your heart yearns for the one you sense He has for you. If you desire a loving, godly spouse, He gave you that desire… and He did it because He has someone special just for you.
I don't know how long it will be before you and your spouse will be together.
I don't know what's going on in your life, and I don't know what's going on in your spouse's life. But he or she exists. Papa loves your spouse as much as He loves you, and He will bring you together at exactly the right time.
In the meantime, these are precious days. I know they are lonely sometimes, but these days can never be replaced. They are days in which you have the opportunity to draw closer to God than you ever have before. Please, please, please, precious friend, take advantage of them:
Make plans in the evenings to go home after work and be with the Lord.
Ask Papa to help you get in His Word like never before.
Ask Him to make you a man or woman of prayer.
Pray now for your spouse, just like you would if you were already with him or her!
Ask the Lord to help you to know Jesus, the Lover of your soul.
Invoke your holy imagination and imagine yourself snuggling up to Papa's chest.
It's safe there; you can cry your heart out if you need to, and He will comfort you. Let Him love you. Pour your heart out to Him. Tell Him about everything in your life, including your desire to be married, and let Papa minister to you, comfort you, and fill your heart with His Presence and love.
Beloved, your Father in Heaven sees and knows. He loves you so much. He knows this waiting time is not easy, but He also sees the beautiful, bright, glorious future He has for you.
So rest in Him. Wrap yourself in His love. Receive all His beautiful words of affirmation, acts of service, gifts, hugs, and all the time He wants to spend with you. He loves you. His heart beats for you. He is protecting you right now. When the time is right, though, and everything is ready, He will bring you the one that you will spend your life with.
Blessings and comfort to you today, precious friend. May the God of all comfort show you His love more today than ever before.
Love,
Jamie.