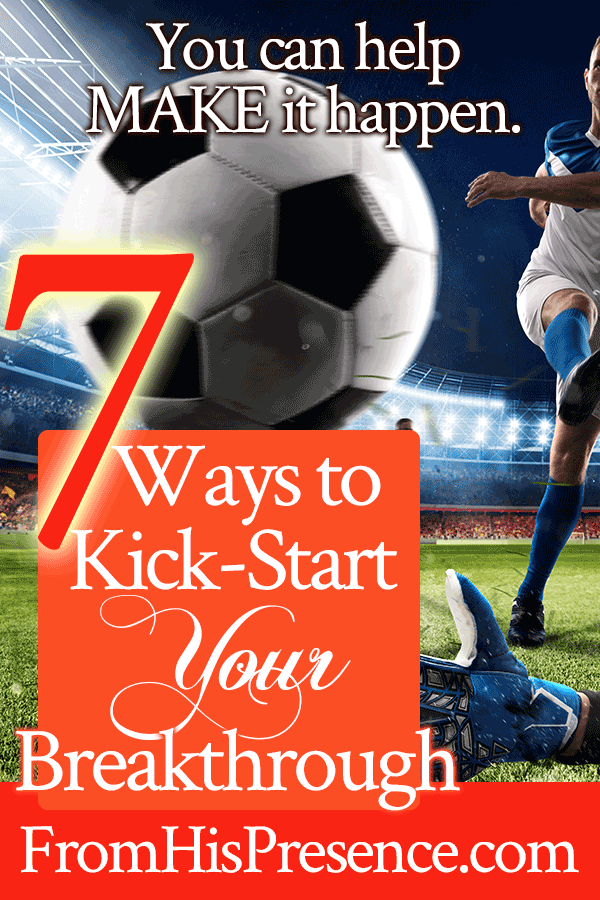 Beloved, do you need a breakthrough today? If so, I encourage you, challenge you, and STRONGLY urge you not to sit around waiting … but instead, to KICK-START your breakthrough with spiritual violence. Yes, you can help MAKE it happen!
"How?" you ask? Well, I'm so glad you asked that question, because today I'm going to share with you the 7 strategies I use when I need a breakthrough. These strategies work every time … sometimes the same day!
Here are 7 ways to kick-start your breakthrough:
(And by the way, each of these will help you all by itself. However, doing more than one puts even more power and spiritual momentum behind you! Also, this is not an all-inclusive list.) 🙂
1. Speak the Word over your situation.
God's Word, the Bible, works every time. God Himself reassures us of that in Isaiah 55:10-11:
"For as the rain comes down, and the snow from heaven, and do not return there, but water the earth, and make it bring forth and bud, that it may give seed to the sower and bread to the eater, so shall My word be that goes forth from My mouth;

it shall not return to Me void, but it shall accomplish what I please, and it shall prosper in the thing for which I sent it" (Isaiah 55:10-11).
God's Word always bears fruit. It always works, and it always happens. So, if you need a breakthrough, you can kick-start that breakthrough by speaking God's Word out loud over your situation.
Here's how to speak God's Word:
Find a Bible verse in which God promises you that He will do the thing you need.

Example #1: If you have a financial need, one of God's MANY promises in this area is Philippians 4:19, which says, "And my God shall supply all your need according to His riches in glory by Christ Jesus."
Example #2: If you're a giver and you have a financial need, you can claim God's promise in Luke 6:38: "Give, and it will be given to you: good measure, pressed down, shaken together, and running over will be put into your bosom. For with the same measure that you use, it will be measured back to you."

Speak the verse out loud in the first person, changing the pronouns to "me" and "my" if necessary so as to apply the verse to yourself verbally.
Also, when you speak and confess a Scripture over your situation, pull it into the NOW by modifying the verbs, changing them from future to present.
Combining these techniques looks like this:

Example #1: If you're going to speak out Philippians 4:19, you would say, "My God shall supply all my need according to His riches in glory by Christ Jesus."
Example #2: If you're going to confess Luke 6:38, you would say, "I give, and it is given to me: good measure, pressed down, shaken together, and running over is put into my bosom. For with the same measure I use, it is measured back to me."

Then, keep repeating your Scriptural confessions until you see your breakthrough manifest!
If you really want to turbo-charge your breakthrough, find as many Scriptures as you can and confess them all! A simple search engine search online (e.g. searching for "Scriptures about finances") will help you locate as many Bible promises as you need about any topic.
2. Pray in the Spirit (using your prayer language).
If you have a prayer language, you need to use it! And if you don't have your prayer language yet, you can receive one from the Lord easily!
Read this post: The 9 Power Gifts of the Spirit: Diverse Tongues (Speaking in Tongues) for more about how YOU can receive a heavenly prayer language from the Lord right now. And if you already have your prayer language, ask yourself: Am I using this gift? Or am I letting it sit around, rusty?
Beloved, your prayer language is one of the most powerful weapons you have in the Spirit.
When you speak in tongues, you speak heavenly mysteries that only God knows. You speak directly to God, and the enemy can't understand you. You birth in prayer the things that God has birthed in Heaven, and nothing can stop you or get in your way.
So do you have a prayer language? Use it!
And if you haven't received your prayer language yet, read the post I linked to above and ask the Lord for your prayer language today! He will give it to you; He will not withhold ANY good thing from those who walk uprightly (Psalm 84:11)!
3. Advance tithing.
Advance tithing is a freaky technique that works every time. The Lord taught me this personally last year when I needed a decent salary. We live by faith in this ministry, so I was hesitant about it even though I knew the Bible says the Lord would supply.
To overcome my hesitation, you know what the Lord told me to do? Pay tithe in advance.
Yep, you read that right. He told me to advance-tithe, and I did, and it worked. So, I still pay tithe every month in advance of receiving the money. For example:
At the end of one month, I will pay tithe on my salary for the next month, even though it might be a whole month until I actually receive the money I tithed on. Advance tithing guarantees my salary!
If we need a financial breakthrough of a certain amount, I'll pay tithe on the amount we need before we receive it. This technique guarantees that our fundraising will be successful!
When our ministry needs financial breakthrough, I can't always afford to pay tithe on the whole amount we need at once.
In that case, I pay advance tithe in small increments. In other words:
If we need $10,000, but I can only spare $100 right now, I'll pay that $100 tithe for the next $1,000 of income.
Then, when the $1,000 comes in, I'll take another $100 or $200 and pay it as tithe on our next $1,000 or $2,000 of income.
I'll keep doing this until the entire amount we need comes in.
The return on advance tithing is 90%, so I'd say that's a pretty wise financial move. 😉
If you need financial breakthrough right now, the advance tithe will work for you too.
Tithing works every time. It's the biggest insurance policy in the Bible, other than salvation.
If you need to increase your faith for what God will do for you when you tithe, read my article here about The Sixfold Blessing of the Tithe. (That article will help you if you believe tithing was confined to the Law, too.)
God Himself guarantees that the tithe works in Malachi 3:10-12:
"Bring all the tithes into the storehouse, that there may be food in My house, and try Me now in this,' says the Lord of hosts, 'If I will not open for you the windows of heaven and pour out for you such blessing that there will not be room enough to receive it.

And I will rebuke the devourer for your sakes, so that he will not destroy the fruit of your ground, nor shall the vine fail to bear fruit for you in the field,' says the Lord of hosts;

'and all nations will call you blessed, for you will be a delightful land,' says the Lord of hosts" (Malachi 3:10-12 NKJV).
Tithing works every time. And if you need to kick-start your breakthrough, you can pay an advance tithe, pray the sixfold blessing of the tithe over that advance tithe, and watch God supply your need every time.
4. Add fasting to your prayers.
Fasting and prayer is a supernatural, ninja-warrior strategy the Bible prescribes for our times of intense need. Combining fasting with your prayers can and will:
If you aren't sure how to get started with fasting, read my field notes from allllll my fasting failures here. Hopefully, my transparency about failing will help you succeed and fast with a right motive. 🙂
By the way, your fasting doesn't have to be egregiously painful in order to get results.
If you haven't fasted before, and your body isn't used to it, try an easy win at first. Fast one meal for a few days. Believe it or not, even though fasting one meal may sound like a wimpy fast to some people:
I get huge results when I fast just one meal!
In fact, the results often start happening as soon as I commit to the fast and begin to pray, even if I'm just fasting breakfast!
I feel God immediately, too, in a new and renewed way.
Yes, all that with only a one-meal fast combined with prayer. Fasting and prayer just WORK like that!
Of course, we shouldn't always settle for the easiest fast. We need to challenge ourselves to grow in this spiritual discipline, pressing into God more all the time. But if you do something easy, such as one meal a day for several days, God honors it. He loves it and values what it costs you.
So don't let other people's religious rules about how to fast and what to fast from and how long to fast hinder you from fasting. YOU just get with God and please HIM, and He will do the rest!
Related: I also have a free Bible Reading Plan on YouVersion entitled 5 Days to Victorious Fasting. Download it to your Bible App today if you haven't already; it will help you!
5. Strategic praying.
Too much of our praying is wimpy praying, not strategic praying. Prayers like, "Lord, if it's Your will to sometime, somehow, maybe, bless me …" are ineffective. Of course it's God's will to bless you! The Bible says so. Of course it's His will to do it now; the Bible says so. It IS Father's will RIGHT NOW to:
heal you;
bless you;
restore you;
provide all your needs richly;
and satisfy your godly dreams in every way.
So don't pray wimpy prayers. Pray strategically, and cover every aspect of your need in prayer! For example:
Pray for the people involved in your situation. Ask God to give them wisdom, revelation, kindness, and divine instruction. Ask Him to deliver them from every specific thing that is not from Him, and to fill them with His Spirit.
Pray over every aspect of your day. Ask the Lord to give you favor, protect your time, and order your steps in His Word.
Pray over every tiny aspect of your health. Ask Him for specific things like supernatural weight management and healing from every sickness and disease.
Pray over your doors of opportunity. If you don't have any doors of opportunity yet, pray for doors to open!
I could go on and on, but you get the picture. Be specific in your prayers! Begin today and pray over every tiny detail! Yes, it will take time–but our prayerlessness is one of the biggest reasons we aren't blessed! Lord, help us to pray!
Related: How to Become an Intercessor
6. Sow a named seed.
Naming your seed offering is a huge spiritual technique that many people think is a crock. But, I assure you, it's not. The Bible says that money answers all things, and I teach you in this article how to name your seed when you sow an offering–and why it works.
Yes, I know it sounds crazy. But, I've been doing it for years and I've seen it work time and time again.
Read the Biblical proofs I offer in the article above, and try it out! Sow a seed for the specific breakthrough you need, and name that seed whatever you want it to come up as. You'll be glad you did.
7. Sow a thousandfold seed.
The thousandfold seed doesn't have to be a thousand dollars. It could be, but it could be other amounts too. The thousandfold seed is simply a way to prove to God that you really do believe Him for the thousandfold increase that He prescribes in Deuteronomy 1:11.
If you want to learn more about the thousandfold seed and how to operate in it, read my post here on my financial blog, Over Not Under, about the thousand-fold seed and the myths, the Man, the legend. 😉
Beloved, you don't have to sit around and hope your breakthrough comes. You can kick-start your breakthrough today!
Right now, you can start using one or more of these 7 techniques–and you will see movement in the atmosphere and in manifestation as you pray and act. You don't have to wait; you can do some or all of these things right now!
So, my friend, please pray and ask the Lord what to do about your situation right now.
Let Him show you how He wants you to jump into His purposes with Him today. Help Him by giving Him greater and increased permission to do His work in your life, and on the earth, through these 7 breakthrough techniques. When you do, you will see results every time.
Which of these 7 breakthrough strategies is the Lord speaking to you about today? Leave a comment below!