Name Your Seed When You Sow An Offering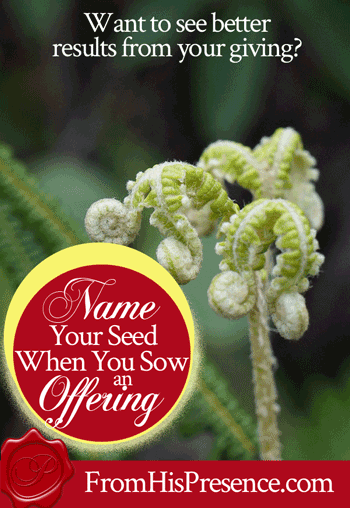 Do you want your offerings to get better results? If so, be sure to name your seed when you sow an offering!
Someone over on our free Facebook mentoring/prayer group asked a fabulous question recently about naming your seed. In case any of you are interested in this subject as well, I wanted to share this principle of Kingdom finance with you today.
Related: Check out 31 Days of Praying for Your Finances on our financial blog, OverNotUnder.com!
Why should you name your seed?
It's all in the nature of the seed. When God created the earth, He invented seeds (Genesis 1:11-12; Genesis 1:29). He commanded everything to reproduce after its own kind, and He created the earth such that the mature thing (e.g. the tree) would be inside the seed in embryonic form.
Then, He ordained seedtime and harvest.
It's the nature of creation for everything to reproduce after its own kind. This is true when we sow actions, beliefs, and money, just like it's true when we sow plant seeds. Galatians 6:7-10 tells us:
"Do not be deceived, God is not mocked; for whatever a man sows, that he will also reap.

For he who sows to his flesh will of the flesh reap corruption, but he who sows to the Spirit will of the Spirit reap everlasting life. And let us not grow weary while doing good, for in due season we shall reap if we do not lose heart. Therefore, as we have opportunity, let us do good to all, especially to those who are of the household of faith" (Galatians 6:7-10).
From this passage, we learn that "seeds" are not limited to the reproductive matter that plants produce. We read here that actions are also seeds. We also learn that there is a harvest for specific actions.
The question then becomes, what makes us think that we can get something other than what we sowed when we sow money–the concept of naming your seed? If we sow money, doesn't that mean that we can only get money back? Why do people think that we can call a money-seed something else, and get something else back?
Our answer is found in Ecclesiastes 10:19, which explains that "A feast is made for laughter, and wine makes merry; but money answers everything."
MONEY is a currency; a method of exchange.
Money has no innate value; it's only worth is contained in what you can trade it for. You trade money in order to get something else. At the grocery store, you give money in order to get groceries. At the electric company, you give money in order to get electricity. Money is simply a method of exchange. It has no value or purpose outside of entitling you to get something else out of the exchange. And it can become anything; money answers ALL things.
Related: Read about how money answers all things in your personal finances here.
So. On to the process of naming your seed.
If money answers all things, the question then becomes, "What do you want your money to answer?"
The answer to that question is obvious if you're at a grocery store, where you want your money to answer your need for groceries! But, when you're giving money as a way to show honor–for example, by giving an offering–then it's different. Then, you have to tell money what to answer.
Because seed must reproduce …
And because that seed has the embryonic form of a bigger thing within itself …
And because money is a method of exchange, and it can answer all things …
Then we should look at money as if it were stem cells.
When you sow money in the form of an offering, it can and will grow and bring you something. However, you have to tell it what to become–what to answer. THAT is where naming your seed comes in.
When I sow a seed, I name it and tell it what to come up as.
I do this every time I sow money as an offering to the Lord. For example, the first time I had an article printed on a specific prophetic magazine, I had just sown some money to a person in need. As I drove away from making that gift, I prayed over the money sown. I prayed that the Lord would repay me, because "He who has pity on the poor lends to the Lord, and He will pay back what he has given."
BUT, I also prayed that the money would become a seed for favor with that online magazine. I told the Lord I wanted that money to come up as a seed that resulted in an article I had submitted being published there.
And you know what?
THE NEXT DAY, my first article was published by that magazine.
Related: Get Kingdom Authority 101 and learn what God's Word says about how to speak and have what you speak come to pass.
So I always name my seed something.
Very simply, I tell my seed what to come up as. I'll write a check, then touch that check and say, "Seed, I command you to come up in my life as (insert whatever need I have here)." I pray over it, lifting up God's promises back to Him in prayer about whatever my need is, and then I give that seed happily. 🙂 And it always works. The seed always comes up as whatever you tell it to, because money answers all things.
But, be aware of these two principles:
1) Never get into witchcraft sowing, just like you should never get into witchcraft praying.
By "witchcraft," I am referring to trying to manipulate or control someone else through your giving or praying. You would never sow a seed so that "so and so would marry me," but you could certainly sow a seed of remembrance and ask the Lord to bring you the husband or wife He has for you.
Likewise, you would never sow a seed for someone to do a certain thing that you aren't sure is within God's will, but you could certainly sow a seed for something that Scripture says you should have or that Scripture says should happen.
Even with the example above about that online magazine, I prayed with conditions. Because my prayer involved the decisions of other people, I conditioned that prayer with "Lord, if it's Your will for me to be published on this magazine, then …." I prayed that way because I wasn't going to get into witchcraft.
However, if I had been praying for something that was more vague, such as "open doors" or "provide money to pay this bill," I would not have conditioned my request–because I have exact Scriptures for those things.
2) Seed does not always come up immediately.
Remember that there is seed, TIME, and harvest. The harvest comes after TIME. Germinating a seed takes time.
In the natural, some seeds germinate in a few days and yield a quick harvest. Other seeds can take long periods of time, even years, to sprout.
It works the same way in the spiritual realm; God works all things according to His patterns. In the spiritual realm, the seeds that you sow can take time to grow, just like natural seeds do. Some seeds take shorter time periods while others take longer.
Generally, the bigger the anticipated harvest, the longer it takes the seed to sprout. Sowing a seed and asking God to pay your electric bill will probably have a quicker germination time than sowing a seed and asking God to help us disciple nations.
Regardless of the time required, however, the process still works. We just have to understand God's ways, and know that He does things little by little–so we must not get frustrated when a seed seems to be sleeping. We can pray in acceleration, but we still have to understand that seed comes first, then time, then harvest.
When you sow an offering to the Lord, always name your seed.
You could name your seed "money" if you need more money. (You could also call it the thing you need the money for, like "paid electric bill." You could name it "new car," or "new house," or "the new friends God has for me." You could name it anything you wish, because money answers ALL things.
Beloved, this is a very practical application of a spiritual principle. It WORKS. I hope you'll try it. Ask the Lord for wisdom; ask Him to show you what to name your seed the next time you sow an offering of any kind. He will do so, and you might be surprised at the results!
What questions do you have about naming your seed when you sow an offering? Leave a comment below, and I'll try to answer!