Prayer To Find a Husband or Wife (with PDF Prayer Guide)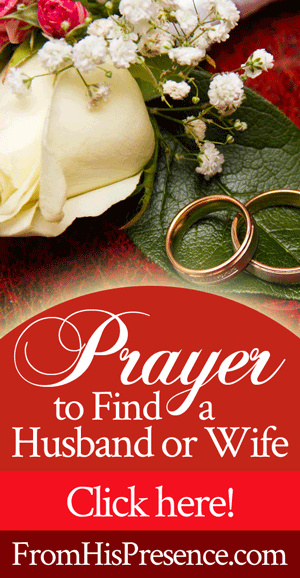 Are you single and waiting for a spouse? Do you need prayer to find a husband or wife–or maybe you need to pray for yourself to find a spouse, but you aren't sure how to do so?
I do pray for all my readers who are single and desire to be married. But, even more, I desire to equip YOU to pray for your future spouse and marriage with confidence, knowing that God really DOES want you to be married if you want to be.
To assist you in your prayers, I wanted to share a model prayer with you that is much like the way I prayed when I was asking God to send me my own husband.
First, rest assured that God's Word does promise you a spouse of your own if you want one.
Not everyone is required to have a spouse. Some people have a special ability to stay single and enjoy it. The apostle Paul had this gift, and he said it allowed him to focus more on the Lord.
However, marriage is still a VERY good thing. Marriage–between one man and one woman–is the very first institution that God created. He set Adam, the first husband, together with Eve, the first wife, in Genesis chapter 2.
Why?
Because He said:
… "It is not good that man should be alone; I will make him a helper comparable to him" (Genesis 2:18).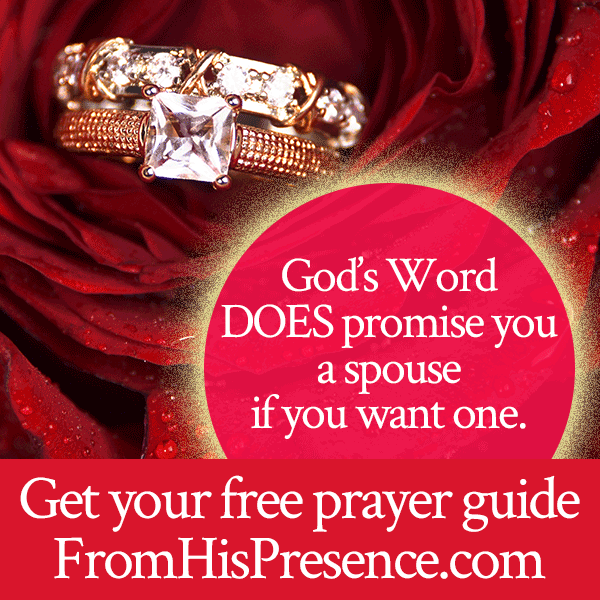 So even though the apostle Paul wrote about his special ability to stay single and enjoy it, he was an unusual case. GOD said at the very beginning that it is not good for man to be alone … so He invented marriage.
Therefore, know this: if you desire to have a husband or wife of your own, it IS God's will to give you one! 🙂
Next, I made you a Biblical prayer guide for a husband or wife–a prayer guide for the spouse God has for you.
It's available free to everyone who signs up for my free email updates. (I send extra prophetic words, teaching words, webinar invitations that nobody else gets, product discounts, and lots more via email–things that never appear on the blog.) If you'd like to join our email list, which I call "Presence Seekers' University," just sign up below:
Related: Encouragement for Singles Who Desire to Be Married; 5 Practical Tips If You're Longing for a Spouse
If you need some Scriptures to help build your faith for a spouse, meditate on these verses:
Delight yourself also in the Lord, and He shall give you the desires of your heart" (Psalm 37:4).

and …

"For the Lord God is a sun and shield; the Lord will give grace and glory; no good thing will He withhold from those who walk uprightly" (Psalm 84:11).

and …

"Ask, and it will be given to you; seek, and you will find; knock, and it will be opened to you. For everyone who asks receives, and he who seeks finds, and to him who knocks it will be opened.

Or what man is there among you who, if his son asks for bread, will give him a stone? Or if he asks for a fish, will he give him a serpent? If you then, being evil, know how to give good gifts to your children, how much more will your Father who is in heaven give good things to those who ask Him!" (Matthew 7:7-11).
I could list Scriptures like this all day, but I encourage you to find your own. It will help you know that you know that you know that it is indeed God's will for you to receive the spouse you are asking Him for!
Are you ready to pray in your spouse? If so, use this sample prayer to find a husband or wife.
(By the way, always feel free to adapt model prayers like this to make them your own. Use your own words; pray the Scriptures you find on your own that are meaningful to you; and simply pray as Holy Spirit leads YOU, okay?)
Pray this with me: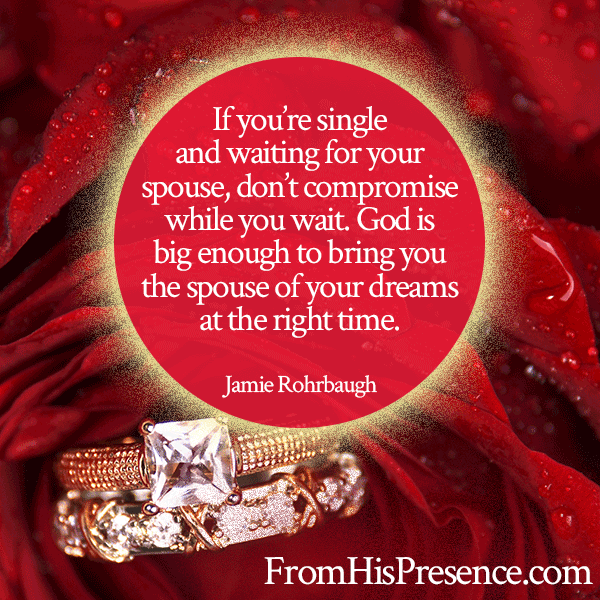 Father God, I come before You in Jesus' name.

Father, I want to thank You that You care about everything I care about. You have numbered all the hairs on my head. You know everything about me, and all my days were written in Your book before any of those days existed.

Father, You know that I earnestly desire to have a spouse. Not just any spouse, either, Lord; I want the exact spouse that You have in store for me. I want Your best, and I want to have a marriage that will be blessed the rest of my life. I believe You have such a spouse for me, Lord, because You knew I would want one before You even created me.

So Papa God, in Jesus' name, I present Your own Word back to You.

Your Word says that if I delight myself in You, You will give me the desires of my heart. Your Word says that it is not good for man or woman to be alone; and You said that I will receive anything I ask You for.

Lord, You would never withhold any good thing from me, for I am the righteousness of God in Christ and I am walking uprightly. I thank You for that, Father.

Now Father, because You have promised me these things, I am lifting Your promises back up to you regarding my desire for a spouse. Father, I desire a husband/wife. Your Word says that every man should have his own wife, and every woman should have her own husband. So I am asking right now that You would bring me together with the spouse You have for me.

Abba Father, I thank You for my husband/wife. Thank You for bringing him/her to me. The timing is up to You; only You know the right way and the right time. My times are in Your hand. But I am insisting that You do it, and I thank You for it in advance right now.

Father God, in Jesus' name, I lift my spouse up to you.

Wherever my future husband/wife is, I ask in Jesus' name that they would be godly. Help them to live for You, Father. Heap grace, grace, and more grace upon him/her to seek You and be hot-on-fire for You.

Fill my spouse and I both with Your Spirit, Lord. Help us both to seek first Your Kingdom and Your righteousness, and all these things–including the marriage we desire–will be added to us.

Father, when the timing is right, help us to meet at the right time and in the right way. Help us to recognize one another. I ask also that You would keep them and preserve us for each other. If either of us is in any relationship that would prevent us from receiving Your best, then dissolve that relationship right now in Jesus' name.

Abba Father, please help us both to walk holy while we wait for each other.

Make us both the people that You want us to be, so that we will be ready for a healthy relationship when we meet. Help us be healed, healthy, and whole on the inside and outside. Keep us hungry and thirsty for You.

Father God, please help my spouse and I to love each other as we love You. Give us the selfless love for one another that You and Jesus model in Your Word. I plead the blood of Jesus over the courtship process, and I ask that You would help us get to know one another in a way that is honoring to You and to each person.

Father, help my spouse and I to avoid even the appearance of evil.

Help us to honor and guard one another's hearts. I pray that we would flee from temptation, from fornication, and from every impurity. Help us to be accountable to other godly people, and help us live and walk before You in white.

And Father God, to the extent that it is Your will, I decree acceleration into the process of receiving my divinely-appointed spouse. Speed up the process, Lord, as long as the acceleration is a blessing to both me and my future spouse. Bring us both the desire of our hearts.

Thank You, Father. I love You. I bless You, and praise You; and I ask Your blessing on us both in the waiting.

In Jesus' Name, Amen.
Beloved, if you just prayed this prayer to find a husband or wife, know that your desire is important to the Lord.
Our Father cares about everything that matters to you. He knows you intimately, and He has wonderful plans for your life. If you will seek Him first, He will give you all the things that you desire–including a husband/wife (Matthew 6:33).
Did you find this sample prayer helpful as you prayed for your husband or wife? If so, leave a comment below! I love to hear from you.
Would you help me with my work of reaching people for Jesus as a domestic missionary? I need you; we are in this together! This blog, and all of the Kingdom work we do in this community together, are made possible through your partnerships, donations, and product purchases.If you'd like to help, please check out the partnership details and products available for sale here. And, thank you in advance for helping make this blog and everything we do together for the Kingdom possible!