Encouraging Word for You If You're Worried and Uncertain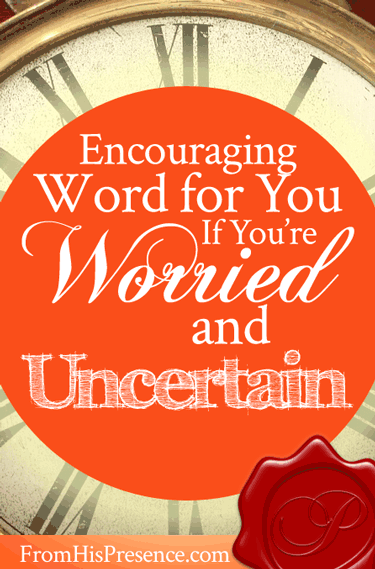 Want a sordid confession from me today? Here it is: there are a lot of things–important things, things that really matter to me–that I just don't know. Things that, sometimes, I start worrying about.
(Shocker, I know.) 😉
Things like:
how certain good things will happen;
how specific, broken things can be fixed;
how long it's going to take for something I care about to reach its fulfillment, etc etc etc.
There are a lot of things about which I am really uncertain. I've been trying not to worry, but …
… All The Things that I just don't know–things about which I am really uncertain–have been giving me plenty of opportunity to worry lately.
Maybe you're the same way: you know perfectly well that you shouldn't worry, but inevitably things tend to crop up anyway. Right? Then, as soon as they do, you have the choice to either ruminate on it OR say, "Lord, You're taking care of that. Thank You."
I've been trying to do the latter and just trust God whenever worry crops up. Nevertheless, on many days lately, I've not been so very great at trusting. 🙁
Recently, I had a particular day when worry about one particular situation kept cropping up in my mind over and over.
And over.
This situation is something about which I really, really care. It's really important to me. And every time this particular concern came up in my mind, I knew worrying was wrong. Every time, I heard the Lord say right away: "I'm taking care of that."
Also read: Are You Depressed or Anxious? Here's God's Cure
I'm grateful that I was able to hear Him, and I'm grateful that He's taking care of it. Really, I am. So on that day, I put the worry away for a few minutes every time it came up. I refused to dwell on it, and I just rested, leaving it in Papa's hands.
But every time I did, a few minutes later, it would come back. 🙁
Rinse and repeat, rinse and repeat. It was like that all day long. (I'm sure you never do anything like this, right?)
But toward the end of the day, the Lord brought a particular Scripture to my mind, and I found it so comforting.
It's found in Psalm 31:14-15a, and it says:
But as for me, I trust in You, O Lord; I say, 'You are my God.' My times are in Your hand …."
"My times are in Your hand." What on earth does that mean?
According to Strong's Concordance, the word for "times" used here means a combination of things. The best way I know to show it is like a math puzzle. If we do some addition here, the word "times" means:
now
when
what
after
ways
certain
evening
+ season
TIMES.
Add up all those words–now + when + what + after + ways + certain + evening + season–and you get the meaning of this word TIMES. Oh God, 'You are my God. My times are in Your hand.'
I don't know about you, but those words "what, when, now, ways, season," etc pretty much sum up all my questions to God. Don't they describe yours too?
How, God, how? When and what? What now? What not now? Why not now? In what ways? In what season? Tell me, Father! Please!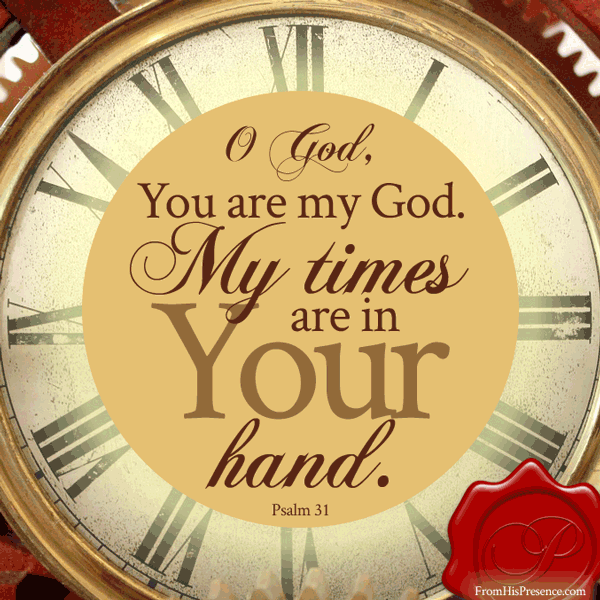 Oh God, You are my God. My times are in Your hand.
I don't know about you, but I don't have the answers for many of the questions I'm asking God right now.
I don't know why, or when, or how, or why not yet. I don't understand the "no"s, and I definitely don't always love the season. And although I'm trying to learn Papa's ways, I definitely don't have those down yet either.
Related: Read how to get Heavenly Downloads for Your New Season here.
But on that day recently, when I was worrying so much and yet trying not to worry, the Holy Spirit comforted me with this Scripture passage. "Oh God, You are my God. My times are in Your hands." Why? Because everything that's important to me–everything I care about–is in His hand, and He's taking care of it for me.
What have you been worrying about lately?
Have you been asking God why, when, how, in what ways, in what season, after what, before what, and who?
If so, you're not alone! But beloved, the same encouraging word the Lord spoke to me applies to you too. Our Abba Father is Yahweh, your covenant God. He's the God who knows you intimately and personally, who has opened Himself up to you, withholding nothing.
And this God–our God–is the Alpha and the Omega, the Beginning and the End, the First and the Last. He's God who is and who was and who is to come. And the complete and total timing of your life …
… together with all the moving parts that accomplish that timing, like the hows and whys and seasons and ways …
are completely in His hand, and you can trust Him.
Let me say it again, even if I am the only one who needs to hear it: You can trust Him. I can trust Him. We can all trust Him. He is a faithful, GOOD Father.
Oh God, You are our God. Our times are in Your hand.
So if worry has been plaguing you, would you join me in meditating on this Scripture today?
Would you choose to believe with me:
that He is your Shepherd, and He's leading you through life this very moment?
that He sees the hurt of your heart with His all-knowing, compassionate eye, and He's shielding you and taking care of you this very minute?
that He who began a good work in you will be faithful to complete it?
Beloved, Abba Father–Yahweh, the Creator of the ends of the earth, the God of Abraham, Isaac, and Jacob, who has been faithful throughout the generations and will always be faithful–is taking care of you right now.
Even if you don't know it. Even if you can't see it. Even if you can't feel it.
Will you trust Him today? He is your God, and your times are in His hands.
Does this message speak to your heart today? If so, please leave a comment below. I'd love to hear from you!
Related: God Has Already Lived Your Future