Are You Depressed Or Anxious? Here's God's Cure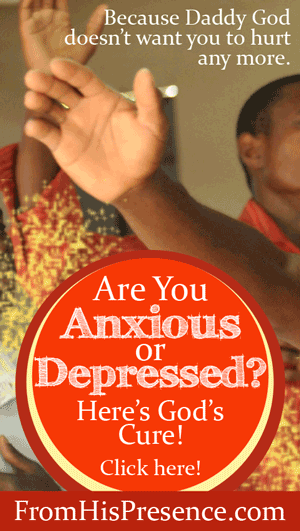 Dear reader, are you anxious or depressed? If so, did you know that God has a beautiful, healing cure for anxiety and depression that you can take advantage of TODAY?
It's true.
I'm going to be very transparent with you today about my experience with anxiety and depression … and about God's cure for both.
My story:
Before I gave my life to Jesus at age 21, I was chronically anxious and depressed. I felt hopeless and I even battled suicidal thoughts. I didn't think that things could ever get better.
After I met Jesus, the chronic anxiety and depression went away. When I gave my heart to Jesus, I had hope all of a sudden. And I began to listen to good, solid teaching of the Word–especially from Joyce Meyer–and the Word took root in me, lifted me up, and changed me.
But I battled serious, life-altering, situational depression twice after that.
The first bout of situational depression–depression that was due to a horrible situation I was in, not a chronic state–happened because of a job I was in.
From 2002-2007, I worked in a professional job that wasn't a good fit for me. For the first couple of years, my inspiration to succeed and climb the corporate ladder overrode the difficulty of the job, and I was okay. But after the first couple of years, the situation overwhelmed me.
The job was emotionally draining, and I was subjected to abuse from my customers all day every day at work–being cursed at, insulted, accused of all sorts of false things, and more. It was really horrible.
By the last couple of years of that job, I was really depressed, I got to the point where …
I would cry for hours every day.
I cried on my way to work.
I cried all the way home.
After work, I would sit on my sofa at home for hours and just stare into space, usually crying.
I would have panic attacks at work so bad that I couldn't breathe.
My fuse was short.
I shut down and couldn't do anything.
I simply couldn't function. It was horrible.
But thanks be to God, that depression ended in one moment when I got a new job in November 2007 … a job I still have, and enjoy, today.
But then depression hit again over a financial crisis my husband and I went through.
I won't go into detail about the background (you can read about what happened to us here and here), but suffice it to say that it was horrible. When the situation started in 2008, my hopes for quick resolution drained out month by month … and I felt like all my hope for our future was draining away too.
I got very depressed. I didn't understand why God didn't fix things right away. I battled suicidal thoughts again, which God took away when a friend prayed for me. (Suicidal thoughts are always from a demon, and you can be delivered by driving that thing out; read the story here.)
Every day was a struggle. Every morning I went to the Lord, and every morning I threw myself at His feet, begging Him to help me.
And every day, He did. But you know what?
He helped me in a specific way: by showing me His cure for anxiety and depression. And He'll help you in the exact same way.
Proverbs 12:25 and Philippians 4 describe God's cure for anxiety and depression. Here's the Biblical truth that God taught me–the truth that healed me from horrible, debilitating, paralyzing depression and anxiety:
Anxiety causes depression, but prayer cures anxiety. So if you want to be cured from either anxiety or depression, pray.
The Bible says:
Anxiety in the heart of man causes depression, but a good word makes it glad" (Proverbs 12:25).
But Philippians 4:6-7 tells us:
Be anxious for nothing, but in everything by prayer and supplication, with thanksgiving, let your requests be made known to God; and the peace of God, which surpasses all understanding, will guard your hearts and minds through Christ Jesus."
When I was so depressed, EVERY. TIME. that I went to the Lord and poured out my heart to Him, He healed me for that moment.
During that time, every day in my quiet time, I would reach a place of peace and rest. It wasn't until I went back to the same old thought patterns during the day (like "poor me, poor me, there's no hope, God isn't helping me")–every one of which are lies from the enemy–that I got depressed again. (Keep in mind that it was sometimes a day before I went back to my old thought patterns, and sometimes it was only 10 minutes … hence the years of depression.) 🙁
But even after I went back to my old thought patterns, every time I went to the Lord in prayer–pouring out my heart to Him and laying my worries and cares at His feet–He took away my sorrows again. And again and again.
And He did more than take away my sorrows; He also gave me hope.
When I got alone with the Lord, prayed, and studied His Word, He spoke to me from the pages of Scripture. He spoke words of life, hope, peace, and joy directly into my spirit.
He said things to me like:
Wait on the Lord; be of good courage, and He shall strengthen your heart; wait, I say, on the Lord!" (Psalm 27:14).

and

"But now, thus says the Lord, who created you, O Jacob, and He who formed you, O Israel: 'Fear not, for I have redeemed you; I have called you by your name; you are Mine.

When you pass through the waters, I will be with you; and through the rivers, they shall not overflow you. When you walk through the fire, you shall not be burned, nor shall the flame scorch you.

For I am the Lord your God, the Holy One of Israel, your Savior; I gave Egypt for your ransom, Ethiopia and Seba in your place.

Since you were precious in My sight, you have been honored, and I have loved you; therefore I will give men for you, and people for your life'" (Isaiah 43:1-4).

and

"Beloved, do not think it strange concerning the fiery trial which is to try you, as though some strange thing happened to you; but rejoice to the extent that you partake of Christ's sufferings, that when His glory is revealed, you may also be glad with exceeding joy" (1 Peter 4:12-13).
And the words the Lord spoke to me from the Bible–words of comfort, hope, and love–lifted me up and made my heart glad.
Again, that's why Proverbs 12:25 says:
Anxiety in the heart of man causes depression, but a good word makes it glad" (Proverbs 12:25).
In November 2010, God delivered us from our horrible financial situation in one moment. But He had been working so much in me all along that, by the time He did, He had changed my heart. He had taken me from a place of anxiety and fear to a place of trust. He had made me completely dependent upon His Word, and strong enough to stand on His promises in faith, no matter what my circumstances looked like.
Through those years of prayer and falling on my face every morning, asking Him for help, He healed me. Healed me momentarily every time I prayed–and healed me permanently by changing my heart over time, and making my faith stronger than the pressure of horrible circumstances.
God healed me of anxiety and depression through prayer. And He wants to heal you the same way.
Beloved, you don't have to be anxious or depressed. God has a cure for anxiety and depression, and His cure is available to you right this moment.
You can find His cure on your knees. You can receive His healing as soon as you pour out your heart to God: as you make your requests known to God in everything with prayer and supplication. If you will do that, the peace of God, which passes all understanding, will guard your heart and mind in Christ Jesus.
When the anxiety goes, the depression will go too. And as you commune with Daddy God in the secret place and read the pages of Scripture, God will speak His good words into your heart and make you glad.
It works. I know. My life has been transformed by this truth. Will you embrace God's cure for anxiety and depression today, and let His truth transform your life too?
Please leave a comment below if this message helps you today. I'd love to hear from you … and may our Daddy God comfort, encourage, and heal you today as you rest in His arms.