3 Things To Do When Depression Overwhelms You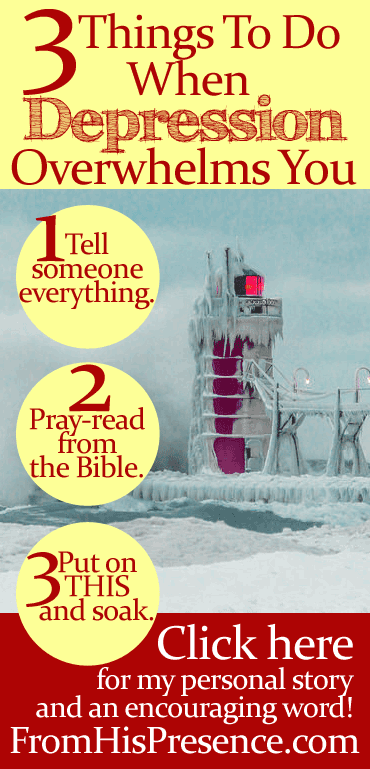 Do you ever struggle with discouragement? Do you feel like depression is overwhelming you?
I have experienced severe depression several times in my life. Before I met Jesus, I was chronically depressed. I had no hope in life at all.
But when I met Jesus and began to receive His love for me, and began to grow in Christ with good, Biblical teaching, that chronic depression left.
But I have still dealt with situational depression, even for extended periods of time.
For example, my husband and I have been paying for three pieces of real estate since the market crash of 2008–over 9 years. The first 2.5 years of that situation, I was terribly depressed. With every mortgage payment–which was wasted money in my opinion–I felt like my dreams were going right down the drain.
I didn't understand why God would allow this to happen to us.
I knew it would have been so easy for Him to sell that property! So I began to embrace self-pity… and every time I did, it opened the door wide for demons of depression, discouragement, and suicide to attack me.
Yes, you read that right.
I began to hear thoughts in my head saying that I should just end it all, because there was no hope.
Let me be clear that those thoughts are always from the enemy. They are never from God. And I knew that! I rebuked those evil spirits and commanded them to leave me.
But I still embraced self-pity, so the door was open for them, and they didn't stay gone.
BUT GOD! God always has an answer because He always IS the answer!
Every time I have walked through depression and discouragement, He has come through for me. He has always healed me and set me free, even though I've had to walk through some tough stuff.
Are you going through a season of depression right now? If so, would you allow me to share with you the three things that helped me get through–and eventually overcome–the depression I experienced?
1. When depression overwhelms, tell someone everything.
The first time that I was depressed as a Christian, and had those suicidal spirits come against me, I tried to fight it alone for awhile. I was ashamed that I wasn't stronger, and I didn't want people to think less of me!
Related: God Cares About Your Emotions More Than Your Ability To "Be Spiritual"
But eventually, it got so bad that I couldn't handle it anymore.
I wanted to be free from those evil thoughts (that were not my thoughts, but were from the enemy). So I went to an older, wiser friend of mine who was a prayer warrior, and I dumped everything I was going through on her and asked her to pray for me. I was too worn out and discouraged to pray for myself.
So she and another friend prayed for me. They prayed the glory down! God healed me and set me free, and my friends didn't think less of me (because they loved me).
But, the key here is that my friends were able to pray for me because I was honest and transparent… even about the suicidal thoughts. If I hadn't been transparent and asked for prayer for these things, I don't believe it would have been as effective.
So if you are discouraged or depressed right now, please, find someone you can trust, tell them everything, and let them pray for you. You will be glad you did, and they won't think less of you.
2. Pray-read through the Bible.
Philippians 4:6-7 says:
Be anxious for nothing, but in everything by prayer and supplication, with thanksgiving, let your requests be made known to God; and the peace of God, which surpasses all understanding, will guard your hearts and minds through Christ Jesus."
Taking your sorrows to the the Lord in prayer brings great healing. Every time I have done so, God has met me, comforted me, reassured me, and lifted me up.
But when you're depressed, sometimes it's hard to start praying–or hard to know what to say. That's where pray-reading will help you.
As Mark Batterson says in The Circle Maker, "The Bible isn't meant to be read. It's meant to be pray-read."
"Pray-reading" means that you read slowly, praying the words back to God as you read them.
The Psalms are a great place to start. For example, when I pray-read Psalm 28, this is how it sounds:
"To You I will cry, O Lord my Rock:" (Father, I'm crying out to You. I need help here, and I know You can help me.)
"Do not be silent to me," (I need to hear from You, Lord. Please speak to me right now and minister to me.)
"Lest, if You are silent to me, I become like those who go down to the pit." (I have no hope outside You, Father. But I know You will speak to me right now, and heal me from this depression.)
When you pray-read through the Bible, the verses help you express yourself to God when you can't find words of your own.
Verses will suddenly come alive for you; they will seem to sum up exactly what you've been feeling. They become your prayer to God.
And as you pray-read through the Bible, God will speak back to you. Verses you pray to God about discouragement will suddenly lead to verses about encouragement that He speaks back to you! You will hear His words of affirmation that He speaks to you. You will feel Him helping you and building you up as you release your cares to Him. He loves you, you know!
Every time I have felt discouraged, hopeless, down in the dumps, or depressed, pray-reading the Bible (particularly the Psalms) has been HUGE in my healing.
3. Put on a contemplative music CD, and let God's presence heal you.
Sometimes we forget to worship at home–at least I do. But the Holy Spirit really uses music and worship to heal us. God makes His presence known when we worship, and then we find fullness of joy in His presence (Psalm 16:11).
Related: How To Get Your Joy Back
I remember one of the times I was most discouraged. I felt so dry and hopeless. I needed my joy back. I needed a reason to go on.
And I don't know how, but somehow God led me to sit in a quiet place and put on Jon Thurlow's CD, Strong Love. I just sat and soaked, and found myself drawing into worship. And by the end of the CD, I was on my face, weeping, laughing, and totally transformed by the presence of God.
God used the music that CD to minister to me in a way that maybe nothing else could. Why? Because worship will set you free.
So are you feeling discouraged? Please, get alone with God:
Put on a good, contemplative worship music CD, and sit down.
Focus your mind's eye on Jesus, and sing/pray the songs to Him.
Soak in His presence.
If you need a good, soaking worship CD, you can listen for free to my three worship CDs here. And if you like instrumental worship, I recommend my solo piano soaking CD, Keys of David. Listen to previews here; it transports me into worship every time I listen to it!
Whenever I put on a worship album and soak, at the end of an hour-long worship set–or even 30 minutes–I feel transformed!
Precious reader, are you depressed or discouraged?
If so, don't give up hope. God loves you and has a good plan for your life. He wants to help you right now. So tell someone everything. Pray-read through the Bible. Get alone with God and worship, and let the Holy Spirit heal you.
If you will do these things, I believe the Lord will bring you great healing too.
Does this post speak to your heart? If so, please leave a comment below. I'd love to hear from you!
Image courtesy of Paladin27 on Flickr via Creative Commons license. Image has been edited and graphics added.