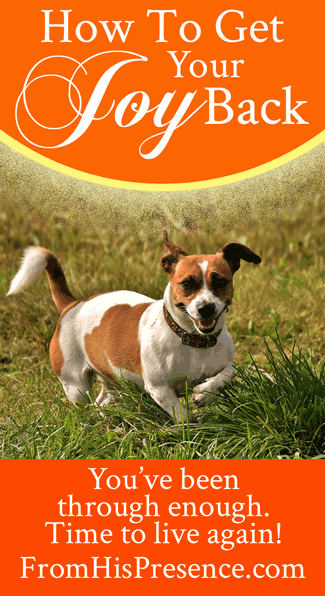 Can you remember when you used to smile and be happy–but it's been a long time? Do you want to get your joy back? If so, I'll share with you today the KEY to exactly how YOU, yes you, can get your joy back.
I can share this because, unfortunately, I lost my joy recently too … so I'm going to be very transparent in this post. However, you don't make a life talking about what gets you down. You build a life by getting back up–and the faster, the better! So, I'm learning, again, how to get my joy back; and I hope that what I share will encourage you also.
Here's the backstory:
As you may already know, I've been through some rough times this year. I used to have a lot of joy. Sometimes, though, when things happen, joy can be hard to find.
And sometimes joy gets laid down in favor of idols. In those times, we have to let the Holy Spirit speak to us behind the scenes so He can show us if an idol is involved, and teach us how not to worship that idol if there is.
As I wrote about here, I used to worship at the idol of Good News. I wasn't happy if I didn't get some kind of good news, I couldn't be happy.
Well, the Lord delivered me from the idol of Good News through a lot of repentance–and also by helping me take every thought captive to the obedience of Christ. I can honestly say I am no longer worried about good news, and my happiness no longer depends on getting good news.
But sometimes there are other things.
We're like onions; as life moves along, the Lord often shows us another layer.
There are other idols in life which a person can embrace. We don't embrace these idols on purpose. We don't worship them on purpose. We don't even think we're worshipping anything but God.
However, the truth is, if I can't do what God says and rejoice always, be happy, be thankful, etc, because of _____(insert anything here)____, then I'm worshipping at the altar of that THING instead of worshipping God.
Because when we worship God, we obey Him anyway.
Even if we don't feel like it … we still rejoice.
Even if we don't feel like it … we still trust.
Even if we don't feel like it … we still believe. We still stand. We still cling.
Because Papa said to.
And somewhere along the way this year, I lost my joy.
Joy used to be one of the biggest forces in my life. Nevertheless, if you get knocked down enough times, sometimes your joy leaves.
And I lost my joy.
I got it back a couple of times here and there throughout the year … only to lose it again.
Yeah. It's been a rough year. 🙁
But I've been praying about it, and asking the Lord to restore my joy. I want more joy than ever before.
And as I prayed about how to get my joy back, the Holy Spirit said two things to me:
1. He asked me if I was willing to be happy even if ______(insert anything bad)_____.
That was a hard question; because honestly, although I was willing, I didn't know if it was possible. How could I be happy when horrible things happen?
So I asked Him for the key. As in:
What's the key to being happy and filled with joy even if the shadows loom?
How can I be joyful if I'm hurting?
How can I be happy if bad things are happening around me, to me, or anything else bad?
And, true to form (His name is The Word, so He always has something to say), 🙂 He answered. Actually, He reminded me. It's a secret I have known a long time, but I let myself forget.
Want to know the secret? Here it is–the second thing He said to me:
2. In His presence is fullness of joy.
I know this. I've known this. I've experienced it countless times. I've even taught about it.
But somewhere along the way, I let myself forget. Have you ever done that? Let yourself forget? Yeah, me too.
In His presence is fullness of joy.
He showed me this on a plane. I had a couple hours of flying time in front of me, so I decided to make good use of it and pursue Him. I put my earbuds in and turned on Clint Brown's album In His Presence.
And after the first couple of songs, I smiled.
I mean, really smiled. When no one was around. When I wasn't talking to anyone. When no one was looking, and I wasn't required to smile at all.
Just between me and God … I smiled.
That may sound like nothing to you, but I'm crying just typing it. Because things have been tough, and I just wanted to stop hurting and have my joy back again.
Help me, Jesus.
So I listened as Clint Brown sang about "Breathe on me, breath of God," and "Surround me, O Lord," and how "Zion is calling me to a higher place of praise," and I 'worshipped the King,' and then he sang about those "Gentle Hands, holding onto me," and I worshipped and stared at the healing beauty of Jesus …
and then found myself overwhelmed by the words of the old hymn:
Peace, peace, wonderful peace
Coming down from the Father above
Sweep over my spirit forever, I pray
In fathomless billows of love …
I was overwhelmed because I truly had peace. For the first time in a long time.
Peace despite hard times. Peace despite heartache. Peace despite ____insert all the yucky stuff here)___.
Peace, sweet peace.
Clint Brown's album In His Presence is the one that ministered to me so much in this story. I have continued to listen to it over and over, and it's still helping me. You can check out the whole album on Amazon here if you're interested.
And I learned how to get my joy back:
All we have to do to get our joy back is to withdraw from the world and lay alone at the feet of Jesus. Alone but not alone—just being in the company of the One who made us.
Who loves us.
Who makes all things new.
Because in His presence is fullness of joy.
I've known this. I know this. So do you. But sometimes we forget.
So I'm sharing my story with you today because, if you've lost your joy too, I wanted to help you remember how to get YOUR joy back.
Remember that in the presence of the Lover of your soul, there is peace, peace—wonderful peace. And love.
And joy, boundless joy. Matchless joy. Precious, irreplaceable joy.
Remember the words of Psalm 16:11:
You will show me the path of life; in Your presence is fullness of joy; at Your right hand are pleasures forevermore."
Has life gotten you down? Do you long to get your joy back?
If so, do you need to get alone with Jesus and bask in His presence again? Please, please, don't wait another minute. Please, do it today, so He can give you His fullness of joy unspeakable and full of glory again.
Is the Holy Spirit speaking this message to your spirit right now? If so, please leave a comment below. I'd love to hear from you!
Related: Read the whole "If You Feel Like You're Going to Die" series for serious encouragement and heart-healing help: