A Personal Note from Jamie
Hey, beloveds.
I just wanted to write a personal note today, about several different things. Please forgive the seeming randomness of this note. 🙂
First, I hope you're well. I have been praying for you.
I get so many emails and messages and comments, and I am so thankful that you take the time to share what's on your heart and going on in your life. I know many of you have been hurting, and I'm sorry. I'm praying for you, because in many cases that's all I can do. But know that I am praying for you.
I also wanted to remind you that the 21-day fast leading up to Rosh Hashanah begins on Monday.
That's only a few days away! I am really looking forward to this fast. I just want to be closer to Jesus, and fasting for more intimacy with our Bridegroom always brings the desired result.
If you haven't already started preparing for the fast, I'd encourage you to do so. Here are a few things that help me prepare, both physically and spiritually:
Begin to cut back on (or eliminate) sweets from your diet. It will help you reduce cravings on the actual fast.
Drink lots of water. Many times, your mind mistakes water cravings for sugar cravings. They feel the same. Getting hydrated will help a lot.
I've heard that drinking distilled water when fasting is much better than tap or regular bottled/spring water, and keeps you from getting sick. I've been trying distilled water lately, and I felt like it made me feel better. Just something to consider, if you have access to distilled water.
Begin to pray now for the endurance, desire, and anointing to fast.
Ask God now what to fast for, if you haven't already.
I'm really looking forward to this time separated with the Lord, and I believe He'll reward each of us with a greater intimacy with Him and greater anointing than ever before.
Thirdly – I need to adjust a few things regarding my schedule for a little while.
My husband and I just returned from spending nearly a week in the wilderness at a couple of parks. (Some people like beaches; some people like cities; we like wilderness and parks. And mountains. Definitely mountains.) 🙂
This trip was for our 10th wedding anniversary, which is this month (plus kind of for my birthday, which is today). 🙂 This is why I didn't post on a regular schedule this week: we had zero internet or cell phone reception for most of the time. Despite the no internet (which I didn't realize would happen), however, we had a good time. It was nice to just be together.
I did realize something, though:
I'm exhausted.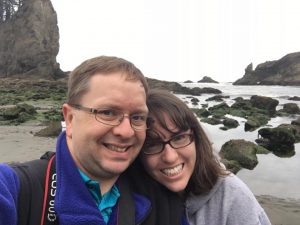 I slept a lot. We did a lot of driving around the parks, and I fell asleep in the car continually. Plus one day, I felt so tired I just collapsed and slept most of the day.
It was kind of a wake-up call, no pun intended. 
I feel great health-wise; but I think I need to change a few things about the way I've worked my schedule for the last couple of months, in order to avoid more exhaustion and burnout.
I have a partner update queued up for next week with all the ministry work that we've accomplished together over the last month or so. But in September, especially in light of our corporate fast, I feel like I need to pull back a little bit from outside ministry, focus on God and you (my precious, amazing readers and friends), and rest a little bit more (instead of doing so many in-person ministry activities).
I hope you understand. It won't impact you as a blog reader–you will actually see more of me than you have been seeing. But when I send out September's ministry update, it will be more about the fast and ministering to people through this blog and online, rather than attending meetings and leading Bible studies and so on. That will allow me to be at home more for a few weeks, and to rest more this month and overcome the exhaustion. I do already have a number of things already scheduled for September, and I'll keep those–just not add much in the way of outside work.
Fourth – and this is really on my heart: Do you have written goals?
One-year goals, next month goals, this month or this week goals? Five-year goals?
I really believe it's important in this season for us to write down goals. God told Habakkuk to write the vision and make it plain, that they may run who read it (Habakkuk 2).
I was reviewing my goals (and re-writing them) earlier this morning, and I could see that some things were happening that would not otherwise have happened if I had not written them down. Writing down things solidifies them in your spirit. It keeps you motivated and inspired. It keeps things top-of-mind, so that you remember to do what the Lord is leading you to do.
I don't think goals have to be hard. But we all need them.
If you haven't written down any goals for your life, would you take a few minutes this weekend to do so? (And if you need help with that, you can always grab a copy of my Arise, Shine! Vision Retreat Handbook, and it will help.)
Here are a few tips that help me with the goal-setting process:
Use key dates, like "by my 52nd birthday" or "by 12/31/16." Dates, especially birthdays for me, make things personal and real.
Include some dream goals–stretch goals, dreams that are worthy of God. Don't be afraid to dream big. (I have a whole ebook that God's been downloading to me about dreaming dreams that are worthy of God. It's far from finished. But just grab that phrase and pray into it. Ask Papa to give you dreams that are worthy of Him–worthy of the full measure of His goodness, generosity, greatness, love, and magnificence that He wants to show you and pour out into your life.)
Write your goals down in your journal, and re-write them often–even if you don't change a word. Just re-copy them by hand. Writing your goals embeds them in your heart and spirit.
It's so important for us to run with a vision.
We need a vision of Jesus. We need a vision of Who He is. And we need a vision of His promises and what He wants to do in our lives. So, ask Him for goals. He'll light things up in your spirit that will grip your entire being. When He does, write it down.
That's all for today, beloveds. Next week, we'll return to the normal blogging schedule. I've got the next post in our series about the power gifts–about interpretation of tongues–queued up also, and I can't wait to get that out to you.
I love you all. Have a fantastic weekend.
Together with you in His harvest field,
Jamie