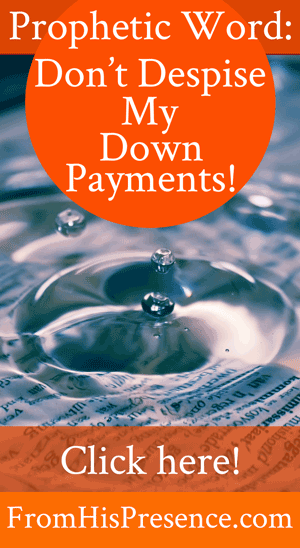 The Lord showed me that many of you have received a promise–or had a promise reconfirmed–recently. God has spoken to many of you about blessings, healing, favor, and more.
However, you've been through such a hard time over the last few years that you've adopted a "wait and see" attitude. You haven't really been able to latch on to His blessings and promises in faith.
But then He showed me that He has sent many of you a sign of land. He has been doing little things–showing you small manifestations–that are the tip of the iceberg on the big promise.
And I heard the Lord say: "Don't despise My down payments!"
Psalm 86:17 says:
"Show me a sign for good, that those who hate me may see it and be ashamed, because You, Lord, have helped me and comforted me."
The Lord is pouring out the manifestation of His promises. He is working to bring you favor, healing, restoration, blessings, provision, and more.
However, He is starting this process of blessing you by pouring out small tokens of the bigger thing He has promised. And in order to receive the fullness of His promises …
… You must grab onto His down payments by faith.
Just as David prayed in Psalm 86 (above), the Lord is showing you a sign for good. For example:
He is showing you a little bit of favor. It's not all He promised you, but it's more than you had yesterday.
He is strengthening you. You don't feel as strong as you need to feel, but you're stronger than you were last month.
He's opening doors for you. You may only see a little door, but it's better than the "no doors" you saw yesterday.
These little blessings are down payments on Father's promises. They are signs of the new season of blessing you are in.
Related: Prophetic Prayer Directive: Ask God to Send You Signs of Land
And the Lord wants to know:
Will you receive them and give thanks?
Will you acknowledge Him and bless His name for these small things He is doing for you?
Will you latch onto His promises in faith, believing that the small things you see are a sign of land–a down payment on all the good things to come?
This is a test. It is a test that will reveal whether or not you will be a believing believer.
No matter what you've been through, God is faithful. He always has been, and He always will be. You have come out from the fire stronger than ever before. Much dross has been burned away from your life.
And now the test will require you to decide that, no matter what, you will continue to stand in faith on God's Word. If God said it, it's going to happen. The blessings Father promised you WILL come to fruition.
So will you stand?
Will you stand and boldly declare, "Let God be true and every man a liar"? Will you give thanks in advance for the completion of Father's promises, even when you only see His down payment right now? Will you believe the prophets, believe God's promises, and–most importantly–believe that He is good, and His mercy toward you endures forever?
Like it says in Psalm 86:17, Father is showing you signs for good. How will you respond?
Did Holy Spirit use this word to minister to your heart today? If so, leave a comment below! And feel free to pray for one another and encourage one another in the comments!