Prophetic Prayer Directive: Ask God To Send You Signs of Land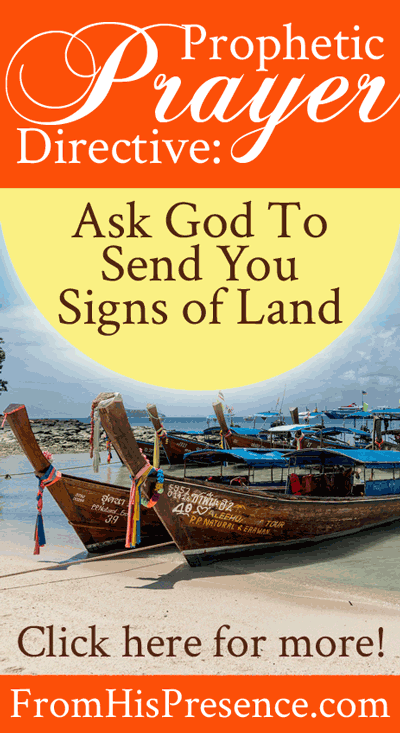 This is a special bulletin with a prophetic prayer directive about how to pray today and get results that will encourage you.
Have you been praying for something a long time? Have you been waiting on God to come through for you and do something specific in your life or in the lives of those you love?
Me too.
And just recently, I've been asking God to send me signs of land … and His answers have been sooo encouraging!
What is a sign of land?
If you've been adrift at sea a long time, all you want is to see (and arrive at) land. But when you're out in the ocean, sometimes land is nowhere to be seen. That can be pretty discouraging.
But you know how you can tell there's hope ahead? When you start to see signs of land:
Maybe you see a piece of driftwood floating by.
Maybe you see a fish of a particular kind that only lives near reefs, which are near land.
Maybe you see a land bird landing on your boat.
Whatever the sign may look like, you can sometimes see signs of land before you get to the land itself.
And prophetically speaking, a sign of land is a special sign that God sends you to show you He is hearing and working on your prayer.
A sign of land is something that only you may notice. It's something that affirms to you that He's in the process of working things out, as you have asked Him to do.
He sent me a sign of land just the other day.
I've been praying for something specific for quite awhile, and honestly I haven't seen that much in the way of results. I've seen little things, but those little things haven't seemed to combine to make the specific kind of progress for which I've been praying.
But I've been praying for signs of land, and just a few days ago, Papa sent me an answer in the funniest way.
The sign of land was something that only He and I would have understood. An inside joke, if you will; except it wasn't humorous. It was simply "inside"–just between me and Him–and I cherished it. It meant the world to me … because it was Papa's way of telling me and showing me that all my time and passion poured out to Him in fasting and prayer has NOT been wasted.
That sign of land really encouraged me.
And buddy, I needed encouragement, too. I needed a fresh wind in my sails; fresh motivation and inspiration to go on praying and believing and standing and waiting.
So in what area do you need encouragement today? Ask God to send you signs of land!
I'm asking Him for more signs of land because you can never have too much encouragement. I know He'll answer, too.
So for what are you praying? For what are you contending? What is so near and dear to your heart that it has inspired you to stand in the gap and assail the throne of grace with your prayers?
Whatever that thing is, ask God to send you signs of land–signs that He's working on it:
Ask Him to show you what He's doing behind the scenes.
Ask Him to show you the visible work that He's doing.
Ask Him to re-speak His promise to you so you can have courage and faith to keep on standing.
Has Papa ever sent you a sign of land before? Do you need a sign of land right now? Stop and ask for His help, and watch Him send that holy driftwood floating by!
Pray this with me:
"Abba Father, I come before You in Jesus' name. Father God, I love You and thank You for hearing my prayer.

Father, I believe You are hearing me and answering my prayers because You said You would. I know You're at work, and I don't depend on seeing things in order to believe You. I simply believe You because You are not a man, that You should lie.

Every word that You speak is true and has power, and Your Word will never return to You void. Your promise will never fail, and Your ear is always open to my cry. Thank You, Abba Father. Thank You.

Father God, I need encouragement right now. I need strength right now. I know You are always eager to strengthen, help, and encourage.

So Father, I'm asking You right now, today, to send me signs of land.

Send me secret messages, just between You and me, or even visible messages that are evident to others, that show Your hand at work.

Abba, in Jesus' name, I ask You to renew Your promise and Your covenant in my hearing. Show me what You're doing, and increase my faith and courage to go on praying and standing in faith.

And Lord, please help me to recognize Your signs of land for what they are; and I'll be careful to give You all the praise.

Thank You, Papa God. In Jesus' name, amen."
Does this word resonate with your spirit? Is the Holy Spirit bolstering your faith to receive signs of land? Please leave a comment below! I'd love to hear from you.