Take Time to Surround Yourself with Beauty (It's a Craving for Jesus)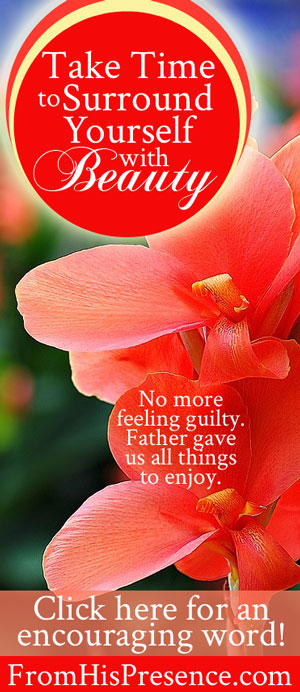 Do you crave all things lovely? Do you love nothing more than to surround yourself with beauty?
Do you love color and texture and tones and shading? Whether it's in your home, your clothing, your artwork, or the product you produce at work, do you love to make everything look just so?
But then, if so, do you feel guilty sometimes? Because either:
a) Sometimes you feel like you shouldn't be so picky. People label you "OCD" or "perfectionist," and you think they're probably right and there must be something wrong with you.
OR
b) Beauty feels like a luxury, and you feel like you either don't deserve or can't afford luxury.
If that's you, I have an encouraging word for you today.
Can I present a different perspective about your craving for beauty? A perspective that will show you it's ok–no, more than ok–to surround yourself with beauty?
But first, a story.
It was 2006. My company decided to pay out a bonus for the very first time. Almost everybody got one. It was unexpected, un-budgeted-for money, and I was so excited.
But I knew I had to use it wisely, so I did responsible things with it .. except for one thing.
I went to a local surplus store and bought two sets of $40 bed linens.
That may seem laughable to you, but to me, it was huge. It was huge because they were really nice, soft, smooth linens that I loved. But it was an even bigger deal because I felt like spending $40 on sheets for myself was an unheard-of luxury–a luxury I never dreamed of affording–but when I went ahead and spent the money, I felt so special.
And when I used those bed linens, they were beautiful, and it made me feel like making my whole house beautiful. So I did what I could to make things look nicer than they ever had, and I felt the Holy Spirit's joy in that.
And I started to learn about beauty, and how surrounding yourself with beauty is a holy thing–never a waste.
Since that time, I've learned that people often feel guilty about doing anything for themselves. They feel guilty about spending money on beauty. But you know what? We don't have to feel guilty. And if you're one who has that craving for loveliness, I have an encouraging word for you today. Here it is:
You don't have to feel guilty anymore for desiring beauty. You don't have to feel OCD for wanting things just so. You know why?
Because your craving for beauty is a result of the Holy Spirit brooding over you and giving you a deep yearning for Jesus Christ Himself.
Oh, yes. True story.
How can I say that? Because Jesus Christ is Beauty Incarnate. He is the entire Concept of Beauty in bodily form. He contains all beauty in Himself, for He IS Beauty.
Related: If You're Tired and Worn Out, Jesus Is Like Sweet Nectar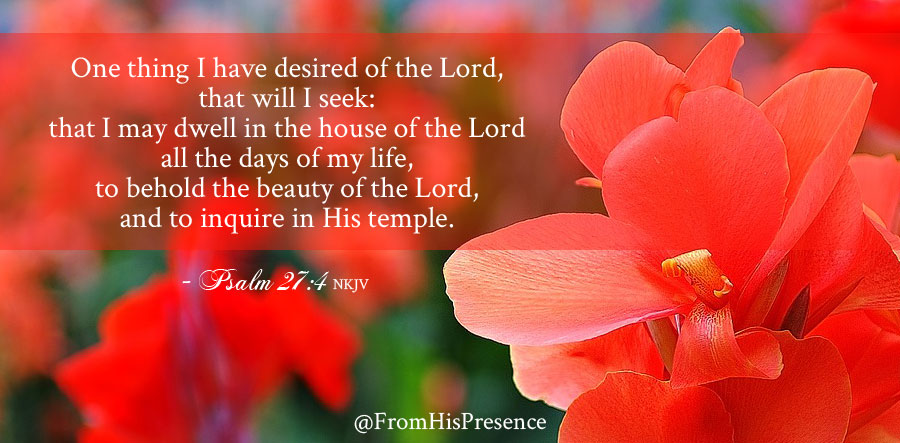 Check out Psalm 27:4 (which just happens to be my life verse):
One thing I have desired of the Lord, that will I seek: that I may dwell in the house of the Lord all the days of my life, to behold the beauty of the Lord, and to inquire in His temple" (emphasis mine).
Our God is beautiful. It's His DNA. All beauty in heaven and earth is but a shadow of the beauty of its Creator. And you know what that means for you and for me?
Just this:
The yearning you feel to surround yourself with beauty is actually the deepest place of your spirit calling to the deep place of our Abba Father and His Son, Jesus Christ.
You want Him, and expressing yourself through beauty is an outlet that actually manifests Him on the earth.
Oh, yes. When you recovered that furniture and made it beautiful. When you painted that room or that picture. When you slipcovered that sofa and put it together with just the right artwork in your house.
You didn't do that because you're too picky. You didn't do it because you're OCD. And you didn't do it because you're even frugal.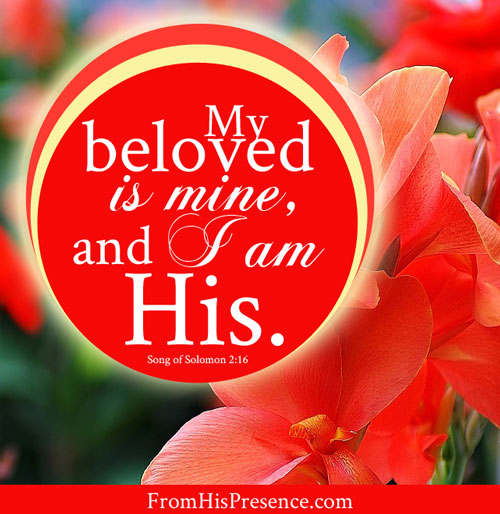 You did it because your soul craves your Beloved, who is the Picture of Beauty Himself. And when you released beauty into your environment, you released the manifestation of Jesus on the earth.
Song of Solomon chapter 2 describes this craving of your soul for the soul of your Beloved–and His craving for you–better than any other passage I know. It says this:
He brought me to the banqueting house, and his banner over me was love. Sustain me with cakes of raisins, refresh me with apples, for I am lovesick. …

My beloved spoke, and said to me: "Rise up, my love, my fair one, and come away. For lo, the winter is past, the rain is over and gone. The flowers appear on the earth; the time of singing has come, and the voice of the turtledove is heard in our land. The fig tree puts forth her green figs, and the vines with the tender grapes give a good smell.

Rise up, my love, my fair one, and come away! O my dove, in the clefts of the rock, in the secret places of the cliff, let me see your face, let me hear your voice; for your voice is sweet, and your face is lovely. …

My beloved is mine, and I am his. He feeds his flock among the lilies."

Song of Solomon 2:4,5,10-14,16
Do you hear the hunger and craving in both the Beloved and the Bride in this passage? Precious reader, that Bride is YOU. And Jesus is the Beloved.
Each of us was created with a space on the inside that is made to be occupied only by Jesus. He is the only One who can ever satisfy. And whether we have given our lives to Him or not, all of us seek Him continuously because we need to fill that place.
If you haven't given your heart to Him, you might not realize you're seeking Him, but you are. It's just that you seek to fill the void that is HIS place only through other things–like drugs and other addictions. You want desperately to be full on the inside; in your spirit. But none of those things will ever satisfy, because they cannot fill the place that was made only for Him.
If you have given your heart to Him, then your seeking will look different.
When you belong to Him and He belongs to you, your seeking of Him will be the precious companionship of a love relationship. You will spend time alone with Him, dancing with Him among the lilies.
Seeking His face.
Gazing into His eyes.
Staring at His beauty.
Because only Jesus can satisfy.
And when you crave beauty, beloved, and you feel compelled to release beauty on the earth–it's because you know that this world is not your home.
Somehow, you know. Your spirit knows. Your spiritual umbilical cord to Papa God has never been cut, and you are still linked to Him. So releasing beauty on the earth is kind of like looking at a photo of someone that you love, but haven't seen in awhile.
It's like the military wife whose husband is on deployment, and she stares at his photo and weeps.
It's like the daughter whose mother passed away decades ago, and she looks tearfully at mom's portrait on Christmas and birthdays.
It's like the husband who is so in love with his wife that he keeps a photo of him and her together in his car, just to look at.
Your craving for beauty is a craving for Jesus. It's a deep, inner longing to be filled with the Desire of your heart–Jesus Christ–who alone can satisfy.
So go ahead. Surround yourself with all the beauty you can.
Take time to make beautiful art; to make your home and environment beautiful. Take time to care for and stare at the manifestation of Christ. Release the portrait of Jesus everywhere you go. Make yourself, your life, and your surroundings as beautiful as you can make them.
Because by doing so, you're honoring your Beloved. Your Beloved is yours, and you are His. He is the One your soul craves, and it's good and right to make everything around you reflect His image.
Do you crave beauty? Does this word resonate in your spirit today? If so, please leave a comment below. I'd love to hear from you!