Ministry Update, Personal Update, & Prayer Requests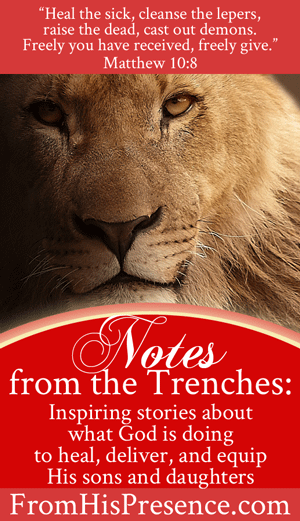 Dear Presence-seeking family,
Another amazing month has come to a close, and I wanted to give you an update on some of the awesome things God did in July. So, I'd like to share ministry updates, personal updates, and prayer requests today!
Ministry update from all the happenings in July:
So many wonderful things happened in July. I don't even have time to share them all, so I will give some highlights here. These are just glimpses of the many wonderful things YOU helped make happen with your support, partnerships, encouragement, prayers, and reading/sharing of this blog!
1. I had the wonderful, amazing opportunity to preach the Wednesday night service at my church on July 6.
I am so thankful for this honor. I preached about the gifts of prophecy and words of knowledge, and there's lots of info in this sermon that I did NOT have space to share in my blog posts about the same subjects.
At the end of the sermon, we did impartation, laying hands on all who desired to have the gifts of prophecy and words of knowledge. God showed out in a big way.
Therefore, if you listen to the sermon, at the end, ASK HIM to give you these gifts. When there's teaching on a subject, the Holy Spirit is present to release the revelation and impartation of that thing in you–even if you're in your car or living room.
Related: 9 Power Gifts of the Spirit: Words of Knowledge and Gift of Prophecy
2. I also went out and did prophetic street evangelism of my own free will for the first time.
Here's how that happened: At 1:00 in the morning in mid-July, God woke me up and called me to spend time with Him. As soon as I sat down in my study, Holy Spirit moved on me powerfully and I just knew that I had to start doing prophetic evangelism. Why? Because it's who I am.
(In case you aren't familiar with prophetic evangelism: it's when you go out to random places–the park, the street, the store, wherever–and you reach people for Jesus by giving words of knowledge, prophetic words, and ministering healing to random strangers.)
It was the funniest thing. I've done prophetic evangelism a couple of times before and hated it. I went to a mall once for this purpose after I went to a Doug Addison training class. Everybody in the class had to go. I went, but the introvert in me just wanted to run and hide, and I felt like a total idiot. Also, I went out once when my pastor sent some people from our church. I hated that too.
But this time was different.
This time, sitting in my study at 1 AM, I had no fear. Instead, I felt passion and excitement. It was God's effectual call working in me, and I just knew: I have to start doing prophetic evangelism because this is who I am.
But I wasn't about to go alone, so I texted a friend in the morning, and we made a date to go out on Thursday morning that week.
So we did. Thursday morning arrived, and my friend and I went down to a local park where there are many people. I'll tell the specific stories about each encounter in a blog post later, but for know, here's what happened:
We talked to 12 people.
We got to minister to 9 of those 12 people.
One man gave his life to Jesus, and we also ministered to him about healing from father wounds. He sat on a park bench and cried under the power of the Holy Spirit.
Others were radically touched in amazing ways.
It was amazing.
I've hated evangelism before because I am not the type that finds it easy to just go up to someone and ask if they know Jesus. But prophecy? Yup. Through the help of the Holy Spirit, I can definitely go up to someone and give them a prophetic word. That's so much easier–because it's who I am!
Beloveds, we've got to stop trying to be who we're not and start being who we are with POWER. People can be effective when they operate in their gifts! It's only when they try to be something they're not that they're not effective. (Oh, she's gone to preachin'.) 🙂
I plan to keep going out to reach people prophetically, and to help others to go out as well. If we can mobilize more people to reach others using their gifts, we can reach our city!
3. July was heavy on crisis response for me.
I had the privilege of helping some people who were in extreme crisis. I won't go into details about that because of confidentiality reasons. However, I do want you to know that, because YOU have helped redeem my time so I can function here as a missionary, God was able to put some situations back together for which men would have said there's no hope.
But OUR PAPA CAN RESTORE ANYTHING. It's NEVER too late. His mercies are new every day, and Daddy God LOVES YOU and He's just looking for opportunities to pour out on you, heal you, and help you.
Related: You're Not Too Far Gone to Restore
4. Mentoring and deliverance ministry:
I lost track. I'll try to keep better track of this going forward. But I did count at least 20 mentoring and/or deliverance or inner healing sessions that I completed in July. Praise be to God.
5. I had the honor of teaching the 21 Kisses workshop I have been telling you about!
The full workshop name was 21 Kisses: The Sure Mercies of David for Your Life. It was held live at my church on July 29-30, and it was powerful. Basically, it was a series of 21 prophetic words about what God is doing in your life right now, and how what He's doing might not look like what you think it should look like–but what His plan is anyway.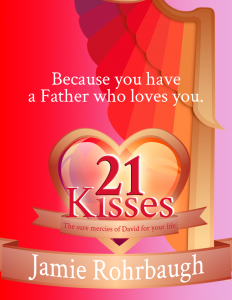 It was all based on the life of King David in the Bible, whom God said He gave us as a witness and commander for the people (Isaiah 55). And Isaiah 55 says that God will give us the same "sure mercies"–the Hebrew word chesed, which I translate as the kiss of God on your life–that He gave David.
So.
Our worship leader for the workshop told me afterward that she thought it was the most powerful seminar we've had yet, and I believe she was right. Holy Spirit sat down in such amazing power. We had two fire tunnels and God was just wrecking people all throughout. It wasn't me or our team, although our team did great. It was Holy Spirit. You could visibly see Him moving.
Here's some of the feedback people left from the weekend:
"The worship and teaching was so incredible!!! I will never be the same.  Thank you Jamie and thanks to your awesome team!!!!" – P
"It was so glorious to be in his presence! Amazing word on the kisses of the Father!" – K
"Thank you Jamie and crew for your leadership. ..it was awesome! God and I had some talks…watch what happens next! Daddy God be glorified!" – J
I want to publicly thank our ministry team for all their hard work for this weekend. God showed off and showed out and touched weary, discouraged, tired, and disillusioned people with the restorative, cleansing, renewing power of His Spirit. It was awesome.
I'll be making the audio available here on the blog soon, potentially with an e-book. Just so you know, however, these conferences are free to attend in person when they're at my church–so please make plans to come for the next one!
6. Blog progress:
Again, this is what YOU made possible.
52,290 pageviews in July alone.
16 new blog posts.
A whole bunch of new followers on Pinterest who are being reached for Jesus.
Several new partners–THANK YOU!!!
I rolled out the new FREE Supernatural Lifestyle Toolkit for email subscribers. It's been in my heart to do this for a long time, and it's finally done!
Multiple extra, free encouraging words sent out to all my Presence Seekers University email family. (Click on the Toolkit link above to sign up for Presence Seekers University; it's free!)
So. God is doing amazing things. I'd love to quote some of the testimonials for you about how God has touched people this month, but I don't have time here. If you read the comments on the posts, you can see many of them. Just know: none of this would be possible if you weren't helping. So, thank you!
A few little personal updates:
1. In just a few weeks, my husband and I are about to celebrate our 10th wedding anniversary! To celebrate, we're going to a couple of national parks. We don't like beaches or cities, but we LOVE the wilderness. So we're headed out into the middle of nowhere, almost entirely for free thanks to tips we learned at FrugalTravelGuy.com, and we're going to spend some time together with each other and with God.
2. I've also been in a season of spiritual stillness. Not inactivity, but a deep thing in which I feel God calling me to special face-time.
It's the same season I told you about a couple of months ago, when I asked for your prayer requests. I am still praying for those requests, and for you. I pray that God would help you in each of your needs, and also that He would give you an impartation from my life of everything He wants you to have that He has given to me. You have a right to impartation from Him because you have sown honor into my life through your reading of my work, and through your encouragement and support.
The season of stillness is a good thing, though. It's precious.
3. Also, for those of you who have asked, my health is doing much better. Thank you for asking. Going down to part-time at my corporate job and doing ministry work during those hours has made a huge difference. I'm no longer having heart trouble; it was stress-related. And I've been diligently exercising multiple times per week. I want to live long so I can fully perform God's purpose for my life.
4. And how's that down-to-no-time-at-the-corporate-job thing coming? Well, I'm trusting God. I know He's going to do it. I believe He's showing me some strategies that will help. 🙂 But mostly, I need your partnership … so please click on the link at the bottom of this post to become a monthly partner if you haven't already! 🙂 <3
Upcoming things on the blog:
I'm still working on the series about the 9 power gifts of the Spirit.
These teaching posts are very involved to write, so they take awhile. But please bear with me; they're all coming! Next is discernment of spirits, and I'll be releasing that one next week.
And some prayer requests, if you would pray for me:
1. Pray for my husband and I as we prepare to celebrate our 10-year wedding anniversary. We need this time together, and we need the rejuvenation for our spirit that only God's wilderness provides!
2. One of my goals for this blog is for God to use this blog to reach people more than 60,000 times this month with the message of His love–and more than 100,000 times per month by the end of this year!
That's a big goal, and I can't do it alone. I do need your help (with your social media shares–so please share, share, and share some more!); and even more–I need Papa's help! This blog is His, and the people He wants to reach are His.
So, please pray that every post I write from Him and Him alone. Pray that each one would be a word in due season to those who are weary. And pray that Papa would specifically:
Put all of my writing in the hands of the right people at the right time;
Help all my emails to land in inboxes (instead of spam folders);
Promote each post Himself as only He can do, including making posts go viral so we can reach even more people; and
That the Holy Spirit would personally minister to the heart of each reader through every post, to encourage them, lift them up, and draw them closer to Jesus.
3. Pray for me to finish all the edits that came back on my book proposal and sample chapters quickly.
I feel such a sense of urgency about this, and I must do this IMMEDIATELY, and I need Papa's help.
I got the edits back from my editor week before last and began working on them, but last week was totally dedicated to getting ready for the 21 Kisses workshop–and this week has been spent recovering from it! This weekend, though, I am again focusing on getting it done. Please pray for me.
(And if you haven't seen me talking about this before, my book is about healing from rejection and father/mother wounds, and being launched into your own ministry.)
4. Please pray for God to bring me together with the right book agent.
In the publishing world, you don't generally query publishers directly. You query agents, who have to decide they want to represent you, and then the agent talks to publishers on your behalf.
So I've been researching agents and have found several with whom I'd be interested in working. It's my desire to work with an agent who would not simply be a great agent, but who also would be a ministry partner–someone who understands. You may say that's a pipe dream, but that's my desire, and God can do it.
I also want said agent to be someone with whom I can build a long-term working relationship that will be a huge blessing to both them and me. I feel like, for Christians, working with other Christians should always be a joy. And I would want my agent to be able to look at me in 10 years and say they were ever-so-glad they picked me up. 🙂
So please pray that Papa would show me who all to query; and that the right agent for me would definitely want my work; and that the wrong agents would not want my work. For Him to open doors that He wants to open, and close doors He wants to close. 🙂
That's about all, folks. I love you all and I thank you so much for what you are doing to help make this work possible.
Know that I pray for you daily, and I love you even if I don't know you. Here's to an even more amazing August!
In Christ,
Jamie
Partner update: I need 1,000 partners to share in this Gospel work in the amount of $8 per month. Is God calling you to partner with me in this ministry? If so, please click here to read the details.
And partners: THANK YOU. I am more thankful for you than words could ever express, and I pray for you daily.