The 9 Power Gifts of the Spirit: Words of Knowledge

Did you know that the spiritual gift of words of knowledge will cause you to just know things … about people, situations, outcomes, dangers, motives, and more?
It's true! So, if you'd like to know things with a pure heart, like a secret ninja sleuthy extension of Jesus–and then be able to use that knowledge to help reach people for Christ, protect what He has given you, see people healed, and expand God's Kingdom …
… Then the spiritual gift of words of knowledge is for you! 🙂
The power gifts of the Spirit are also referred to as such because it's an easy way to distinguish them from the other listings of additional spiritual gifts elsewhere in the New Testament. The power gifts are listed in 1 Corinthians 12:1-11, as follows:
"Now concerning spiritual gifts, brethren, I do not want you to be ignorant:

You know that you were Gentiles, carried away to these dumb idols, however you were led. Therefore I make known to you that no one speaking by the Spirit of God calls Jesus accursed, and no one can say that Jesus is Lord except by the Holy Spirit.

There are diversities of gifts, but the same Spirit. There are differences of ministries, but the same Lord. And there are diversities of activities, but it is the same God who works all in all.

But the manifestation of the Spirit is given to each one for the profit of all: for to one is given the word of wisdom through the Spirit, to another the word of knowledge through the same Spirit,

to another faith by the same Spirit, to another gifts of healings by the same Spirit, to another the working of miracles, to another prophecy, to another discerning of spirits, to another different kinds of tongues, to another the interpretation of tongues.

But one and the same Spirit works all these things, distributing to each one individually as He wills" (1 Corinthians 12:1-11) (emphasis mine).
Did you see the nine power gifts listed there? They are:
Words of knowledge;
The spiritual gift of words of knowledge is one of my favorite gifts.
The Holy Spirit gave me this a few years ago without my even knowing He had done it, and all of a sudden I started getting words of knowledge out of nowhere.
I didn't even know that I was getting words of knowledge at first.
I would just have strange things happen–things about which I had a previous "hunch." I would learn things through the grapevine or through other means, and I would think, "That's weird! I thought that's what it was! How strange–I shouldn't have known anything about that!"
After awhile, I realized there was no way "I" could be having all these hunches. It had to be the Holy Spirit–and that's when I put it together that it was words of knowledge.
So I started studying words of knowledge in the Bible. There are a ton of them!
Jesus operated in words of knowledge all the time. Think of the woman at the well–"You have had five husbands, and the one you have now is not your husband." That was a word of knowledge. Jesus did stuff like that over and over throughout the Gospels. I had just never noticed that He did until I started looking for those words of knowledge on purpose in His ministry.
Words of knowledge are super-fun. If you desire this gift (and you should), you're in for an awesome ride. 🙂
What is a word of knowledge?
A word of knowledge is when God tells you something you wouldn't, couldn't, or shouldn't otherwise know. For example:
When you've just pulled the car in the driveway, and suddenly a picture flashes across your mind of the milk sitting on your kitchen counter. You pause, stop the car, and go back inside … and sure enough, you left the milk out on the counter! #WordOfKnowledge
When you have lost something important, and you have a sudden flash of inspiration and you just know that if you look there, you'll find your missing item (keys, phone, phone charger, book, etc). So you look in that place, and there it is. #WordOfKnowledge
When you see a weird political situation going on at your office, but you have a sudden flash of understanding of why it's happening. You keep your hunch to yourself, but later find out you were exactly right. #WordOfKnowledge
When you're praying for someone, and the Holy Spirit whispers in your ear that they're dealing with thoughts of suicide. You start praying for them to live and not die; to regain their hope and courage–
–and suddenly that person starts crying like a baby, opens up to you and confesses that yes, they have been dealing with suicidal thoughts. You pray for them and they renounce agreement with that spirit of death. The Holy Spirit frees them depression and gives them a new start … and they would never have confessed their darkest thoughts unless the Holy Spirit had revealed the problem to you. #WordOfKnowledge
When you're in a church service and suddenly you start having stomach pain out of nowhere–and you have no history of stomach pain! You have a hunch this sudden pain is actually a word of knowledge, where God is showing you that someone else has stomach pain, and He is ready to heal them.
So you tell your pastor that you you think God wants to heal someone with stomach pain. He announces this to the congregation; someone comes forward for prayer; you pray for them, and God heals them immediately. No more pain.
That's a word of knowledge. Those are all words of knowledge.
It's very likely that you're already getting words of knowledge, and you just haven't realized that's what they are.
Like when you saw that picture of the milk sitting on the counter after you've already left the house … and you didn't even know you had left the milk out!
Or when you're halfway down the street and you suddenly wonder if you remembered to close the garage door … and you turn around to check, and sure enough, the garage door was open. And you didn't even know!
When you begin reviewing a file at your office, and you have a hunch that something is wrong with it–that someone missed XYZ along the way. So you ask a few questions and look at the file history, and sure enough: XYZ was missed. You fix the problem and make things right with your file … and there's no logical reason you should have known there was a problem in the first place.
Those are words of knowledge.
God gives words of knowledge that will help you in everyday life, not just in spiritual-looking situations.
Remember that a word of knowledge is when God tells you something you wouldn't, couldn't, or shouldn't otherwise know. These tidbits of God-given knowledge come in handy in every situation you will ever face. You don't have to be praying for someone to have and use a word of knowledge. Sometimes God gives you a word of knowledge just to help you out or bless you!
Also, remember that Papa cares about everything that matters to you. Everything! If it matters to you, it matters to God — and He's your Helper, your Advocate. Therefore, the Holy Spirit is ready, willing, and eager to help you out at your job, at home, in the grocery store, and anywhere else.
He's always with you; and everything He is and everything He has is available to you every moment of every day. Never forget that: God is on your side!
But the Holy Spirit does give words of knowledge about spiritual situations too!
He'll tell you what to pray for when you're praying for somebody.
He'll often clue you in about things you need to know that are going on behind the scenes.
He'll tell you somebody's in trouble when you couldn't have naturally known that they were in trouble.
I can't tell you how many times I've gotten words of knowledge about the people I do life with in my LifeGroup and at other places in my church–when I've suddenly just known that they were not all right. When that happens, I've learned to reach out via text or Facebook message and say, "Hey, you were just on my heart. Are you ok?"
And just about every time that happens, they respond saying, "No! I'm terrible! XYZ just happened, or I am so discouraged! Help! And pray for me!"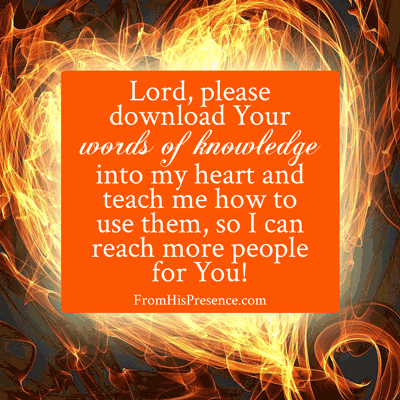 It's uncanny. It's God. It's the Holy Spirit, sending help to His people right on time.
Partner update: 65 down; 935 to go. I need 1,000 partners to share in this Gospel work in the amount of $8 per month. If you feel called to help, click here to read the details.
He uses words of knowledge to send healing to His people, too.
Words of knowledge are KEY in healing ministry. When someone is sick–say, with back pain–God will very often tell somebody else that there's a particular kind of sickness or infirmity present, and He wants to heal it.
He communicates these words of knowledge about healing in various ways. For example:
Very often, you'll start having a random pain in a place where you don't generally have pain. In the back pain example, your back might start burning or have sudden, sharp, shooting pains… and there's nothing wrong with your back! Or…
You might have the sudden thought or impression that God wants to heal back pain. Or…
You might have a burning or hot sensation in the part of the body that God wants to heal.
No matter how He communicates the word of knowledge, it's His siren alert that He is ready to heal that thing!
So what do you do when you get a word of knowledge for healing?
You let someone know. At my church, if we're in a church service, we tell our pastor or gatekeeper about it. And if they feel it's appropriate, they'll announce the word of knowledge from the stage and invite anyone who has that physical ailment to come down to the altar for prayer, because God wants to heal that ailment.
And when people come, God moves powerfully! Usually, the person with the word of knowledge prays for people; but if there are too many, all the intercessors may help. People get healed left and right …
… and when it's over, the person who got the word of knowledge no longer has that random pain in their back/stomach/whatever! That pain only came as an alert, so it leaves as soon as the work of God is through! 🙂
Cool, huh? That's how words of knowledge work in healing. The word of knowledge is simply God's message to one person that He has seen the need of another, and He's ready to heal/answer/meet that need.
Related: To Hell With Redemptive Suffering
Do you desire the gift of words of knowledge? You can have it; all you have to do is ask the Holy Spirit for it!
Psalm 84:11 says:
For the Lord God is a sun and shield; the Lord will give grace and glory; no good thing will He withhold from those who walk uprightly."
This gift of words of knowledge is definitely a good thing–so based on God's Word, we know for sure that Holy Spirit will give you this gift if you ask!
So do you want it? If so, just get alone with God and ask the Holy Spirit to pour out this gift on you. 🙂 Ask Him to give you more and more words of knowledge, and ask Him specifically to help you recognize them when they come.
Then, when He starts speaking to you, honor the word of knowledge He has given you!
If you see a picture of the milk on the counter, go back and check on the milk. 🙂
If you have a hunch there's something wrong with a project at work, ask questions and see if there really is.
If you get a word of knowledge about healing in your church service, present it to your pastor and see if he or she agrees with it.
As you begin to notice the ways Holy Spirit speaks to you, you will become more and more sensitive to Him. And as you obey and honor what He gives you, He'll give you more and more.
Are you already operating in this gift, and you want more? Or, do you desire to receive this gift for the first time? Ask Papa today! He will give it to you! And I'd love to hear your thoughts in the comments below. 🙂
Read all posts in this series about the power gifts!