9 Power Gifts of the Spirit: Discernment of Spirits

Discernment of spirits. Discerning of spirits. Whatever you want to call it, what is this spiritual gift and why is it important?
I believe that discernment of spirits is one of the most useful, crucial, vital gifts for these last days.
Of course, all the gifts are important, and we should earnestly desire them all! But I'm particularly partial to discernment of spirits for the following reasons:
It can save your tail in tough situations.
It can help you win in spiritual warfare.
It can protect you from being seduced by the enemy.
It helps you help others get free from spiritual and emotional bondage.
It can help you walk in wisdom and have your steps ordered by the Lord.
If you operate in this gift, God can use you to help protect His flock and entire people groups through intercession and, sometimes, wise and Holy Spirit-led intervention.
That's a lot. In order to discuss this spiritual gift appropriately, I'd like to break it down into four parts:
1. The definition of discerning of spirits.
2. How it helps you when it's fun.
3. How it helps you when it's NOT fun. (Because, unfortunately, sometimes we do have to fight battles, and battles are never fun. BUT GOD always wins anyway, if we will stick close to Him and obey Him.)
4. And finally: If you have this gift, what is your worst nightmare?
So here's the first question:
What is discerning of spirits / discernment of spirits?
Discerning of spirits is one of the gifts included in the list of power gifts from 1 Corinthians 12:7-11:
But the manifestation of the Spirit is given to each one for the profit of all:

for to one is given the word of wisdom through the Spirit, to another the word of knowledge through the same Spirit, to another faith by the same Spirit, to another gifts of healings by the same Spirit, to another the working of miracles, to another prophecy, to another discerning of spirits, to another different kinds of tongues, to another the interpretation of tongues.

But one and the same Spirit works all these things, distributing to each one individually as He wills" (emphasis mine).
The absolute best way I can describe discerning of spirits is to say this:
When you have this gift, you can "smell" what kind of spirit is present in a space–either in the place that you're in, or in the person to whom you're speaking. Sometimes you can even see that spirit.
It works the same way whether you're with someone who's filled with the Holy Spirit or whether you're talking to someone who's being oppressed by a demon.
If you're talking to someone who is filled with the Holy Spirit and operating in the Holy Spirit, you sense Him on and in them. You can feel the glory of God on them. You can see the light of Jesus shining out of their eyes.
You can smell a sweetness and a peace–a holiness–about them, even if they're having a horrible day and they've just kicked the dog, chewed someone out, or whatever. Even if they're sinning at the moment, they still belong to Jesus; and you can sense His Spirit in them.
But if someone is under the influence of an evil spirit–whether it's someone who's not saved and is totally possessed by demons, or whether it's someone who is saved and is being oppressed by demons–you can sense the presence of the evil spirit too.
(Oddly enough, you can even sense open doors to the enemy, and you can tell where and what they are.) Often, you can see the foul spirit or the open door in their eyes. And if you have discernment of spirits, you can tell what kind of a demon it is–and often, what its stronghold/root/door of access is (and what it takes to get rid of it).
You can just smell the spirit someone walks in. It's not a literal smell necessarily (although it could be); it's a spiritual sensation, but it's not dull at all. It's a very sharp, very keen awareness. And, whether something evil or something holy is operating, more often than not you can see it when you look into a person's eyes.
That's what discernment of spirits is. Now, let's talk about how to use this gift!
Discernment of spirits is always a blessing. However, as I mentioned above, sometimes using this gift is fun; other times, not so much. So how do you use this gift when it's fun?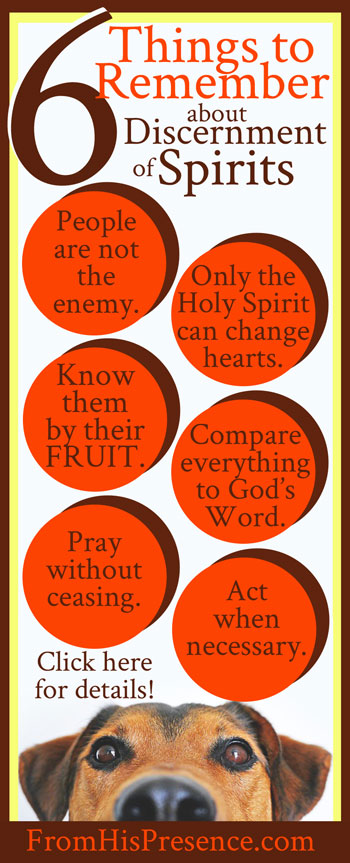 By the way, I made you a free, printable bookmark of the infographic at right. Click here to download the 6 Things To Remember about Discernment of Spirits FREE printable bookmark!
Discernment of spirits is easy when it's fun. It's fun in situations like this example:
Your friend tells you that they're really struggling in their thought life. They have this sense that something horrible is about to happen. You sense that they are being tormented by a demon of evil forebodings, a la Proverbs 15:15, which says:
All the days of the desponding and afflicted are made evil [by anxious thoughts and forebodings], but he who has a glad heart has a continual feast [regardless of circumstances]" (Proverbs 15:15, Amplified Classic version).
So you tell your friend that you have this sense they are being tormented by this particular demonic spirit, and you ask if you can pray for them. Then you pray, and you command that spirit to leave in Jesus' name and they pray to be filled with the Holy Spirit in its place. Suddenly, they have a tremendous sense of relief and they feel a thousand tons lighter.
Three days later, they report to you that they are still feeling relieved. Jesus set them free!
In that case, hallelujah! You operated in discernment of spirits and the Holy Spirit used you to accomplish His purposes. All glory to Him!
In that situation, discernment helped you. Through this anointing to discern between spirits, the Holy Spirit used you as His hands and voice to help set your friend free. How fun is that? There are few things more exciting than seeing someone step into spiritual freedom in Christ.
However, in some situations, using discernment of spirits is not fun. Necessary, yes. Helpful, yes. But fun, no.
It's not fun in examples like these:
Example 1:
You meet someone new. They seem nice enough, but something they say or do is out-of-the-ordinary and doesn't line up with the Word of God. Alarm bells go off in your head.
You do want to discern between good and evil, but you don't want to make snap judgments; so you stay quiet and pay attention. You know that Jesus said (Matthew 7) that by their fruit you shall know them. So you watch and see.
Over time, you, personally, see red flag after red flag after red flag. You're not listening to gossip; you're seeing things for yourself, and the red flags keep piling up. You compare them all to God's written Word, and the fruit absolutely contradicts what God says.
Uh oh. We've got a problem here.
In this situation, discernment of spirits is helpful because:
It's warning you about a potential problem.
It's keeping you from falling under the seduction of that potential problem. (Because if you come into agreement with an evil thing, all of a sudden YOU've opened a door to the enemy in your own life.)
If you are a leader of a people group that is targeted by this enemy invasion, God may end up using you to sound the alarm about a problem, or to deal with that problem directly (depending on what your scope of authority is).
But it's not fun because:
At least some people will disagree with you;
It's never fun to find yourself in the middle of a spiritual battle;
Conflict is never fun; and
You might have to do something with the information you sense, which is also never fun.
Example 2:
Someone you love is habitually making bad decisions. You sense that there's a root spirit at work, and you know what it is.
However, the person isn't open to feedback or correction. So all you can do is pray and wait and trust God–which can be agonizing sometimes, because His process is soooo sloooooow sometimes.
Your discernment is at work there, but it's not fun. Knowing what's wrong and not being able to do a thing about it, except pray, is not fun.
Related: If your child is away from the Lord and "working on their testimony," I wrote an encouraging word for parents with struggling kids here and a radical prayer for parents here.
So what do you do in these situations where the Holy Spirit is helping you discern that something is wrong?
Oh, beloved. Rule #1: Be so, so careful. Remember that Ephesians 6:12 tells us that the devil is our enemy, not people. This is so important. People are NOT your enemy.
Here's the crux of the issue: If you have discernment of spirits, your worst nightmare is to be RIGHT in situations like these.
You don't want to be right. You want it to all go away. You want everything to be fine. You want everybody to walk in holiness and righteousness. You want everybody to examine the Word of God for themselves and make sure their own actions line up with it.
You want–desperately, agonizingly–to be WRONG.
So here's what you do if the scope of the situation is so large that it requires intervention:
First, you pray.
Then, you're careful to pay attention only to those things you have personally seen with your own eyes and ears.
If you have any personal offenses toward the person, you must get those things out of the way through the conflict resolution process found in Matthew 18 first. If you don't, your ability to hear and discern will be totally compromised. So if you have personal offenses, go to the person in person and talk about the situation and resolve it, please.
Then, you pray some more.
If you have a relationship with the person, ask questions if things could possibly be vague. Just asking questions about something you're concerned about can resolve a world of issues before they ever begin. You may be  wrong, and just asking a few questions would totally clarify it. (Note: Not everything needs clarifying. Some fruit is black-and-white-obvious. But if you could possibly be construing the situation the wrong way, please do ask questions.)
As you do these things, you compare actual fruit to the written Word of God. FRUIT. Not your feelings; not gossip; not hearsay; not your personal opinion. FRUIT.
Take your time and be sure to follow the leading of the Holy Spirit, not your own emotions.
If you want some examples of fruit to watch out for, read my article about the difference between the Jezebel spirit and true prophecy here, along with my article about how to pray against the Jezebel spirit and WIN, here.
I have been in situations before where I have sensed something was wrong for YEARS.
YEARS. And I have agonized over it. Doubted myself. Felt certain I must be wrong. Decided to let it all go over and over again.
But in that situation, every time I decided it must all be in my head and I should let it go, something would happen that would make those alarm bells go off stronger than ever. Literally for years before I did anything about it.
I'm not proud of the fact that I didn't do anything about it for years, because I should have done something sooner than that.
It was right for me to move slowly, but just not that slowly. However, I was afraid of potential repercussions, so it was very hard to act. 🙁
Eventually, I did act … but only when I got to the point where I didn't care what the cost was to me personally. I arrived at the point where I felt that, if protecting the people who were getting hurt cost me everything I had labored for, it would still be worth the sacrifice.
And then, the intervening went well.
So when intervention is required, what else should you do after pray and are oh-so-careful?
Well, first, more prayer. Possible fasting, seriously. No joke.
But after that, if you feel led–and only AFTER you have made sure to resolve any personal issues you may have had with the person–go to the person in your environment who is responsible for alarms such as this.
When you go, make sure you have facts and FRUIT to discuss. Not just feelings. Feelings lie. Sensations lie, and instincts can be wrong. Jesus said you will know them by their fruit. So if you have a concern, gather FRUIT.
After you present the fruit, it's in your leader's hands. But I would continue to pray, no matter what.
But sometimes the thing you are discerning doesn't require actual intervention.
For example, if you sense that someone has an open door to the enemy in their life, but they're not causing a problem or hurting other people, I don't think that generally requires intervention. Even though you might sense what the open door is, you won't be able to do anything about it if a person doesn't want help.
Advising or correcting people who don't want advice or correction is generally not a fruitful endeavor. So in those situations, I would encourage you to:
Pray for the person;
Be nice to them;
Be their friend if you're friends;
Love them, and believe the best of them;
Ask the Lord to reveal truth to them and set them free;
Ask Him to help them see things from His perspective;
Ask Him to separate the person from any evil influence; and
Ask Father to open a door to speak to that person about the subject if He wants you to do so.
Remember that you and I are not the Holy Spirit. We cannot work in someone's heart.
I'm preaching to myself here too, because I know how hard it is to sit back and not try to help someone you love! Ultimately, only Holy Spirit can do any kind of work that needs to be done in someone's heart.
So what do you do? Just love someone and rest in the fact that they belong to Jesus, who said:
And I give them eternal life, and they shall never perish; neither shall anyone snatch them out of My hand. My Father, who has given them to Me, is greater than all; and no one is able to snatch them out of My Father's hand" (John 10:28-29).
You and I cannot convict anyone. All we can do is love someone, and shower them with the goodness of God (which the Holy Spirit uses to bring people to repentance).
So that's my lowdown on discernment of spirits. What questions do you have about discernment of spirits? Leave a comment below, and I'll do my best to help if I can.
Read all posts in this series about the power gifts!
Partner update: I need 1,000 partners to share in this Gospel work in the amount of $8 per month. Is God calling you to partner with me in this ministry? If so, please click here to read the details. And partners: THANK YOU. I am more thankful for you than words could ever express, and I pray for you daily.