3 Encouraging Keys From the Trenches of Spiritual Warfare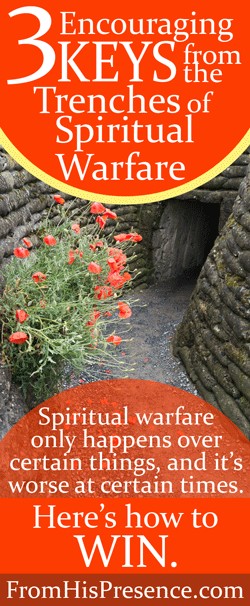 Have you found yourself in the middle of intense spiritual warfare lately?
If so, you're not alone. We all fight our way through various kinds of spiritual warfare every day. However, it's always good to be encouraged when you're in the thick of things. 🙂
So today, I wanted to share three encouraging keys from the trenches of spiritual warfare. I pray these three encouraging keys about spiritual warfare will hopefully be timely for you.
Related: You've Been Fighting Witchcraft and You Didn't Even Know It
Here are the keys you should know:
1. Spiritual warfare only happens over things, people, and situations worth fighting for.
No enemy ever tried to steal a prize not worth having. In the same way, when we find ourselves contending for anything in our lives, we can be assured that the thing we contend for is worth the fight.
And you win the battle by utterly abandoning yourself to God.
For example:
Are you contending for purity in your life?
Purity is worth it. Throw yourself into the Word with everything you've got, so God can keep you from sinning (Psalm 119). I mean GIVE yourself to it completely, with utter, reckless abandon. Having clean hands and a pure heart is worth it.
Are you contending for your destiny?
You must have an awesome destiny. The enemy wouldn't try to steal your destiny if you have no worth to the Kingdom of God. Pray, pray, and pray some more. Trust God to fight your battles for you, and He will.
Are you contending for your family?
Your family is worth it. Humble yourself under the mighty hand of God in every way, and trust God to lift you up in due time. Trust Him to take care of your family as you pray and seek Him.
The mere fact that warfare exists means you have a prize worth fighting for. So stand, soldier, and stand some more.
Related: An Encouraging Word For Intercessors: Make Like a Fire Horse and Stand
2. The worst warfare happens before the biggest breakthroughs.
Do you feel like your skin is getting burned off from the heat of the battle? Have you been fighting so long and gotten so tired that you feel you can't hold on any longer? Does it feel like all hope is lost and victory will never happen?
If so, stand firm, beloved. Victory is just around the corner.
Related: Banning Liebscher: There Is A Baby Coming!
In spiritual warfare, the battle gets fiercest when the enemy sees God bringing breakthrough just around the corner. So the enemy pulls out all stops to try to keep breakthrough from happening.
But you know what? First John 4:4 says:
"You, dear children, are from God and have overcome them, because the one who is in you is greater than the one who is in the world."
Greater is He Who is in us than he who is in the world. Every time.
And if you will submit to God and obey Him, God will bring your breakthrough every time. He will work all things for your good. That means if it isn't good yet, it isn't over yet.
And God is fully able. He has all power in Heaven and on earth. He is your Warrior, and you can trust Him to get your breakthrough to you. Every time.
Isaiah 66:9 tells us:
"Shall I bring to the time of birth, and not cause delivery?" says the Lord. "Shall I who cause delivery shut up the womb?" says your God."
God will bring you your breakthrough.
God is not a man, that He should lie. His Word is truth, and He will always keep His promises to you. YOU just stay firm. Keep standing. Keep using the weapons of your warfare (which are not earthly and fleshly, but are mighty through God for the pulling down of strongholds). Weapons such as:
Obeying God;
Declaring God's Word over people and situations; and
Seeking God with everything you've got.
And He will come through for you. Breakthrough is assured.
And if you feel like it's your darkest hour, precious friend, VICTORY IS NEAR.
So stand firm.
3. Warfare is easier when you decide how you're going to feel, rather than letting your feelings dictate your decisions.
It's total fallacy to think that your decisions have to be based on your feelings. They don't. The reverse is actually true: YOU decide how you're going to feel, and you make that decision by deciding what truth you're going to believe.
If you choose to believe that God is working your situation out for your good, then you'll have peace.
If you choose to believe that you are accepted in Christ Jesus, then you'll have harmony and fellowship with people.
If you choose to believe that God's Word is true and NOTHING SHALL BY ANY MEANS HURT YOU (Luke 10:19), you'll go forward with confidence in any situation.
The truth YOU choose to embrace dictates your feelings.
No matter what happens, God is in control and He is perfecting all things that concern you. He is taking care of you and working things out for your good if you love Him. But, you have to embrace the truth of His Word when you're going through the valley.
This is important:
When you're fighting through any situation, you can choose what to believe.
You can choose to believe the truth of God's Word, or you can choose to believe lies. Please, please, literally for the love of God, PLEASE choose to believe the truth of God's Word! Believing God's Word is the ONLY way to victory.
If you're new at this and it feels too hard, let me assure you: the commands of God are not too hard (Deuteronomy 30:11).
But would you like some practical tips to make it easier? Here they are:
Giving thanks to God is key.
If you're feeling low, start thanking God for everything you can think of, and keep giving thanks all day:
Thank Him for being with you.
Thank Him for His hand at work in your situation.
Thank Him for the breath in your lungs.
Tell Him "thank You" for the fact that His specific promises over your situation are true, and that you know He will keep His promises to you.
Thank Him for your easy morning commute.
Thank Him for the traffic jam you're sitting in.
Thank Him for His victory over your situation and thank Him for showing Himself faithful even while you still face the battle.
Just thank Him. Giving thanks will do wonders for your attitude in every situation, every time.
Also, and most importantly, soak your mind, emotions, heart, and spirit in the Word of God.
The Word of God has gotten me through the darkest times of my life. And actually, in the darkest of those times that I've ever experienced, God told me WHY He allowed me to go through what I was going through:
"So He humbled you, allowed you to hunger, and fed you with manna which you did not know nor did your fathers know, that He might make you know that man shall not live by bread alone; but man lives by every word that proceeds from the mouth of the Lord" (Deuteronomy 8:3).
We as Christians MUST come to depend on every word that proceeds from the mouth of God. The words that Jesus speaks are spirit, and they are life (John 6:63). God knows that His Word is best for us, so He gives us all the opportunity we require to learn to live by His Word.
So don't be like Saul and kick against God's instruction, ok? Soak in His Word. Learn to live not by bread alone, but by every word that proceeds from the mouth of the Lord.
And as you saturate yourself with God's Word every day, His Truth will become part of you.
God's Word will literally change the very fiber of your being, and you will begin to believe His Word. You will decide to embrace His truth, and His truth will dictate your feelings… meaning you'll have peace, joy, love, and all the other fruit of the Spirit.
Those are the three keys to spiritual warfare that I felt led to share with you today. No matter what battle you're fighting, my friend, keep your eye on the prize. Stand on God's side. Stand firm on His Word.
And God will sustain you and bring you victory every time.
Does this message encourage you today? Please leave a comment below if so. I'd love to hear from you!
Image courtesy of Thomas Quine on Flickr via Creative Commons license. Image has been cropped and graphics added.