Field Notes From My Fasting Failures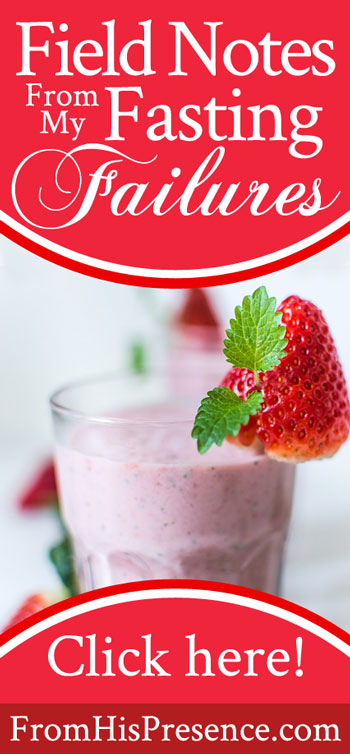 I think I'm the only person alive who can gain weight while fasting.
It's true… milkshakes are a liquid. 😉
Ugh. I have broken so many fasts, and fasted wrongly so many times, that it's just not funny.
But you know what? There's grace, grace, and more grace … and today, I'm going to share about my fasting failures with the hopes that my story will encourage you.
I used to fast an awful lot. I did it for two reasons:
Obligation. I read books by spiritual giants about how essential fasting is to real Christianity. These books basically felt like they were guilt-tripping me into fasting.
Legalism. Example: I actually heard a teacher once say that if you want God to move, you'd better get yourself on a 40-day fast. Ummm… NOT.
Manipulating God. I fasted to try to get God to move, because I didn't like the way He was handling things.
The only problem was, my fasting was usually not very successful.
Oh, it was painful, all right. Even milkshakes can get boring. I am a foodie who loves bread and sweets—sweet, precious sweets—and Mexican food and… you name it. So fasting was definitely unpleasant.
After awhile, a girl would do just about anything for a burrito.
Related: Read my other posts about fasting here:
Nevertheless, I never really felt like fasting had the intended results.
I did a lot of fasts, too. They ranged in length from 7 days, to 1 day, to 1 meal, to 21 days, to 40 days. I also fasted a lot of different ways:
On nothing but water–once even for a long fast (I felt like I would die and I don't recommend this);
Skipping bread, sweets, and meat substitutes (I never loved soy meat so much after that, I'm sure–keep in mind I'm already a vegetarian);
Skipping one meal at a time; or
On liquids, such as smoothies and soups, for extended periods.
Sometimes I would get so legalistic that I would be fasting already, but would feel like I needed God to move right then, so I felt like I had to add something onto my fast to make it even harder until He did. So if I was already skipping bread, meat/meat substitutes, and sweets, I'd also feel like I also had to skip a meal or two completely to get Him to listen.
One year, I did so many fasts that I added them up, and I had been fasting 1/3 of the year. The problem was that I don't remember feeling any closer to God as a result of long fasts. (Sunday morning fasts before church, yes, but not the long ones.)
I don't remember any huge miracles happening as a result of those fasts, except that I did start dating my husband in the middle of one fast—but I had been fasting off and on for years. Most of my fasts felt like a discipline–actually like I was flagellating myself–not like a miracle or a supernatural season with God.
(Disclaimer: Sometimes the benefits of fasting may not be visible in the natural realm right away. So if God did things in me or for me as a result of those fasts, I am not minimizing His work in any way at all. All I am talking about here is what I felt or perceived to be the benefits of my fasting.)
Why didn't fasting seem to be as awesome and helpful for me as everybody said it would be?
I believe it could have been because I was fasting to manipulate God and get STUFF, rather than fasting as a love offering to Him. Seeking God first was not my primary objective in fasting.
I discovered this whole "fasting as a love offering" thing just recently. Here's how it happened:
I was alone with the Lord one day, having my quiet time of prayer and Bible study. Suddenly, I was so overwhelmed with love for Jesus that the thought came to mind that I wanted to skip breakfast that day as a gift to Him… offering my opportunity to feed my face to Him as a gift, telling Him that I wanted Him more.
It was just as if I had been sitting at a restaurant table with Him, and I had a sandwich and He had none.
I felt like I was offering Him my sandwich, because He was hungry and I cared more about His company than I cared about the food.
So I skipped breakfast that day … and that is when I discovered that fasting could be like a dance, a waltz with my Savior, instead of like doing penance so I could comply with my Good Christian List.
It was only one meal, but that morning from 6 AM – 11 AM, I had a tremendous experience with the Lord. I went to work like normal, because I had to, but things were different:
I was so aware of the Presence of the Lord.
I was tremendously empowered for intercession, and I sat at my desk doing my job (with a supernatural flow, even!) but praying and interceding for someone I loved at the same time.
I was so hungry for the Lord all of a sudden.
It was like I had given Him something of value to me—one small meal only, but it was a love offering love to Him—and He was giving me the world in return.
It was a holy dance, and it ruined me.
After that, I stopped fasting to manipulate God. As a matter of fact, I stopped fasting at all for awhile; I wanted my heart to be right when I tried it again. So I just sought God, and finally I started little by little doing small fasts again.
Why? Because I am hungry for Jesus, and I am offering my sandwich (or my breakfast cereal, or whatever) to my Bridegroom.
Everything is totally different now.
I can't fast to get God to move anymore. Yes, I pray for specific things when I fast. But mostly, what I fast and pray for is that I just want Him. I want to love on Him and offer Him something of value to me. I want to warm His heart with my gift of food (skipping food in my case). I want to set aside that time, take my eyes off food, and look at Him instead.
I don't want to manipulate God anymore. (I don't think I'm missing out; I am not sure it ever worked anyway!) I just want to fast as an offering to Him, a sacrifice of love that will warm His heart and show Him that He is worth anything to me.
When I started fasting just to seek my Bridegroom, Jesus Christ, I started seeing tremendous results:
I began to draw closer to Him than ever before.
I started to get my passion and fire for God back. I became hungry for Him again.
I began to see miracles happen in my life.
I started to be able to minister in a level of power I did not have before.
I began to see Him speak to me about things I never expected Him to speak about.
I started seeing other people get prophetic words for me out of nowhere, about important things too!
It has been funny. It's almost like God meant it when He said that we should seek His face. It's almost like He meant it when He said to seek first the Kingdom of God, and His righteousness, and all these things would be added to us.
It's almost like God will do everything we need and more, if we will just put Him first.
So I'm going to continue seeking God's face through fasting. I can't do it on my own; I enjoy food too much. But I'm asking God:
… for desire and grace to fast.
I'm asking Him to keep my body healthy and stable while I fast.
I'm asking Him to help me fast for the right reasons, and to make me like Him.
I'm asking Him to open doors for me that cannot be shut, and shut doors for me that cannot be opened…
but most of all, to draw me closer to Him and flow through me more than ever before.
I have been a fasting failure, but I no longer care about that. I just want Jesus, and have found that fasting as a love offering to Him is a holy dance that brings me closer to the Desire of my heart.
Have you also experienced a fasting failure … or even a fasting success? What are your thoughts on this subject? I'd love to hear what you think in the comments!
Related: Read my other posts about fasting here:
Would you help me with my work of reaching people for Jesus as a domestic missionary? This blog, and all of my mission work in person, are made possible through your partnerships, donations, and product purchases. If you'd like to help me, please check out the partnership details and products available for sale here. And, thank you in advance for helping make this blog and everything we do together for the Kingdom possible!