Prophetic Word: January Is A Time for Healing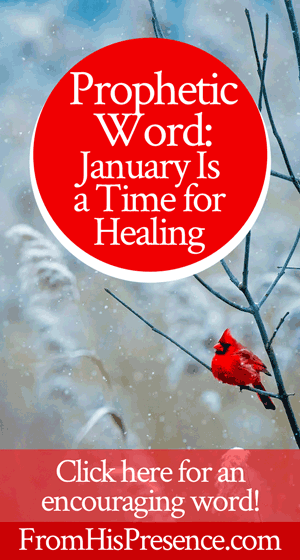 Does this January feel different to you than other New Year's seasons have felt? You're not alone; it is.
Ordinarily, in January, I'm all about new goals–and so is the rest of the world. There's a flurry of activity: some fruitful, some not. This year, however, I'm not doing that … yet. Here's why:
I feel like the Lord is telling me that January is a time for healing.
I actually sent this word to some of my ministry partners at the end of December. I could sense something different in the spirit realm.
Every New Year's season for many years, Holy Spirit has sat on me in November and December to make radical goals for January and the rest of the following year. But this year, He didn't.
He did give me a few goals, but nothing like other years. And I could sense He was doing something different. Finally, I heard Him say: "January is a time for healing."
God's people have been so tired and worn out from the rigors and warfare of 2016.
Father showed me that, although He is inspiring some level of vision for 2017, in many cases, we are too tired to receive all He has for us until we get some rest.
Related: Read this post if 2016 was the worst year of your life.
So January is a time for healing–for physical, emotional, mental, and spiritual healing.
Regarding physical healing:
It's time for us to slow down a little; maybe take a few days off work if you feel led; and get caught up on some sleep.
It's a time to embrace quiet and peace; to maybe even leave our cell phones off sometimes, so we can be released from the constant demands that tug at us every day and exhaust us.
Regarding spiritual healing:
I feel the Holy Spirit saying January is a time for spiritual hunger as well as rest; that we will actually find our spiritual healing and rest IN our hunger.
It's a time to turn off the many voices that crowd out the voice of God. It's time to sit alone with the Father and receive.
If you have not already determined to do so, I strongly encourage–no, URGE–you to go on a 21-day or 40-day breakthrough fast here at the top of the year. There are so many different ways to fast that everyone can find something to offer to the Lord.
For example:
You could fast from meats, breads, and sweets (a Daniel fast).
You could fast on liquids, such as smoothies, soups, and juices, for a certain period of time.
You could fast some days on water only (drink distilled water if you do this).
You could fast from TV.
You could fast from sweets.
You could give up one meal a day.
You could refrain from eating until after a certain time of day, e.g. 12 noon or 3 PM.
Don't make rules where God made none. God is not nearly as legalistic as we think He is. It doesn't matter what you fast; what matters is what your sacrifice is worth to you–what it costs you.
If your fast costs you nothing, it will mean nothing to the Lord. If it is a costly offering, it will be received as such. The Lord looks at your heart.
But no matter what you fast, I strongly encourage you to take an extended fast here at the beginning of January. Why?
Because fasting and prayer, when combined, bring spiritual healing and breakthrough more than any other thing.
Fasting and prayer is a HUGE key to everything in the spirit realm. Just to whet your appetite, here are twelve victories you can win, and win quickly, through fasting and prayer–victories that often either come slowly or not at all without it:
Character growth

Love for God

Purity

A lifestyle of personal victory and faith

Breakthrough in persistently trying situations

Stepping into your destiny/calling

Incredible, supernatural provision

Miracles, signs, and wonders

Intercessory victories when you're praying for someone else

Your own good health

Breaking addictions

Vindication
I STRONGLY encourage, no, URGE you to set aside time in January and February for a 21-day or 40-day breakthrough fast. Give God the first of your year, and watch what He does with the rest of it.
Related: Read my other posts about fasting here:
But whether you fast or not, January is still a time to seek God and receive spiritual healing.
Don't be surprised if you find yourself waking up in the middle of the night at unusual times in January. If that happens, ask the Lord if you should get up and spend time with Him. If you feel Him saying yes, go ahead and get up and get alone with Him in worship, the Word, and prayer.
Don't worry; if you get up to be with Him, He will usually send you back to bed and help you sleep afterward. You will still get the sleep you need.
But what you'll also get in that secret place with God is HEALING.
Sweet healing and restoring and refreshing.
You'll receive comfort and re-invigoration. And you'll get your joy back.
So please, take extra time to be with the Lord this month. I encourage you to even set aside time in the evenings–time when you might ordinarily be watching TV or going out–and rest with Him.
Rest by soaking in the Word.
Rest by asking Him to give you a song for the year–a song that heals you, gives you joy, and is your secret cry of your heart to Him and His to you for the whole year.
Rest by asking Him for a verse of the year. (I'll write more about my verse of the year and my song of the year later.)
As you do, you will receive spiritual and emotional healing from the Lord.
January is also a time for a mental re-alignment that will bring mental, physical, and emotional healing.
The Bible tells us in Proverbs 23:7a:
For as he thinks in his heart, so is he …."
The Lord wants to heal your thinking in January–and this healing will begin through the power of dreaming.
Many of us have gotten ourselves into a sorry state in our health, finances, relationships, work, appearance, or other areas. The Lord wants to heal these things. However, instead of healing them through New Year's resolutions or driven and focused goals, I feel strongly that He wants to heal our thinking first.
Because it's not what's on the outside that defiles a person and messes them up; it's what's on the inside.
Mark 7:14-16 says:
When He had called all the multitude to Himself, He said to them,"Hear Me, everyone, and understand: There is nothing that enters a man from outside which can defile him; but the things which come out of him, those are the things that defile a man.

If anyone has ears to hear, let him hear!"
The Biblical fact is: if we have a mess in our lives on the outside, it's because we have a mess on the inside in some area.
For example, if we are unhealthy and overweight, it's because we're not thinking right on the inside about:
who we are;
how beloved we are;
how we can look if we would like to;
about how well we deserve to be treated by our own selves;
and about the stewardship of our body, which is the temple of the Holy Spirit.
If we have a mess in our work, it's because we are not thinking right on the inside about:
working as to the Lord, and not as to men;
diligence;
faithful stewardship;
Biblical pro-activeness; or
any number of other things, depending on what kind of mess in our work we have.
If we have a mess in our finances, it's because we're not thinking right on the inside about any number of things, such as:
faithful stewardship;
supernatural provision;
keeping our flocks and herds (a.k.a. finances) in order;
the need to educate ourselves diligently about how finances work and how to master them;
or any number of other things, depending on what your particular situation is.
My point is:
No matter what you desire to change in your life, Father desires to heal your thinking on the inside first so He can help you manifest the change on the outside.
For this reason, I'm not making a ton of goals for 2017 yet. I have a few goals that the Lord has impressed upon my heart. However, in January, instead of dedicating myself to planning out my goals for the year, I'm going to take the time to get a vision.
Vision can heal you.
So I'm in the process of making a vision book for my life.
In that book (which is a beautiful journal some dear friends gave me recently), I will list who I am … whether I actually see those things on the outside yet or not.
In other words, I will list who I know I am on the inside; who God made me to be.
I will paste pictures that inspire me on the pages describing each thing. (The pictures will grab your mind's eye better than words alone can.)
And the Lord showed me that, as I make my vision book, He will heal my thinking.
It's already working. One of my life visions is that I eat healthy, whole foods that I cook myself. I've had this picture in my mind, because I've been pondering on my life vision.
And last night, when my husband and I went to cook dinner, we had a perfectly good raspberry pie in the freezer. But I heard Holy Spirit tell me that He wanted me to make quinoa, broccoli, and portobello mushrooms instead.
And you know what? I did!
It was actually easy to do. I had the energy and the willingness to do it–because eating whole foods and being healthy is part of who I am, based on the vision God gave me for my life.
Please understand when I say that, though, that eating healthy foods is not something I've been doing for a long time. I've paid a terrible price for making those unhealthy choices, too.
But in God's mind and Word, who you are is not the same as what you do.
Your "who" is: you are the righteousness of God in Christ.
Your "do" is: well, whatever it looks like on any given day. Changing your "do" to match your "who" is called the process of sanctification. It's called "working out your own salvation with fear and trembling."
Changing your "do" to line up with your "who" is the process of becoming Christlike, even though God attributes Christ's righteousness to us the moment we make Jesus the Lord and Boss of our lives.
It works the same way with getting a vision for your life.
So, I invite you to make a vision book for your life with me! Here's how:
Get a journal or book of some kind that you want to use. Then start writing your vision. Allow yourself to dream a little–and invite God into the process. Ask Him for His dreams!
I suggest making a different page for each subject, or even several pages for each subject.
Want to be debt-free and financially prosperous?
Write down what that means to you. Cut pictures out of magazines regarding what financial freedom means to you. Glue or tape them into your book. Leave space to write some goals, but don't feel pressure to write any goals yet. Just get the vision.
Want to be healthy, fit, and trim?
Write down what that means to you. Cut out pictures of some clothing outfits you would love to be able to wear. Glue them into your book. Take time to imagine yourself wearing those clothes. Imagine how good you feel when you are fit and trim.
And write it in your vision book!
Want to start and build a successful business?
Write down what that means! What's your dream? Where do you want to be in five or ten years? Find some photos that depict your vision!
No matter what your dream is, it all starts with thinking. And this January, God wants to heal your thinking!
I feel led to wait until closer to February to write very many specific goals. This January, I feel led to start with vision–with getting a renewed vision of my life; of who God created me to be.
Want to join me?
So January.
It's a time for dreaming; for rest and prayer.
A time to heal physically, emotionally, and in any other way we need healing; and to become in our thinking who He made us to be–to become who we are–in a place of rest and peace and HEALING, before digging in to actuate who we are in February.
January is a time for changing your thought process while in a total place of rest, to allow your mind's eye to fully grasp who Father made you to be.
And after you are able to rest in who Father made you to be, that "who" will be your new normal. Anything that doesn't line up with your "who" will then become distasteful to you (mess, clutter, unhealthy eating, etc).
Vision. It's not time for resolutions. It's time for transformation. Physical, spiritual, emotional, and mental transformation.
Does this word resonate in your spirit today? If so, please leave a comment below! I love to hear from you.
Would you help me with my work of reaching people for Jesus as a domestic missionary? This blog, and all of my mission work in person, are made possible through your partnerships, donations, and product purchases.
If you'd like to help me, please check out the partnership details and products available for sale here. And, thank you in advance for helping make this blog and everything we do together for the Kingdom possible!