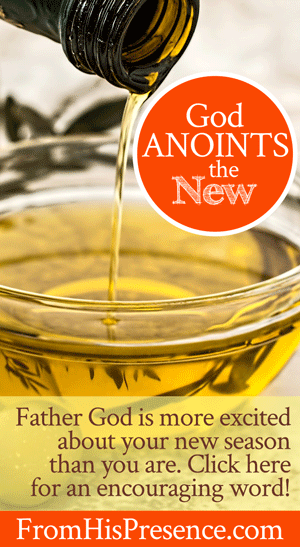 Happy New Year, and welcome to a wonderful new era!
Are you excited about this year? I sure am. I have so many good things from the Lord to share with you over the next few days, weeks, and months. My head is swimming with excitement. God is doing a new thing!
And speaking of new things …
I heard somebody say once that New Year's Day was just a trumped-up reason to get excited. They said that it didn't really represent a new season, and that it didn't mean God was doing anything new or different in your life.
And to that I say: Hogwash.
In case you might have been thinking that same thing, I want to talk to you about that today. I don't want you to miss anything wonderful that Papa has in store for you this year!
So that thing about newness and New Year's and all that:
It all goes back to the nature of God. Our Father LOVES newness, and God anoints the new.
Think about it. Remember:
When you got a new-to-you car, and suddenly you were inspired to keep it clean when you struggled to keep your car clean before.
When you started a new semester at school, and you were suddenly inspired to get organized and study hard, even though you'd been struggling before.
On your most recent birthday, when you thanked God for the year behind you and began looking forward to the year ahead.
Whether you realize it or not, GOD is excited about your new season!
Tune in to Him. Allow yourself to feel the Lord's excitement in you right now. Feel His excitement over your new year.
Allow yourself to receive His joyous sense of newness, His refreshing, and His grace that allows you to put the past behind you, start over again with a clean slate, and get filled with expectancy over a fresh start.
Feel the newness that today brings.
Related: Heavenly Downloads for Your New Season
That newness is from God. Why? Because He is the God of the new.
He is the God of new beginnings. The God of new chances. The God of new ideas, renewed energy, new hope, restored faith, and fresh fire.
Oh, He Himself never changes. But newness is part of Who He is. It's His nature to make all things new. That's why Lamentations 2:22-23 tells us:
Through the Lord's mercies we are not consumed, because His compassions fail not. They are new every morning; great is Your faithfulness."
And that's why the Bible tells us:
Then He who sat on the throne said, "Behold, I make all things new." And He said to me, "Write, for these words are true and faithful" (Revelation 21:5).
God's mercies are new every morning because He makes all things new. He makes all things new because that's what He loves to do. It's Who He is. It's His very nature. He transforms and renews and invigorates day in and day out. (It must be fun to be God!) He just loves to make all things new. It's Who He is. Today, tomorrow, and every day.
Moral of the story? Simply this:
Today marks the start of a new day on the calendar, and it's a new day for you in God's eyes too.
That new energy and inspiration that is coming to you all of a sudden is God's anointing. It's not something you made up.
It's not all in your head. Newness is a manifestation of God Himself. The sense of excitement you feel is God's anointing. He's sitting down with power on your new day.
So will you receive God's anointing on your "new" today?
The Holy Spirit is brooding over you right now. Will you surrender to what He wants to do? Will you jump into the river of newness and allow your life to be transformed in His Presence?
Beloved, God is sitting on you with newness. Right now, today.
So steward the anointing on your new.
Embrace it. Run with it. Papa God is making it available to you. He has anointed your new, and He'll keep on doing so. Allow yourself to dive into the river of His mercies, which are new for you this very day.
Abba Father's mercies are new every day. Daddy God makes all things new. Including you.
Does this word speak to your heart? What new thing is God doing in your life today? Leave a comment below! I'd love to hear from you.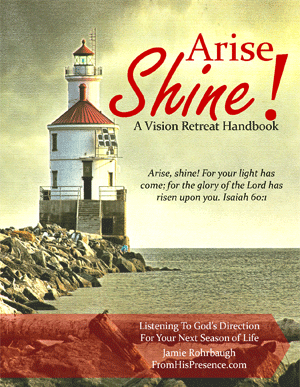 Related: Need help receiving God's heavenly downloads for your new season? Grab my Arise, Shine! printable vision retreat handbook (with loads of bonus material) for only $15, and it's instantly downloadable and printable!
Arise, Shine! contains tons of teaching and exercises, walking you through an entire vision retreat so you can get heavenly downloads for your new season. Click the book cover to purchase it on Gumroad!