Hidden Ones, Arise Into the Isaiah 49 Mandate!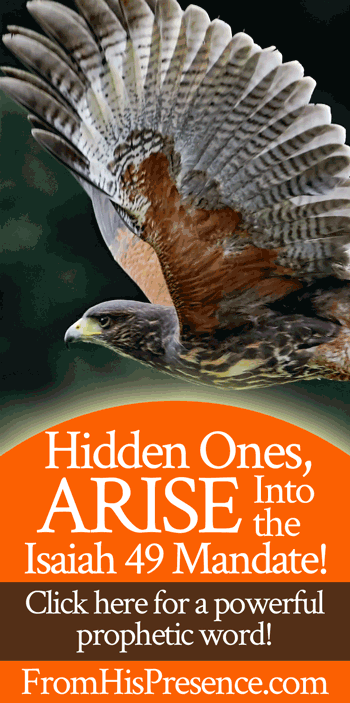 Many of God's crack soldiers have been hidden. You've known that you were made for more, but you can't seem to get out from behind the curtain of hiddenness. If that describes you, the Lord told me to tell you today: Hidden ones, it's time to arise into the Isaiah 49 mandate!
The Isaiah 49 mandate is a set of 11 prophetic charges and reassurances originally given to Christ.
However, they apply equally to Christ's Body at this time. If you've been hidden away or yearning to accomplish the great exploits you know that you know that you know God has called you to, it's time to rise up and take the territory assigned to you proactively.
Before I list the 11 aspects of this mandate, let me point out that 11 is the number of the prophetic and also the number of transition. And interestingly enough, the Isaiah 49 mandate is all about transitioning into God's new and unfolding assignment for your life. 🙂
Here are the 11 charges and reassurances that I believe God is speaking right now to those who have been hidden away:
1. The Lord wants to reassure you that He has called you from the womb.
Listen, O coastlands, to Me, and take heed, you peoples from afar! The Lord has called Me from the womb; from the matrix of My mother He has made mention of My name" (Isaiah 49:1).
Father God wants you to remember that He has always known you, and He has always known your name. He has known you from eternity past, and you are neither overlooked nor forgotten. He threw you on the womb of your mother for such a time as this.
Your life has purpose. The timing of your life is all-important. And Father God knows exactly where you are, who you are, and everything that's going on in your life, right now.
2. Yet, many of you have been feeling hidden and passed over; feeling that no one sees you or values you.
And He has made My mouth like a sharp sword; in the shadow of His hand He has hidden Me, and made Me a polished shaft; in His quiver He has hidden Me" (Isaiah 49:2).
In most cases, it's not "all in your head." People truly have not seen you with Spirit eyes or valued you like they should.
However, it's crucial for you to realize that you aren't the only one who has felt that way. Jesus Himself, about whom this passage was originally written, felt hidden …
… because He was hidden.
Jesus was hidden like an arrow in the quiver of God. God hid His own Son in His quiver and kept Him there, with nobody seeing Him, until Father knew it was the right time. And at the right time, Father took Jesus out of His quiver and shot Him like an arrow into His destiny.
Beloved, you've been hidden as well.
Being hidden has been frustrating. You've been feeling like the hiddenness you have experienced has been unjust. However, I believe that Father God wants you to know that He cooks the best things the longest.
Think about it this way. Which is better: eating from a pot of chili that has been cooking an hour, or eating from a pot of chili that has been cooking in a slow cooker for three days? The three-day chili is better, of course. And why? Because it has been cooking long enough for all the flavors to have marinated together into one cohesive whole.
In the same way, you have been cooking in God's slow cooker for many years.
So many times, you've wanted out of that hidden place. You've known you could function on the outside just as well as the others you see around you.
However, Father wants you to know that you weren't made to be like the others you see around you; He needs YOU to go higher in order to increase His government on the earth.
And the best things take the longest to cook.
Papa God is a Master Chef, and He's been cooking you a long time. Now, however, He's ready to pull you out of His quiver and shoot you like an arrow into your destiny.
3. Beloved, Father also wants you to know that He claims you as His servant. He is reassuring you right now that He will be glorified in you.
And He said to me, 'You are My servant, O Israel, in whom I will be glorified.' Then I said, 'I have labored in vain, I have spent my strength for nothing and in vain; yet surely my just reward is with the Lord, and my work with my God'" (Isaiah 49:3-4).
You have felt so many times that your work has been for nothing. You've anguished in your heart that you've spent your strength for God, but have nothing to show for it.
Yet, despite feeling that way, you've clung steadfastly to the Lord. You've trusted and believed Him for harvest, even when you have seen no harvest with your natural eyes.
But beloved, Father honors your steadfastness. He sees that, even when you haven't felt like you were doing any good or reaping any benefit, you have chosen to remain faithful to His call. You have kept your hand on the plow and labored anyway.
And today, Father wants to reassure you: your work has not been for nothing. He WILL be glorified in you, and He is extremely possessive of you. You are His cherished child, His beloved; and you are a valuable, profitable servant to Him. He honors you and appreciates your service.
4. And because of your faithfulness, He is upgrading your assignment.
And now the Lord says, Who formed Me from the womb to be His Servant, to bring Jacob back to Him, so that Israel is gathered to Him (for I shall be glorious in the eyes of the Lord, and My God shall be My strength),

Indeed He says, 'It is too small a thing that You should be My Servant to raise up the tribes of Jacob, and to restore the preserved ones of Israel; I will also give You as a light to the Gentiles, that You should be My salvation to the ends of the earth'" (Isaiah 49:5-6).
Papa formed you in the womb specifically for Himself. It has always been your destiny to be His, and He has always intended to use you to bring His people back to Him. His hand has always been on you for this purpose.
However, you previously thought you would reach one people group. You knew you were called to reach one people group. But now, Father says that your first assignment is too small. You didn't know it, but He's had better things in store for you all along, and now He is releasing you into the bigger assignment.
Your divine upgrade extends now to the ends of the earth.
In the coming days, you will find your horizon widening. This increase in spiritual vision is from the Lord. Because of your new assignment, your prior limits have been removed and the former boundaries erased.
Your hometown is no longer big enough. Your testimony and your witness will now extend to the ends of the earth, and you will demonstrate God's salvation–His Yeshua, Jesus, the Anointed One, the Christ–to the ends of the earth.
The nations are yours for the taking. Psalm 2:8: "Ask of Me, and I will give You the nations for Your inheritance, and the ends of the earth for Your possession."
5. In many cases, you have been despised and abhorred. Those days have come to an end.
Thus says the Lord, the Redeemer of Israel, their Holy One, to Him whom man despises, to Him whom the nation abhors, to the Servant of rulers:

'Kings shall see and arise, princes also shall worship, because of the Lord who is faithful, the Holy One of Israel; and He has chosen You" (Isaiah 49:7).
People have truly failed to see you with Spirit-led perspective. Their eyes have seen only in the natural, and they have failed to look at you with God's own vision.
Nevertheless, you have continued to serve faithfully. You have served those in authority over you. You have faithfully served someone else's greater vision, as is fitting in the Kingdom.
But Father wants you to know that it is His way to honor you. Your fathers' ceiling will become your floor, as is fitting in the Kingdom. In the place where you're going, leaders and those in authority will listen to you because Father's anointing and glory on you will be so obvious.
You will never seek recognition, because that's not who you are. But Father will honor you anyway for the sake of His Christ–His Anointed One who inhabits you. His stamp of approval on you will be obvious to all who see you.
6. Now God is giving you as a gift to His people. You are to become a spiritual father or mother.
Thus says the Lord: 'In an acceptable time I have heard You, and in the day of salvation I have helped You; I will preserve You and give You as a covenant to the people, to restore the earth, to cause them to inherit the desolate heritages; that You may say to the prisoners, 'Go forth,' to those who are in darkness, 'Show yourselves.'" (Isaiah 49:8-9a).
Father has heard your cry. He has always helped you, but now His help will become obvious. He alone will preserve you and keep you alive. And He is now giving you, personally, as a gift to the people.
You may think that is a prideful thing to think of, but it's not. I hear Father saying that He has crafted you in His hands all this time specifically to be a gift to His people. You, personally, will be God's gift to the peoples of the earth.
As God's gift, His covenant, to His people, you have four assignments:
to bring restoration over all the earth;
to hand out spiritual inheritances that have lain desolate and unused–causing those inheritances to be picked up and used again;
to command those who are bound up in prisons of darkness to come into the light, freedom, and abundance that Christ died for us to have; and
to command, equip, and help those who have been hiding to RISE UP and put their hands to the plow, fully occupying themselves with their God-given destiny.
All these things are what spiritual fathers and mothers do. Isaiah 49:8-9 is a description of making disciples like Jesus did, which is fathering (mothering).
YOU are now to become a spiritual father/mother. YOU are to raise up every person to whom God sends you into his or her spiritual inheritance. You are to encourage, equip, and build up God's people from your doorstep to the ends of the earth to walk in the light. This is YOUR assignment.
7. And when you fulfill your assignment–as you are in the process of fulfilling your assignment–be assured that:
They shall feed along the roads, and their pastures shall be on all desolate heights. They shall neither hunger nor thirst, neither heat nor sun shall strike them; for He who has mercy on them will lead them, even by the springs of water He will guide them.

I will make each of My mountains a road, and My highways shall be elevated. Surely these shall come from afar; look! Those from the north and the west, and these from the land of Sinim" (Isaiah 49:9b-12).
As you go about the work of being a spiritual father or mother, raising people up into their inheritances, Father is going to provide good pasture for you and yours.
He will feed you in high places. You will have all the safety and provision you need, for Jesus Himself, that great Shepherd of the sheep, will lead you and guide you.
Father is taking you to high places that have previously felt inaccessible to you. He will move you along His high roads, and you will find others following you from places you never expected.
8. You are about to see the manifestation of God's mercy and covenant in your life.
Sing, O heavens! Be joyful, O earth! And break out in singing, O mountains! For the Lord has comforted His people, and will have mercy on His afflicted.

But Zion said, 'The Lord has forsaken me, and my Lord has forgotten me.' Can a woman forget her nursing child, and not have compassion on the son of her womb? Surely they may forget, yet I will not forget you. See, I have inscribed you on the palms of My hands; your walls are continually before Me" (Isaiah 49:13-16).
Beloved, the assignment Papa is handing out is a good thing, and He has comforted you in all your affliction. Whereas you have seen hardship and tribulation in years past, we are moving into a season where, because of the covenant God has made with us His people, we will see manifestations and demonstrations of His mercy instead.
Psalm 106:44-46: "Nevertheless He regarded their affliction, when He heard their cry; and for their sake He remembered His covenant, and relented according to the multitude of His mercies. He also made them to be pitied by all those who carried them away captive" (emphases mine).
As Apostle Dutch Sheets has been teaching the Body lately, covenant and mercy go together. And we, God's people, are not like other people who do not have a covenant.
We have been grafted into God's covenant with Abraham through Christ. Therefore, we now have access to all the power, provision, protection, and mercy that that covenant carries. We have complete and total access to everything God is and all that He has by His mercy, which is ours in Christ Jesus.
So rejoice, beloved child of God! Let rejoicing and singing break forth from our hearts and lives daily, and let us call on God's mercy by virtue of His covenant.
9. I believe the Lord also wants us to know that He will never give up on us, and we should never give up on others either.
As you walk through this process of becoming a spiritual father or mother, you may wonder sometimes if you should give up on people or situations. The answer? No.
The Word of God says that He will never forget us, for we are His children. We are inscribed on the palms of His hands. This is His heart for us.
In the same way, since we are to become like Christ in all things, we are never to give up on anybody. We are never to forget even "the least of these." Well-meaning people may try to convince you to walk away from certain people, but don't listen.
Believe in your sons and daughters unflinchingly. Love them enduringly and unconditionally. Such is the heart of God for us, and this must be our heart of love for others as well.
10. And for those of you who have wandering children (natural or spiritual), you've been wondering if your children will ever come back.
It's not that you're doubting God's ability to bring them back. Rather, you have been asking yourselves: "Will my children ever choose to come home? Will they choose to get right with God? Will I ever reap the love and relationship into which I have sown, all these years?"
And the answer to that question is: YES. They will.
The Word of the Lord says:
Your sons shall make haste; your destroyers and those who laid you waste shall go away from you. Lift up your eyes, look around and see; all these gather together and come to you.

'As I live,' says the Lord, 'You shall surely clothe yourselves with them all as an ornament, and bind them on you as a bride does. For your waste and desolate places, and the land of your destruction, will even now be too small for the inhabitants; and those who swallowed you up will be far away.

The children you will have, after you have lost the others, will say again in your ears, 'The place is too small for me; give me a place where I may dwell.' Then you will say in your heart, 'Who has begotten these for me, since I have lost my children and am desolate, a captive, and wandering to and fro? And who has brought these up? There I was, left alone; But these, where were they?'"

Thus says the Lord God: "Behold, I will lift My hand in an oath to the nations, and set up My standard for the peoples; they shall bring your sons in their arms, and your daughters shall be carried on their shoulders; kings shall be your foster fathers, and their queens your nursing mothers; they shall bow down to you with their faces to the earth, and lick up the dust of your feet.

Then you will know that I am the Lord, for they shall not be ashamed who wait for Me" (Isaiah 49:17-23).
Beloved, all the forces that laid you waste are fleeing from you right now. It may take time, but look up. Your children are coming home.
You are going to have your children back. Destruction is fleeing from you, and your children are going to return to honor you.
I can't tell you how long it will take; God's work in your children is a process, just like it is in you. But Isaiah 49:20 contains God's guarantee that your children–the same children whom you thought were lost to you–will yet return to you. They will come home and ask you to make room for them in your life again.
When they do, be sure to answer with love and grace, the same way Father would. Put your ring on that child's finger, and place your best robe on his or her back. Throw a party in their honor, for the child that was lost will be found again; and the children you thought left you bereaved will again be the children of your inheritance.
Precious mother or father, your babies are coming back.
11. You're going to be safe in this new assignment.
Shall the prey be taken from the mighty, or the captives of the righteous be delivered? But thus says the Lord: 'Even the captives of the mighty shall be taken away, and the prey of the terrible be delivered; for I will contend with him who contends with you, and I will save your children.

I will feed those who oppress you with their own flesh, and they shall be drunk with their own blood as with sweet wine. All flesh shall know that I, the Lord, am your Savior, and your Redeemer, the Mighty One of Jacob'" (Isaiah 49:24-26).
Mighty men and strong men can be defeated, but the Lord God of Heaven and earth cannot. In this season, know that Father God Himself will contend with him who contends with you. He's not only saving your children, but He's perfecting everything else that concerns you too. Jehovah Sabaoth, the Lord of hosts and God of angel armies, is on your side, and He has something to prove.
So, beloved, as you arise into His mandate for this new assignment on your life, remember this: you are not alone.
Father Himself has promised that He will protect and defend you so powerfully that ALL flesh shall know that He is your Savior–your personal Savior, who shows Himself mighty on your behalf.
Beloved, if you've been hidden, you have a powerful new assignment.
You are to become a spiritual father or mother, raising people up into their lost inheritances. Your influence is to extend over all the earth if you will but ask for nations. Father is perfecting all things that concern you as you go about His business, and you don't have to be afraid of any part of His mandate on your life.
Will you accept the challenge?
Does this word resonate with your spirit today? If so, leave a comment below. I'd love to hear from you!
Would you help me with my work of reaching people for Jesus as a domestic missionary? This blog, and all of my mission work in person, are made possible through your partnerships, donations, and product purchases.
If you'd like to help me, please check out the partnership details and products available for sale here. And, thank you in advance for helping make this blog and everything we do together for the Kingdom possible!