When Your Destiny Seems Slow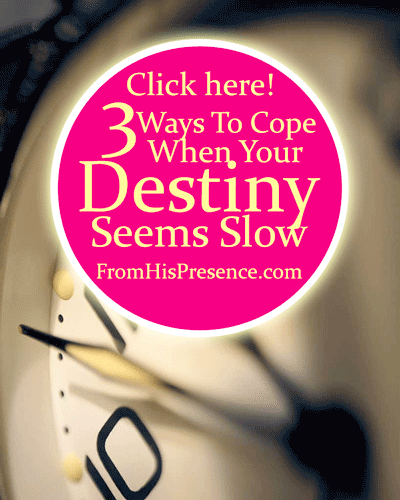 Do you ever get frustrated when breakthrough comes slowly? When you think you see God's plan, but it takes a long time to manifest?
I know I have. I feel like I know what the ultimate thing is that God has called me to, and I want to do that thing so badly. I know God is preparing me, but waiting can still be hard.
We have all probably experienced frustration when our destiny seems slow.
But how do we cope? Do we sink into self-pity, which only delays our dream? Or do we stay filled with faith and hope?
Unfortunately, I have learned from my own failure that sinking down into doubt and self-pity ("the depths of woe and despair'" a la Anne of Green Gables!) only makes things worse.
Why? Because God can't bless that attitude. Whatever is not of faith is sin (Romans 14:23), and God is not going to bless my sin. So, He has to wait until I have learned to stay strong in faith before He can open doors for me.
But the waiting can still be hard sometimes. So today, I'd like to share three things that are helping me deal with the frustration of delay. I believe they will help you too! Here they are:
1. Stay on your face.
I believe that frustration with delay is actually anxiety. The Bible tells us that the antidote is prayer.
Philippians 4:6-7 says:
"Be anxious for nothing, but in everything by prayer and supplication, with thanksgiving, let your requests be made known to God; and the peace of God, which surpasses all understanding, will guard your hearts and minds through Christ Jesus."
I could never handle life without prayer. When I pray, God makes everything better. Sometimes I have to lock myself in my room alone and pray for a long time before my soul gets relief, but no matter what it takes, relief always comes when I take my burdens to the Lord.
Psalm 55:22 says:
Cast your burden on the Lord, and He shall sustain you; He shall never permit the righteous to be moved."
Praying about your burdens releases them to the Lord. It will fill you with peace and contentment. Prayer will bring answers, too!
When you're frustrated because your destiny seems slow, remember the words of Jesus in Matthew 11:28:
Come to Me, all you who labor and are heavy laden, and I will give you rest." 🙂
2. Don't let other people's behavior determine whether you will obey God or not.
This is a tough one because it forces us to relinquish control. We are all accountable to God for our own actions, and only our own actions.
Even if I get frustrated with someone or get punched in the gut, I am not excused from obeying God. I don't have a right to think badly about that person or gossip, because God commands us to believe the best of every person and walk in love. (Re-reading this before I publish it, and conviction sets in yet again. O God, please help me with this one!)
No matter how other people behave, I have to decide: will I obey God? Or will I bow down to my fleshly desire to chew them out or retaliate?
Help me, Jesus! God will see to other people's actions. You and I must see only to our own. As the apostle Paul wrote, "…work out your own salvation with fear and trembling" (Philippians 2:12).
3. Notice God's current work in you, and thank Him for it.
In this season of life, God is giving me fruit in some things–the first fruit I've had in a long time, after years of character-building and working through tough emotional issues. Even though the fruit is not yet in the exact area that I want to be in the rest of my life, I'm still very grateful for what He's giving me now.
My problem is that I don't take enough time to thank Him for that fruit. I need to be more thankful, and say so.
When I thank God for what He's done, I am more content to wait for His timing for the rest of my dreams. (Also, what you bless will increase in your life, so when I take time to thank God for what He's given me now, those things expand. Yay Jesus!)
Nobody likes delay. We're a microwave generation, and we serve a crock-pot God. However, if we will stay grounded in prayer, determine to obey God no matter what, and thank God for His current work in our lives, we can remain stable and fixed throughout the preparation process.
Are you waiting for God to fulfill a dream for you? If so, how do you deal with it when your destiny seems slow? Leave a comment below; I'd love to hear your ideas!