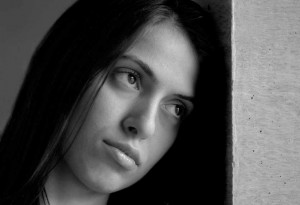 From the archives: I don't know about you, but I have struggled a lot with self-pity in my life. This is one of my favorite posts ever on overcoming self-pity. We can't be pitiful and powerful at the same time! Enjoy!
John the Baptist was in prison. He must have been feeling pretty discouraged, because after he got great news from his disciples about Jesus' activities, John still sent the following message to Jesus:
"Are You the Coming One, or do we look for another?"
Luke 7:20-23 records this incident. "When the men had come to Him, they said, "John the Baptist has sent us to You, saying, 'Are You the Coming One, or do we look for another?'"
 And that very hour He cured many of infirmities, afflictions, and evil spirits; and to many blind He gave sight.
Jesus answered and said to them, "Go and tell John the things you have seen and heard: that the blind see, the lame walk, the lepers are cleansed, the deaf hear, the dead are raised, the poor have the gospel preached to them. And blessed is he who is not offended because of Me" (NKJV).
Jesus heard John's question, but the cry of John's heart was louder. 
So Jesus did not only address the question. He addressed the issue.
John knew Jesus was the Messiah. He had spent his entire life proclaiming that very fact. And Jesus knew John knew it.
But the issue was that John the Baptist allowed self-pity to creep in.
So Jesus, in essence, said, "Look at the signs." He referred John back to Isaiah 61:1:
"The Spirit of the Lord God is upon Me, because the Lord has anointed Me to preach good tidings to the poor; He has sent Me to heal the brokenhearted, to proclaim liberty to the captives, and the opening of the prison to those who are bound…."
Jesus was reminding John that the proof of Himself as Messiah is found in the fact that Jesus was the obvious fulfillment of this prophecy… a prophecy that both John and Jesus would have been familiar with. This addressed John's question of whether Jesus was Messiah or not.
But then Jesus addressed the most important thing: the state of John's heart.
John had been waiting all his life for Jesus to manifest Himself in His full glory. Jesus was walking throughout all Judea, healing the sick, raising the dead, and preaching the Gospel. Despite those things, somehow Jesus' ministry didn't look like what John thought it would. John wasn't seeing the progress he wanted to see.
John had sown his entire life into preparing the way for Jesus to come.
But the fruit didn't look like John thought it should, and John's time was running out.
This is the heart issue Jesus addressed: "Blessed are those who are not offended at me."
In Jamie's authorized-by-herself translation, this says:
"Blessed are those who are not offended by My methods."
"Blessed are those who don't get offended when life doesn't look like you want it to."
"Blessed are those who sow and sow and sow, but don't get offended when the harvest is slow."
"Blessed are those who live righteously, who have bad things happen, but keep their faith in Me anyway."
Jesus' statement was a gentle challenge. John knew better than to ask these questions, and Jesus knew it. Ever so gently, Jesus was pointing out to John that He knew it.
I can see Jesus now, lifting John's chin, and saying, "Hang in there!"
Jesus challenged John to return to his faith. To return to proclaiming the promises of God, not doubting them. To return to preaching–even from prison–not to wallow in self-pity.
Jesus' message is powerful to all of us. Have you allowed self-pity to creep in? You were made for better than that. You were made to carry God's glory and proclaim His promise.
To rest in His faithfulness, not to cry out in despair.
God is faithful. He will never abandon you. He knows all about what's going on with you right now. Even if life doesn't look like it should, He still says: "Blessed are those who are not offended by Me."
Will you choose to forget self-pity today, and cling to the faithfulness of God instead? Listen to this song by Jon Thurlow, called "John the Baptist," and talk to the Lord about your desire to hold on to Him. I guarantee He will meet you as you do.

You'll get an email when new content is posted. You'll also receive my free, printable blessing cards and my ebook–The Presence Seeker's Creed–for free when you confirm!