When Life Doesn't Look Like It Should: Beating Self-Pity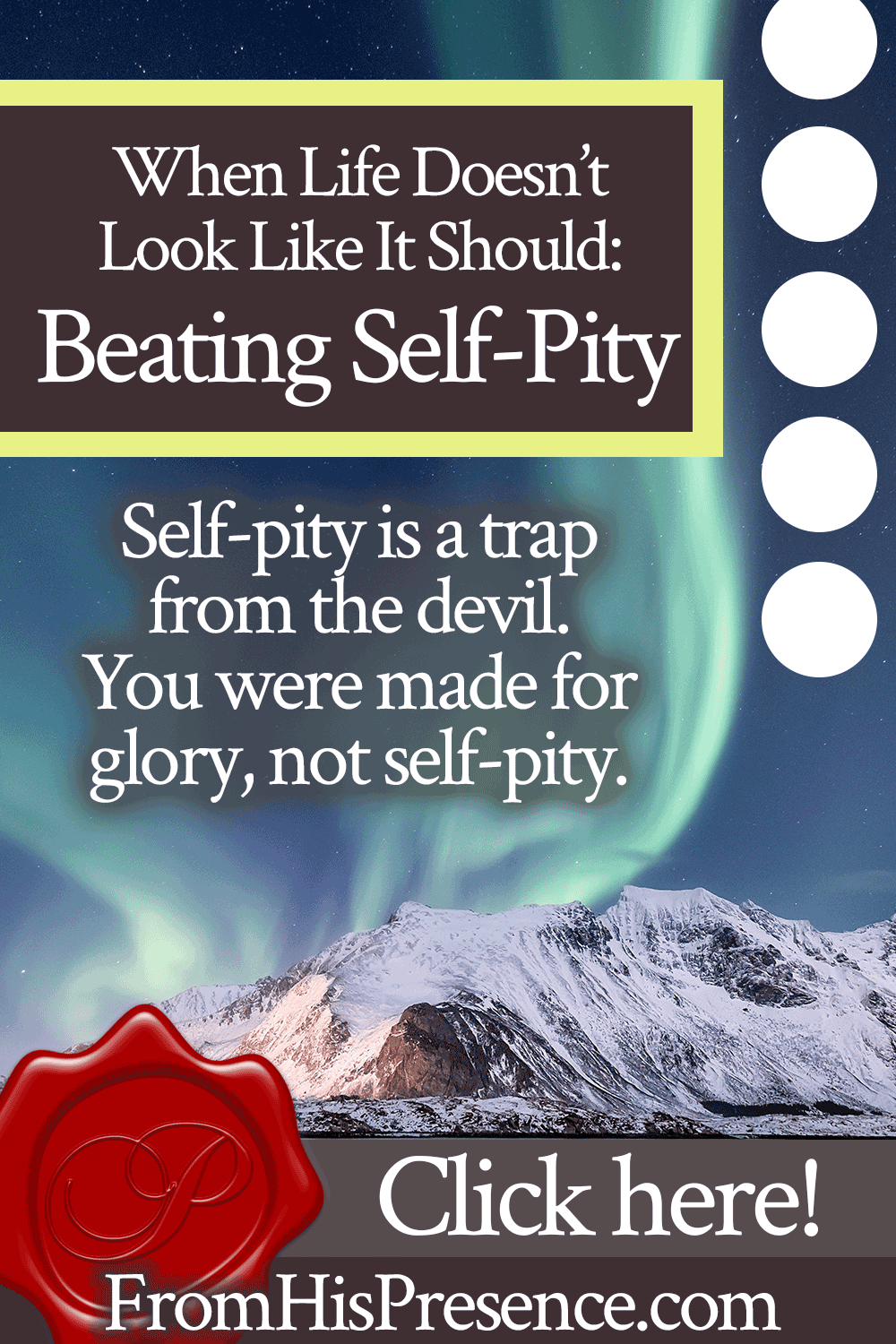 I don't know about you, but I have struggled a lot with self-pity in my life. If you have too, then this word about overcoming self-pity is for you today:
We can't be pitiful and powerful at the same time, so it's time to beat self-pity and kick it to the curb!
I noticed a glaring example of self-pity in the Bible some time ago, and it has really stuck with me. Here's the story:
In Luke chapter 7, John the Baptist was in prison.
He must have been feeling pretty discouraged, because after he got great news from his disciples about Jesus' activities, John still sent the following message to Jesus:
"Are You the Coming One, or do we look for another?"
Luke 7:20-23 records this incident as follows:
"When the men had come to Him, they said, "John the Baptist has sent us to You, saying, 'Are You the Coming One, or do we look for another?'"

And that very hour He cured many of infirmities, afflictions, and evil spirits; and to many blind He gave sight.

Jesus answered and said to them, "Go and tell John the things you have seen and heard: that the blind see, the lame walk, the lepers are cleansed, the deaf hear, the dead are raised, the poor have the gospel preached to them. And blessed is he who is not offended because of Me" (Luke 7:20-23 NKJV, emphasis mine).
Jesus heard John's question, but the cry of John's heart was louder.
So Jesus did not only address the question. He addressed the issue.
John knew Jesus was the Messiah. He had spent his entire life proclaiming that very fact. And Jesus knew John knew it.
But the issue was that John the Baptist allowed self-pity to creep in.
So Jesus, in essence, said, "Look at the signs." He referred John back to Isaiah 61:1:
"The Spirit of the Lord God is upon Me, because the Lord has anointed Me to preach good tidings to the poor; He has sent Me to heal the brokenhearted, to proclaim liberty to the captives, and the opening of the prison to those who are bound…."
Jesus was reminding John that the proof of Himself as Messiah is found in the fact that Jesus was the obvious fulfillment of this prophecy… a prophecy that both John and Jesus would have been familiar with.
This addressed John's question of whether Jesus was Messiah or not. John knew perfectly well that Jesus was the Messiah based on the signs alone, and Jesus gently but bluntly reminded John of that.
But then Jesus addressed the most important thing: the state of John's heart …
… And the self-pity contained therein.
Here's why John the Baptist was feeling so pitiful:
John had been waiting all his life for Jesus to manifest Himself in His full glory, even before he realized that Jesus, his Cousin, was the One he was waiting for!
John had been waiting for several years–up to nearly 3 years–for Jesus to glorify Himself (the time elapsed since John had baptized Jesus and realized that Jesus was the Christ).
Jesus was walking throughout all Judea, healing the sick, raising the dead, and preaching the Gospel. Despite those things, somehow Jesus' ministry didn't look like what John thought it would. John wasn't seeing the progress he wanted to see.
And here John was in prison–on death row, in fact. 🙁
John had sown his entire life into preparing the way for Jesus to come.
But the fruit didn't look like John thought it should, and John's time was running out.
This is the heart issue Jesus addressed: "Blessed are those who are not offended at me."
In Jamie's authorized-by-herself translation, this says:
Jesus' statement was a gentle challenge–and it cut right to the heart of the matter.
John knew better than to ask these questions, and Jesus knew it. Ever so gently, Jesus was pointing out to John that He knew it.
I can see Jesus now, lifting John's chin, and saying, "Hang in there!"
Jesus challenged John to return to his faith. To return to proclaiming the promises of God, not doubting them. To return to preaching–even from prison–not to wallow in self-pity.
Jesus' message is powerful to all of us, though, and it applies to all of us equally.
Have you allowed self-pity to creep in? If so, the Lord wants you to lift your eyes today.
You were made for better than that. You were not made to wallow in self-pity. Self-pity is one of the devil's biggest traps, and it reeks. The whole attitude of self-pity reeks; and yes, I deal with it sometimes too. (Just being real!)
But we were not made to gaze inwardly and feel sorry for ourselves–and doing so is sin.
Yes, you read that right. Self-pity is sin.
Why? Because, if you're feeling sorry for yourself, you are disobeying God's commands:
To keep your eyes on Jesus, the Author and Finisher of our faith.
To count it all joy when we fall into diverse trials.
To be anxious for nothing, but in everything, with prayer and supplication, with thanksgiving, to make our requests known to God so that His peace, which passes all understanding, can guard our hearts and minds in Christ Jesus.
To stand firm in faith, for whatever is not of faith is sin.
To set our eyes and keep them set on things above, where Christ is, seated at the right hand of God.
Yep. We can't do any of these things when we're gazing at our circumstances and feeling sorry for ourselves (e.g. engaging in self-pity).
And friend, just like John the Baptist, you were made for more anyway:
You were made to carry God's glory.
You were made to proclaim His promises.
You were crafted in your mother's womb for the purpose of knowing God and being with Him in love.
You were and are called to to rest in His faithfulness, not to cry out in despair.
Self-pity is incompatible with your calling.
And if you walk in self-pity, you will not fulfill your destiny.
Repeat: If you feel sorry for yourself, you are automatically disqualifying yourself from the move of God because you are walking in disobedience, disobeying His most basic commands to keep our eyes on Jesus and be grateful.
My friend, God is faithful. He will never abandon you.
He knows all about what's going on with you right now. Even if life doesn't look like it should, He still says: "Blessed are those who are not offended by Me."
Will you choose to forget self-pity today, and cling to the faithfulness of God instead?
Listen to this song by Jon Thurlow, called "John the Baptist," and talk to the Lord about your desire to hold on to Him. I guarantee He will meet you as you do.