Why Getting Offended Blocks the Anointing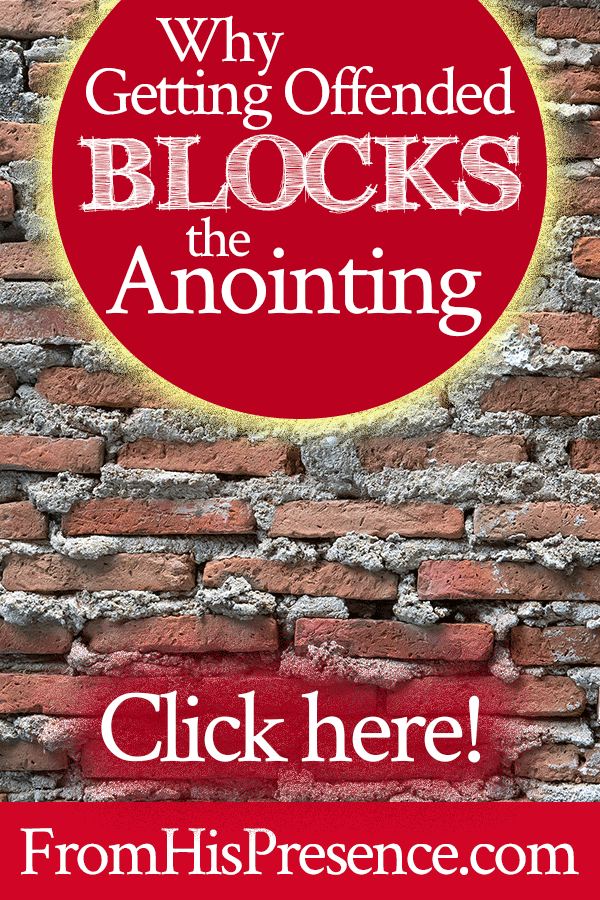 Have you ever heard someone say that "getting offended blocks the anointing?" Have you been skeptical or even unsure about what this means? If so, I want to talk with you about this today–because this one truth could literally save the rest of your walk with the Lord.
Have you ever gotten upset about something, or gotten your feelings hurt, and just KNEW that you were in the right before God?
And then had the Holy Spirit convict you later that you were actually really, really wrong?
I have. More than once.
Sigh.
So why don't we know it right away when we're wrong? Why do we allow ourselves to go through horrible situations and total nightmares before we finally listen to the convicting voice of the Holy Spirit?
Because we can't hear God when we're offended. Getting offended blocks the anointing.
It's sad but true.
Why? How does getting offended keep us from hearing God?
Because we're not paying attention to God. It's as if He is broadcasting on FM radio, but we're tuned into AM radio. Our offenses become static in the airwaves, and we literally cannot hear Him.
Allowing ourselves to get offended puts our pride, our ego, and our emotions between us and God. And anything that comes between you and God is static in the airwaves.
See, God has specific principles–rules, even–for how He wants us to handle offensive situations. These rules include:
Do not allow yourself to be provoked (1 Corinthians 13:5).
Always believe the best of every person (1 Corinthians 13:5).
Love covers a multitude of sins (1 Peter 4:8).
Love your enemies, and do good to those who hate you (Luke 6:27).
Bless those who curse you (Luke 6:28).
Pray for those who spitefully use you (Luke 6:28).
Forgive, and you will be forgiven (Luke 6:37).
If you do not forgive those who hurt you, your Father in Heaven won't forgive you either (Mark 11:26).
But when we find ourselves getting offended, we're not listening to the Lord.
Instead, we're allowing our emotions to dictate how we respond to a situation, instead of listening to what He commands us to do.
And yet we are convinced that we're right.
The problem is that you and I are never right if what we "believe" or "feel" or "think" is contrary to the written Word of God.
Never.
So if we think we're right, but we can't support it by the entirety of the Word IN CORRECT CONTEXT, we're wrong. And the Holy Spirit tries to show us that so He can bring us back into right standing with Him.
Holy Spirit always wants to clear the airwaves. He never wants us getting offended or staying that way.
He always wants to bring reconciliation in every area. It is NEVER His will for His children to get offended or to harbor bitterness or unforgiveness.
But will we listen?
Will we admit that, even if the situation wasn't our fault, we sinned when we chose to get offended?
That we sinned when we chose to embrace bitterness and unforgiveness?
That we sinned when we choose to think about it and talk about it and think about it and talk about it and think about it and talk about it some more?
Will we repent and extend the grace and forgiveness to others that we expect them to render to us?
Will we be humble and teachable?
I heard a pastor tell a story once about some folks in his church that gave him a hard time.
They hated him and let him know it, too. But finally the Lord told my pastor to go to these people and make things right. Pastor had done no wrong, but the Lord told him to make it right anyway. So he went to them and, in the sermon, he broke down and cried as he told us what he said to them:
"I'm sorry I haven't loved you like I ought to."
And he told us that that one, heartfelt apology broke the situation and brought reconciliation.
Have you loved like you ought to?
And if not, won't you make things right today?
Reconcile. Forgive. Let the offenses go, I beg you. Walk in love and forgiveness, and allow the Holy Spirit to restore His anointing on your life.
Beloved, getting offended blocks the anointing. There are no two ways around it. However, if you find ourselves getting offended, it's easy to get un-offended …
When we forgive.
When we love.
When we humble ourselves.
What will you do today?
Is Holy Spirit speaking to your heart through this word? If so, leave a comment below! I love hearing from you!