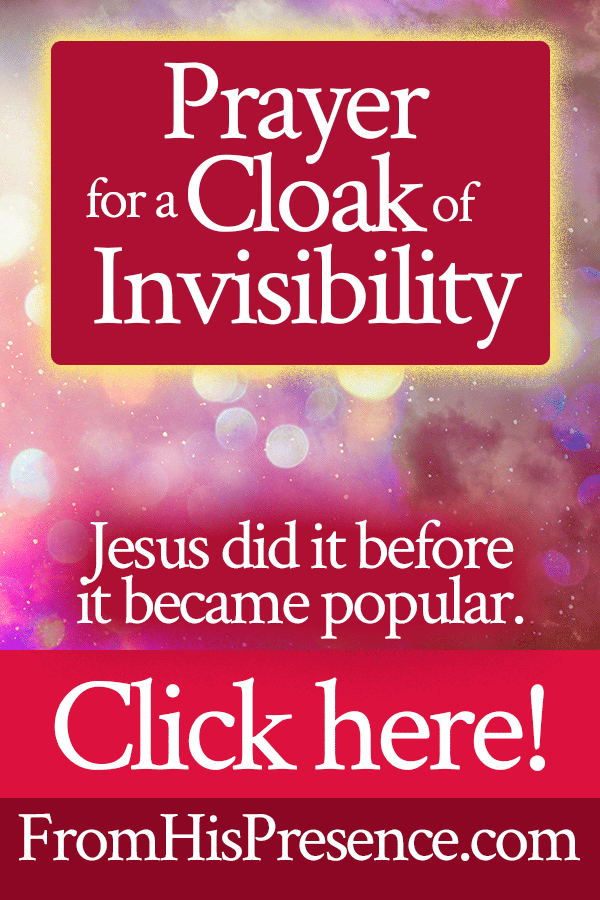 Would you like a holy cloak of invisibility from the Lord? If so, read on–because today we're looking at a pretty terrific Scripture passage where JESUS wore His invisibility cloak, and I'm going to show you how YOU can too!
Jesus, walking as Spirit-filled man, demonstrated some pretty amazing supernatural abilities while here on earth.
Oh, it's easy to remember Him healing the sick, raising the dead, and multiplying the loaves and the fishes. But we often tend to bypass some of the other things He did–things that show us how Jesus was totally tapped into the supernatural power of Holy Spirit, even while He went about His daily life here on earth.
Things like walking through walls and walking on water. 🙂
One of my favorite stories that includes a supernatural manifestation is when Jesus almost got killed, but He put on His cloak of invisibility and escaped instead.
"His cloak of invisibility? What's that?" you say?
Well, I'm going to show you. 🙂
By the way: After Holy Spirit started talking to me about the cloak of invisibility, I heard that there's a "thing" out there in the secular world about this, from a movie series that talks about evil things. I wouldn't know, because I don't watch the movie series myself–and you shouldn't watch that movie series either. But let me assure you that what I'm writing below about the invisibility cloak is 100% from God's Word, with zero influence from the world.
So the story about Jesus and the cloak of invisibility comes from Luke 4:16-30, which says:
"So He came to Nazareth, where He had been brought up. And as His custom was, He went into the synagogue on the Sabbath day, and stood up to read.

And He was handed the book of the prophet Isaiah. And when He had opened the book, He found the place where it was written:

'The Spirit of the Lord is upon Me, because He has anointed Me to preach the gospel to the poor; He has sent Me to heal the brokenhearted, to proclaim liberty to the captives and recovery of sight to the blind, to set at liberty those who are oppressed; to proclaim the acceptable year of the Lord.'

Then He closed the book, and gave it back to the attendant and sat down. And the eyes of all who were in the synagogue were fixed on Him.

And He began to say to them, 'Today this Scripture is fulfilled in your hearing.'

So all bore witness to Him, and marveled at the gracious words which proceeded out of His mouth. And they said, 'Is this not Joseph's son?'

He said to them, 'You will surely say this proverb to Me, 'Physician, heal yourself! Whatever we have heard done in Capernaum, do also here in Your country.'"

Then He said, 'Assuredly, I say to you, no prophet is accepted in his own country. But I tell you truly, many widows were in Israel in the days of Elijah, when the heaven was shut up three years and six months, and there was a great famine throughout all the land; but to none of them was Elijah sent except to Zarephath, in the region of Sidon, to a woman who was a widow. And many lepers were in Israel in the time of Elisha the prophet, and none of them was cleansed except Naaman the Syrian.'

So all those in the synagogue, when they heard these things, were filled with wrath, and rose up and thrust Him out of the city; and they led Him to the brow of the hill on which their city was built, that they might throw Him down over the cliff. Then passing through the midst of them, He went His way" (Luke 4:16-30, emphasis mine).
If you imagine this scene with me, you can see that:
Jesus got up and took a position of authority in the synagogue, reading the Scriptures to the people.
He read a Scripture portion that talked about His calling here on the earth.
Then He told the people that that portion of Scripture was fulfilled that very day, insinuating that it was fulfilled in HIM.
They didn't believe Him and murmured against Him. So, He rebuked their doubt and unbelief.
Then Jesus told them that people OUTSIDE Israel would believe in Him and get God's blessings, even though THEY refused to believe in Him.
Well, the Israelites got really mad about that–really really mad. Murderously mad.
So they got up and physically threw Him out of the city. That wasn't enough for them, though. After throwing Him out of the city, they physically took Him to the top of a cliff, so they could throw Him over and kill Him.
Umm, that doesn't sound like a calm, distracted crowd to me. Does it to you?
Here's where the invisibility cloak comes in:
Picture this. This angry, murderous crowd of legalistic, religious zealots has Jesus where they want Him. They've physically dragged Him to the top of a cliff and they're ready to throw Him over. They hate him and want Him dead, NOW.
"Then passing through the midst of them, He went His way."
Umm, again. "Passing through the midst of them, He went His way."
Have you ever wondered about that? Doesn't that strike you as odd? Did Jesus just say, "Nah, thanks for the opportunity, but I'd rather not go over that cliff. I'll see you later," and walk away and THEY LET HIM?
Um, no.
In my opinion, not possible.
Certainly not reasonable.
Definitely not realistic.
So what happened? Because somehow, "passing through the midst of them, He went His way" and He lived to fight another day.
I believe what we see here is a supernatural manifestation.
The same way Jesus walked through walls and walked on water, I believe Jesus walked through this murderous crowd of Jews and that this passage is actually celebrating that He got away by walking right through them.
And since no murderous crowd of religious zealots, bent on sending Jesus cliff-diving for blasphemy, would have just let Him walk away, I believe that they probably couldn't see Him.
I believe this passage memorializes Jesus' Great Escape in a way that made the disciples shake their heads with wonder and awe.
Can you picture the disciples talking to one another about it? That conversation might have gone something like this:
"How'd He get away?"
"I don't know, man! They acted like they didn't even see Him! One minute they had hold of Him and were ready to throw Him over the cliff, and the next minute He just walked right by them and left!"
"He walked right through the middle of them?"
"Yes! He just walked right through the middle of them all!"
"They must not have seen Him. No way they saw Him."
(Two disciples, nodding heads, concurring.)
(Both disciples, staring at Jesus in awe and not a little fear.)
You can believe what you want, but I believe that the only way Jesus walked away from a murderous mob of angry Jews, walking right through the middle of them, was if they didn't see Him.
I believe He suddenly became invisible. Literally invisible. But even if He didn't, He DID suddenly become out of their reach–they suddenly couldn't harm or restrain Him.
And since Jesus walked on the earth as Spirit-filled man, I believe you and I can have that same protection from the Lord–the same cloak of invisibility.
After all, doesn't Psalm 91 promise us that level of protection from the Lord?
Psalm 91 promises us that no evil will befall us if we dwell in the hovering, brooding, and overshadowing of the Lord. It promises us that no plague will come near our dwellings, and that–even if a thousand fall at your side and ten thousand at your right hand–it shall NOT come near YOU.
Related: Click here for a sample prayer for physical protection from harm and danger from Psalm 91.
So if you believe with me that Jesus' miraculous escape from those murderous Jews means they didn't actually SEE Him walking away …
… that He put on a holy cloak of invisibility and walked right through them, without them seeing where He went …
OR if you simply believe that God protected Him supernaturally, but that He wasn't necessarily literally invisible …
… Either way, we can and should pray, based on Psalm 91, that the Lord would so clothe us with His glory and protection that we are rendered completely invisible to the enemy.
So either way, we can walk with a cloak of invisibility from the Lord. We can be protected from the enemy's plots at all times.
I've been praying about this for some time now, and I keep hearing the phrase "cloak of invisibility." So I felt led to write about this today, and to write down a sample prayer you can pray for this holy invisibility cloak.
Are you ready to pray with me?
If so, pray this sample prayer for a cloak of invisibility:
"Dear Heavenly Father,
I come before You in Jesus' name.
Father, I thank You for hearing and answering my prayer. Thank You for Jesus' example in Your Word, and thank You for Your Holy Spirit who illumines Your Word in my heart.
Abba Father, Jesus did many amazing miracles while He was here during His earthly ministry. And Father, since Jesus is our ultimate Example, I know that it is Your will for me to do the same things Jesus did.
Since Jesus is the ultimate depiction of who You are, I know You want me to walk just as Jesus walked–saying what He said and doing what He did. And furthermore, You want me to do even greater works, for Jesus is no longer walking on earth fulfilling His earthly ministry–but He left the charge to do greater works in our hands as Your children.
Father, You protected Jesus supernaturally while He was here on the earth.
In Luke 4:16-30, it was like You gave Him a cloak of invisibility. The enemy was trying to kill Him, but He escaped their murderous grasp and walked right through them, going on His way. The enemy couldn't harm Him, and maybe couldn't even see Him while He left.
Father, I don't know if Jesus was literally invisible or not, but He was certainly inaccessible to the enemy. And Father God, I'm asking You for that kind of protection from the enemy today also.
Specifically, Father:
If the enemy tries to steal, kill, or destroy anything that pertains to my life, hide me and make me invisible–so the enemy and his evil forces cannot harm me.
If wicked people on earth get an offense against me, let them be unable to find me or access me in any way.
Furthermore, let them be unable to find or access my family, our finances, our work, our jobs, our businesses, our homes, or anything else that pertains to us.
Father God, put Your holy cloak of invisibility around me, my family, our ministry, our home, and everything that pertains to us.
Let us operate in this world effectively. Let us preach the Gospel loudly. Let us do business prosperously. Let us stand and fight for righteousness and justice. Use us powerfully for Your Kingdom.
But all the while, Father God, drape us with Your cloak of invisibility so that the enemy can neither see us nor harm us.
Thank You, Father. Thank You for this "secret place" level of protection. Increase Your protection on us every day as You use us more and more for Your Kingdom; and we'll give You all the glory.
Thank You, Abba Father. In Jesus' name we pray, amen."
Beloved friend, does this word about God's holy cloak of invisibility resonate with you today? If so, leave a comment below! I love to hear about it if a word resonates with you!