Position Yourself Under the Second Pipeline of Prosperity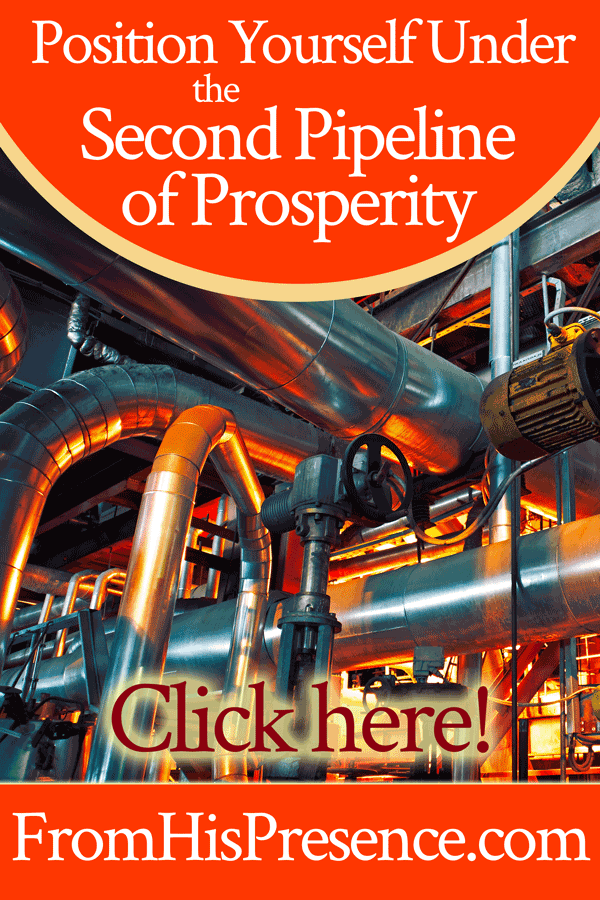 Did you know there are three major pipelines the Lord uses to get prosperity to you?
True story. The Bible lists three. The problem is, although almost everybody accepts the first pipeline, and many people talk about the third one, very few people talk about the second one.
So today, I want to talk to you about all three pipelines of prosperity–the second one in particular.
Related: If this post blesses you, be sure to subscribe to my financial blog, OverNotUnder.com, also!
These pipelines of prosperity are listed in Deuteronomy 28:11, which says (in the New King James Version):
"And the Lord will grant you plenty of goods, in the fruit of your body, in the increase of your livestock, and in the produce of your ground, in the land of which the Lord swore to your fathers to give you" (NKJV).
The English Standard Version (ESV) says it more clearly:
"And the Lord will make you abound in prosperity, in the fruit of your womb and in the fruit of your livestock and in the fruit of your ground, within the land that the Lord swore to your fathers to give you."
Notice that "the Lord will make you ABOUND in prosperity."
And after He says that, He lists the three places He makes you to abound:
In the fruit of your womb;
In the fruit of your livestock; and
In the fruit of your ground.
The Lord doesn't say He will make you abound in prosperity if you are directionless. Instead, He lists very specific descriptions of three areas in which He is going to make you abound in prosperity. These three areas are vehicles, or pipelines, that God uses to get prosperity to you.
If you're going to receive abundant prosperity, you have to position yourself at the end of these open pipes from Heaven.
To show how this works, imagine a fictional story with me:
Imagine that I received an amazing inheritance of one trillion dollars ($1,000,000,000,000). (Happy day!)
And then let's imagine that the person who left me the inheritance left me legal instructions to give it all away–but only at a specific place, on a specific day, and at a certain time.
Let's also say that this very wealthy person who left me this inheritance hired an attorney to administer their last will and testament, to make sure that all their instructions were carried out to the letter.
What would I do if that happened?
I would send out invitations to you and everyone else I know, inviting you to show up at that PAR-TAY!
I would do everything I could to make sure you knew that I had received this amazing blessing–a blessing that can only be given to Y-O-U!
Then, I would make reservations at the place where I was instructed to give out money (a local park, let's say).
I would wait with GREAT anticipation for that day and time to arrive, so I could hand out millions and billions of dollars by the trailer-load!
When the happy day arrived, I would get up early.
I would put on my best clothes and get ready with big smiles. I would arrive at the party early–and lots of you would already be there! The parking lot would be full, and traffic would be backed up onto the street! Thousands or millions of people would be waiting in line! Everyone would be so happy!
Then I would get all that wonderful, beautiful cash and start handing it out.
🙂 🙂 🙂
Can you imagine how fun that would be? I would hand out thousands and millions left and right. Everyone would have their needs met; no one would be turned away or leave empty-handed. Everyone would leave my party a rich man, a rich woman, or a rich child:
College educations would be paid for.
Houses would be provided and paid off.
Vehicles would be provided.
Medical care would be provided.
Food and groceries and gas and clothing would be handed out left and right, and money would abound everywhere.
EVERYONE would say, in the words of Philippians 4:18:
"I have received full payment, and more. I am well supplied, having received … the gifts you sent, a fragrant offering, a sacrifice acceptable and pleasing to God" (Philippians 4:18 ESV).
And we would all go home and give thanks and glory to God.
Wonderful story, isn't it? Do you want to show up at that party?
Here's the thing: you CAN show up at that party. Except that it's God's party, not mine.
God Himself has appointed a specific set of circumstances in which He hands out unlimited wealth.
These circumstances are His "pipelines"–the conditions to His promises. And if we will show up at His party by positioning ourselves at the mouth of His pipelines that descend straight from Heaven, meeting His conditions, His provision will flow into our mouths.
That's why God said:
"I am the Lord your God, who brought you out of the land of Egypt; open your mouth wide, and I will fill it" (Psalm 81:10 NKJV).
That's also why He said, in Psalm 34:8:
"Oh, taste and see that the Lord is good; blessed is the man who trusts in Him!" (Psalm 34:8 NKJV).
The problem is, we neglect God's pipelines of prosperity. We fail to show up to His party.
What are His pipelines? Well, Deuteronomy 28:11 tells us very clearly what they are:
The fruit of your womb:

Literally, this means your children; and
Symbolically, this refers to the vision that God has birthed in you.

The fruit of your livestock:

Literally, yes, this is talking about farming–but remember that the Israelites lived in an agricultural society. Everybody would have been what we would call "farmers" today; everybody had livestock. Livestock was their business and their wealth. So …
Symbolically, the pipeline is the harvest/profit from your business.

The fruit of your ground:

Literally, this refers to the seed you sow into the ground (a business, again!); but
Symbolically, and consistent with other verses in the Bible, we should also understand this to mean the fruit of anything you sow. Examples would include giving money to the Lord, serving the Lord with your time, sowing honor into people, etc. … anything for which you employ the Biblical principle of seedtime and harvest.
Everyone agrees about the pipeline of children.
Whether you want children or not–and whether you have children or not–pretty much everyone understands that children are a blessing from the Lord. So if you have a bunch of children or even one child, how blessed you are! How prosperous you are! Hallelujah! I thank God for my child, and I know you do too.
But let's look at the second pipeline of prosperity. This is the one that most people don't know about.
The second pipeline of prosperity is "in the fruit of your livestock." The Lord says He will make you "abound in prosperity … in the fruit of your livestock." But if you don't HAVE any livestock, you can't possibly receive the abundance that He's sending down that pipe! You can't receive what He's TRYING, ever so hard, to dump on you!
So what is the pipeline of livestock? Do you need to go out and purchase cows, goats, and sheep? No!
Remember that the Israelites lived in an agrarian society. They were shepherds and businesspeople who dealt with, grew, bred, herded, etc LIVESTOCK. Cows, goats, sheep, etc were their business, and animals were their ASSETS! They were assets that multiplied on their own, too–paving the way for exponential growth. (But, that's another story for another day in a blog post I already wrote.) 🙂
The Israelites were in the business of livestock.
So, the Lord is talking about the business assets that they owned. He is essentially saying, "I will send the abundance of Heaven down the pipeline of your business, straight to you."
But how many of us have a business? How many of us are standing at the mouth of that pipeline, ready to receive what the Lord is sending down?
Very few.
God, have mercy.
We want prosperity, but we haven't shown up to God's money-handing-out PARTY.
The day and the time of that party is NOW, but the location is BUSINESS. And God's people are dutifully going about obeying the world's systems, working away at our 9-to-5 jobs for someone else's dream, submitting to what everybody else wants us to do, and FORGETTING what GOD wants us to do.
Don't go quit your job. This isn't about that.
There's nothing wrong with good, honest work. And if that good, honest work is in the form of a job for now, that's fine. The Bible says that if a person won't work, neither should they eat. YOU HAVE TO WORK.
But even if your starting point is at a JOB, you can't stop there. You can't afford to. The pipeline of Heaven is waiting, and the pipeline of Heaven isn't providing abundance for you through the "livestock" you take care of for somebody else. God will bless your work taking care of someone else's business, sure. That's the Word: He will bless all the work of your hands.
But having your work blessed and receiving ABUNDANCE are NOT the same thing.
Joseph was the steward of Potiphar's house in Egypt. The Lord blessed Joseph and all the work of his hands. The Lord even blessed Potiphar's household because Joseph was in it.
But Joseph was still a slave.
Boom.
#MicDrop
Insert REALLY LONG moment of silence here.
This may offend some of you who have a poverty spirit.
The poverty spirit will always defend its right to be poor. So if you're already offended by my saying that "your work may be blessed, but you're still a slave" … then go ahead and sign off right now. I love you, but it's your choice to receive this word or not. I'm just teaching the Word here.
I pray you won't do that, though. I pray that you would open your mind, heart, and spirit to receive what the Word of the Lord says for what it actually says. I pray you'd be willing to abandon the sense of "normal" that modern culture has instilled in you in order to receive the ABnormal that the Lord says should be your portion.
Working as a corporate slave is not your portion.
Working for someone else is not your portion unless you want it to be. Working for someone else is not God's best for you, and working for someone else does not position you at the mouth of Heaven's second pipeline–the pipeline of your own business.
You need your own business.
Again, this doesn't mean to go out and quit your job.
If you haven't built your own business yet, you have no business quitting the job that provides for your family. Save money, build your business on the side, and work your way to financial freedom until the day comes that your own business provides for your needs.
Then, when that day comes, put on a kilt, paint your face blue, and yell "freedom" a la Braveheart on the way out the door of your job, as you say a permanent goodbye to enslavement.
🙂
But whether that day comes tomorrow or in ten years …
You need to start now to position yourself under God's pipeline of business.
Don't do anything foolish:
DO NOT, under any circumstances, go into debt.
Don't get out of agreement with your spouse.
Don't make any reckless decisions.
Don't do anything else that goes against God's Word.
EXERCISE WISDOM, beloveds, not presumption. But somehow, in some way, carefully and prayerfully, every single believer in Christ on the whole face of the earth needs to begin putting your toe into the water of entrepreneurship.
And furthermore, your business needs to be in the area of your calling.
The Lord says that all of these pipelines are located "within the land that the Lord swore to your fathers to give you" (ESV, emphasis mine). In other words, they are located in the boundaries of your inheritance.
I have tried so many businesses that failed.
I have sold makeup, mowed lawns, done landscaping, done portrait photography, and more. All of them failed until I started this ministry. You know what every failed business had in common? None of them were within the land the Lord swore to my fathers to give me.
And even though we live by faith in this ministry, depending on the Lord to provide …
… which means that sometimes our bank account might be flush, but other times it might look mighty low …
… the Lord has still blessed this ministry incredibly.
We live by faith, and faith always works. Every single month, the Lord provides everything we need. Every month, He supports our outreaches, our overhead expenses, and everything else that makes this ministry a reality. Every month.
But to see this ministry happen, I had to finally start a business (non-profit now, but still a business) in the area of my calling.
Preaching the Gospel is the land which the Lord swore to my fathers to give me. Teaching, equipping, and empowering the saints is my portion. This ministry is one of the pipelines that the Lord uses to provide for my family, but if I had never tried to work in the area of my calling–my inheritance–then I wouldn't be receiving at this pipeline.
All of the pipelines of prosperity are in YOUR land. They are in YOUR inheritance.
So what is your land? What is your inheritance? What is your dream?
Do you dream of preaching also? Do you want to evangelize and do missions full-time? Do you want nothing more than to be a stay-at-home mom and raise up godly seed on the earth? If so, monetize it! Figure out a way to turn it into a business!
A worker is worthy of their hire.
People seem to forget this, but it's one of the most obvious principles in the Bible. The priests and Levites in the Tabernacle in the wilderness received their living from serving the Lord. The intercessors, musicians, and priests of David's and Solomon's days did the same. The apostles in the Bible earned their living from Gospel work.
Even if you don't feel called to ministry, monetize whatever you ARE called to:
Called to be a banker and mine Bitcoin? Do a good job of it and make lots of money.
Do you love cars and long to open your own mechanic shop? Open a good one and operate that thing with excellence.
Called to write screenplays? Write compelling ones and charge a good price for tickets to watch the shows!
Wherever YOUR LAND IS, that's where your pipeline of money from Heaven is.
The question is, are you under that pipeline? Are you positioned in the place where God's pipeline is flowing?
The Lord is trying SO HARD to get money to you. But His ultimate method is not to tell your boss to give you a raise, although He can and will do that too. The REAL, Kingdom levels of provision that you've been praying for are being poured out of His pipelines.
Again, He says He'll make you abound in prosperity in the fruit of your womb, in the fruit of your livestock, and in the fruit of your ground. The fruit of your ground is a whole different conversation for another day. But for today, earnestly evaluate your positioning before the second pipeline of Heaven.
Is the Lord speaking to you about entrepreneurship and starting a business of your own? If so, leave a comment below! I want to hear from you!