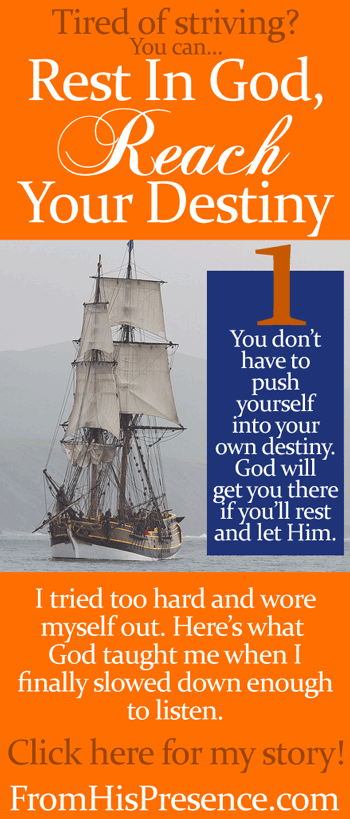 I used to spend a lot of time trying to figure out what to do to reach my destiny.
I worried about it a lot, and tried to make it happen with all my natural ability. I would get a "good idea" and try to carry it out, convinced that it would result in God finally letting me do what I am called to do. I was wearing myself out, trying to do "greater works," and getting absolutely nowhere.
(Side note: I realize that you have probably never done anything remotely similar, and I may be talking only to myself here. But, just in case you enjoy juicy blog posts like this, I give you permission to read on anyway.) 🙂
Then I went through an experience (or two) that cured me of worrying and striving. Over the next few days, I'd like to share what I learned, and talk with you about how you can rest in God and STILL reach your destiny.
To be more specific, I'm actually going to talk about how you MUST rest in God IN ORDER to reach your destiny.
My ugly backstory about how I learned to rest in God:
When I was so worried about carrying out God's call on my life, I was just starting to learn how to hear God. I had reached the point where I felt like I heard His voice most of the time. I talked with Him constantly—at work, at church, driving in the car, at home—and He talked back.
Then one day, it was like somebody flipped a switch. That wonderful, ongoing conversation I had with God suddenly turned into…
NOTHING.
Silence. Dead silence.
And I freaked out.
I asked God what was going on… and I heard no response.
I searched for any sin in my life that might be keeping me from hearing God. I found nothing, but I repented for everything I could think of anyway (even for things I hadn't done).
I dug into more Bible study than ever, thinking I must need a spiritual shot in the arm in order to hear God again.
But even the extra Bible study didn't fix the silence. Sure, I learned a lot from studying, but the silence remained. My worship, Bible study, and prayer all felt dry as a bone. I felt no manifestation of God at all. There were no tears. No sobs. No emotional highs, and no knocking knees.
Since I felt no spiritual emotions at all, I had to keep worshiping, praying, and studying the Word out of CHOICE, not because I felt like doing those things.
For someone who loves to FEEL, this sudden, total lack of spiritual "experience" was hard.
Then I talked to one of my spiritual parents one day. She told me that I was in a period of "hiddenness," in which God was hiding His manifestations for a season so I could learn to trust Him more. She told me He was teaching me not to depend on my emotions, and that I needed to learn to rest. She said to go home and look up all the Scriptures in the Bible I could find about resting in God.
But I didn't do it.
I should have. She was right on, and listening to her would have saved me a lot of future aggravation.
Eventually the silence got better, and I started hearing God again. I still had not learned to rest, though.
Fast forward a few years.
I was in a new storm; a financial storm that lasted for years. It was horrible. And again, I was worried about how I would ever reach my destiny. I was constantly asking myself questions like:
Have I missed out on my destiny because I have lost these years to this storm?
If not, what should I do next?
Should I go to seminary?
If so, which one?
How can I get my husband to agree to let me go to seminary?
Even if he agrees, how will we pay for it?
All those questions and many more were keeping me in a constant state of depression. I was all in a tizzy about what I needed to do to make my destiny happen, and I worried that it might not happen at all.
The breakthrough:
After several years of storms, I "happened" to be reading in the book of Hebrews one day, and I got one of the most life-changing revelations I have ever received in my entire life.
This revelation completely freed me from worrying about my destiny.
It brought me into a place of joy, hope, and peace.
It accelerated me into a place where I could begin walking in God's call on my life.
Want to know what it is? Are you ready to be done with worrying about your destiny, and just WALK OUT your destiny?
Yes? Good. Click here to read post #2 in this series!
In the meantime, I am wondering: Have you also also spent time worrying about your destiny, wondering what to do, and being afraid that your destiny might never happen? If so, please leave a comment below! I'd love to hear from you.
You'll get an email when new content is posted. You'll also receive my free, printable blessing cards and my ebook–The Presence Seeker's Creed–for free when you confirm!
Image courtesy of Don McCullough on Flickr via Creative Commons license. Image has been cropped and graphics added. 
Read all the posts in this series!