Dimensions of Destiny: Divine Alignment with the Right Things, Part 1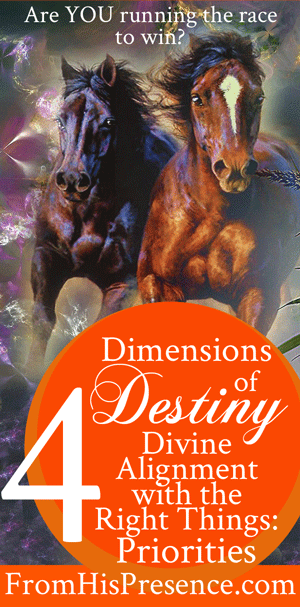 If you are ready to get into divine alignment with God's best and go to a new dimension of your destiny, it's time to align yourself with the right things.
What are the right things?
First, let me say that the "right things" are not your house, your car, and the clothes you wear. The right things are not material at all.
However, the right things will impact your material goods. The right things will impact the clothes you wear, your house, and the car you drive. The right things will impact EVERYTHING else in your life.
To be in divine alignment with the right things, you need to know what God's will is for these things in your life:
Your priorities;
Your calling;
Your life message;
Your giftings; and
Your schedule.
These things may seem overwhelming at first, but you can work through them one by one and they won't be overwhelming at all. Getting these five things in order will be one of the most empowering, most liberating, most energizing things you've ever done.
Let's look at these things one at a time and see how you can get into divine alignment in all these areas. In today's blog post, we'll discuss priorities, and then we'll look at the rest of the list later this week.
(And by the way, as you read this blog post and the parts that follow, I'd encourage you to get alone with God as many times as you need to over the next few days. Take your journal, and ask Him to download into you what His will is for you in these areas. Write down what you hear, even if you have ideas that you need to delve into, and then begin focusing on those things.
Don't worry about getting everything perfect the first time. Your focus and clarity will improve as you push deeper into what the Lord shows you.)
How to get your priorities in divine alignment:
The best time management advice I ever received was to figure out what my priorities should be and arrange my schedule in order of those priorities. When I first received this advice, my life was a mess because I was saying "yes" to everything, living without a plan, and neglecting the most important things.
So here's the list of priorities I made for myself:
Priority 1: One-on-one time with God.
Matthew 6:33 says:
But seek first the kingdom of God and His righteousness, and all these things shall be added to you."
When I set my list of priorities for my life, I determined to seek God first every day, day in and day out. I decided that I would get up early every morning and get alone with God, no matter how long or how short that time with Him was–whether 15 minutes or an hour–and that I would allow nothing to come between me and that time with Him.
Papa God began to dump blessing upon blessing on me when I made that decision, and I've never regretted deciding to give Him the first part of my day. I'm so dependent on that time with Him that I could never go back, either.
If you're hungry for God; if you desire to get your life in divine alignment with His best, so you can walk every day on miracle territory–then I encourage you to set one-on-one time with God as your first priority too.
Scripture actually commands us to do this, so it's not an original idea. 🙂 If you will spend time alone with God first every day, you will see God transform your life. It's all about intimacy with Him; about knowing Him better, seeking His face, receiving His love and learning to love Him back. Spending time alone with God is how you become like Him.
And Jesus promised that if you seek Him first, all the THINGS you're concerned about will be added to you. You don't have to go to work and skip your quiet time for fear of not having enough provision. No; God will add all the things to you. He'll simply provide, because He can, because you're obeying Him. So run out to meet Him, day in and day out. You'll be so glad you did.
Related: How to Make an Altar in Your Home
NOTE: Seeking God first does NOT mean volunteering at church first.
Seeking God first DOES involve attending church, but first and foremost it means YOU get alone with God in the secret place all by yourself and seek Him through prayer, study of the Word, and worship.
When the Lord helped me understand this, it was a real breakthrough for me. I had been at church all the time, but inside I felt dry as a bone. As soon as I began to seek Him first alone, I began to become well-watered in my soul and spirit. I still attended church because I love it and God commands us to be divinely aligned with the right place, but I was no longer looking to the church to fill a need in me that only time alone with my Father could provide.
Priority 2: My health and my husband.
I know it may seem strange to put these two on the same line, but for me, they are. I didn't want to put my health before my husband, because I've heard about some folks who become so addicted to working out in the gym that it ruins their marriage. Obtaining the perfect physique is not worth ruining your marriage.
On the other hand, I also didn't want to neglect my health, and always put my husband first (e.g. sitting on the couch snuggling my husband so much that I never get up and go for a walk), because then I wouldn't be able to live a long life and enjoy my husband.
So I put them on the same line. Health and husband.
Priority 3: My family.
I don't have kids yet, but this is for when I do. When we do have them, I desire to be a good parent who is present; a guiding influence in their lives.
I desire to raise my children in the nurture and admonition of the Lord, shooting them like arrows into the next generation.
I desire to raise my children to become worshipping, warring, preaching prophets and priests unto Jesus.
I desire that they would always know love and never fear.
I desire for them to know they are beloved sons and daughters, and not orphans.
These things can only happen when I give my children their proper place in my life. Before my job, before church work, and before my social calendar.
And when you're setting your priorities: PLEASE NOTE that your children must always come AFTER your spouse, not before your spouse.
Every time. You are one flesh with your spouse. You will live the rest of your life with your spouse. You are not one flesh with your children, and you will not live with them the rest of your life. And your children need a sense of security in your home, which happens best when you have a solid marriage.
I don't have time to delve into this, but many a marriage has been wrecked because the wife or husband puts the kids before the spouse. If you've been making that mistake, please get things in order now, for your own sake.
Priority 4: My job.
God has blessed me with a good job, and I need the income from it, so I have to take good care of it. Therefore, I simply have to put my job before some things–like ministry and friends. For example:
I can't always meet people for lunch, because I have to work.
I'm not always available to minister, because I need to work. (You, my faithful readers, see this because it usually takes me a few days to respond to comments. The delay is simply because I'm at work, holding down a very fast-paced corporate job and doing the best I can to be a good witness at work.)
I can't always be at church (e.g. at our Tuesday lunchtime church service) because I have to work. Although that doesn't excuse me from being faithful to attend church, I need to be a good steward of my job and a good employee. I have to honor God with my work, so there's a balance.
Priority 5: Ministry & church work.
I love, love, love the house of God. Have I mentioned I love the house of God? Seriously. I really would rather be a doorkeeper in the house of my God than do just about anything else.
But the needs of the church are limitless. There will always be volunteer opportunities. The needs of people are limitless. There will always be another person who needs help–counsel, mentoring, deliverance, etc–if someone is available to help. It's called making disciples and reaching people for Jesus, and we're supposed to keep on doing that until the trumpet sounds and the dead in Christ rise first.
But even though I love to minister, I can't let ministry and church work derail my life. (Just being real!) For example:
I have been soooo guilty of doing so much ministry that I don't have time to exercise. I can't do that anymore; my health comes before ministry. I won't live to minister if I don't take care of my health. (See priority #2.)
I will almost always say no to any kind of ministry on Saturday mornings, because that is when I have very special, extended time with God (for a longer period than I get with Him on weekday mornings). (See priority #1.)
I am not going to be there every time the doors open because I need to spend time with my husband at home sometimes. So although I'm sure the programs are great, I do not generally attend children's dinner theaters, night-time classes, or Sunday afternoon classes. (See priority #2.)
My husband and I still do a tremendous amount of ministry work. But we have agreed to a limit of how much time we can dedicate to church work each week, and we stick with that. If we didn't, our lives would derail fast.
Priority 6: Entertainment and my social life.
I love my friends. When I'm mentoring or something like that, I occasionally fit my spiritual kids into priority #3. My people matter to me tremendously, and I do what I can to be available for them.
But if we're strictly being social–going bowling, out to eat, or to a movie–my social life is priority #6 for me.
That doesn't make it last priority; there are other things that are less-important to me that don't even make the priority list. But I put entertainment and my social life on this list as a reminder that, if I haven't spent time with the Lord, am behind at work, haven't exercised in weeks, etc, then I have no business going out to dinner with my friends five nights a week. (Slight exaggeration, but you get the picture.)
We do need good, refreshing periods of rest and soul care. But getting enough sleep falls under health, and soul care (e.g. going away on a personal retreat, which I love to do) usually falls under one-on-one time with God plus health. 
So what are your priorities?
Are you ready to get your priorities in divine alignment? Here's how:
Get alone with God.
Write down the different areas of life you have to handle each day, in no particular order (parenting, being a husband or wife, your job, spending time with God, etc).
Ask the Lord to show you how to put those priorities in a numbered list.
HINT: One-on-one time with God will always be first.
When you've done this, simply DECIDE to arrange your time according to your priorities. Things become easy when you decide. 🙂
We'll talk more this week about how to look at your schedule and figure out how to match it up with your priorities. But for now, determine your priorities by the leading of the Holy Spirit and godly wisdom. ALWAYS test them against the Word of God. 
Get godly advice if you need to. But seriously, make your list of priorities. Having an order of importance for the things you deal with in your life will transform you and catapult you to the next level of your destiny.
Have you been pulled every which way because of a lack of order in your priorities? Does this message speak to your heart? Please leave a comment below if so. I'd love to hear from you!
Dimensions of Destiny: A Study of Divine Alignment: