How To Make An Altar In Your Home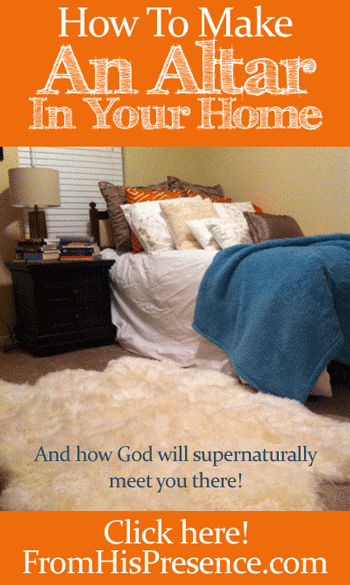 Do you have an altar in your home? A place where you always go to spend time with the Lord? A place in which the atmosphere is pregnant with the glory of God so that all you have to do is sit there in order to feel His presence?
Making an altar in my home is one of the best things I've ever done to help myself increase in intimacy with God.
My altar happens to be in a spare bedroom. I call it my office. I've been sitting in the same spot–on the floor, behind the door, next to my piano/keyboard–for years to study, pray, cry, laugh, whine, and do everything else that people do when they are communing with God. 😉
Why has this been such a big deal to me?
1. Because God will open a portal to Heaven in a place that's dedicated to Him.
God cares about land. He cares about places. When a place is dedicated to Him, you can feel the difference. He will actually open a gateway to and from Heaven over that place, and you'll have supernatural encounters with Him there.
Genesis 28:16-17 describes one such instance, in which a wanderer named Jacob happened to stop at a place that was special to God. He had a radical dream and actually saw angels ascending and descending between Heaven and earth in that place. Then he saw God Himself, and God spoke to him about his future.
When Jacob woke up, he said this:
Then Jacob awoke from his sleep and said, "Surely the Lord is in this place, and I did not know it." And he was afraid and said, "How awesome is this place! This is none other than the house of God, and this is the gate of heaven!" 
I believe there is an open portal to Heaven over my altar. It may be a small one, but you would not believe how pregnant the atmosphere is there. It's saturated with God's glory. And whenever I sit down there, even if I'm having the worst day ever, I can feel the presence of the Lord. The Holy Spirit ministers to me there, and His presence and work are powerfully manifest.
2. Because having a dedicated altar in a quiet place feeds your spirit's need for separation and solitude.
Everybody needs time alone with God. It doesn't matter if you're an introvert or an extrovert. If you're alive and breathing, you need time alone with God!
Jesus was huge into taking time alone with God. You can see this especially if you read through the Gospel of Mark. It seems like almost every few verses in that book, you read something about:
Jesus taking the disciples and going away into a deserted place;
Jesus going up to a mountain alone to pray;
Jesus spending all night alone in prayer to God.
Over and over. After ministry, after a big day, after a lot of excitement… off goes Jesus to spend time alone with God.
Well, if JESUS needed time alone with God in a deserted place, I think you and I do too, don't you? We were made to commune with God. Each of us ARE a God-shaped hole, and only God can fill our innermost needs. We can't fill our deepest needs with fun, TV, emotion, physical pleasure, relationships, or anything else. Only God can satisfy.
Making an altar in your home gives you a dedicated place to separate from the chaos of life and commune facedown with God.
3. Because having an altar in your home helps you develop the daily discipline of spending time with God.
Having a place that is yours; that you love; that is beautiful to you; that is cozy and personal… makes you want to spend time in it!
And when you are in the habit of spending time in that place, and knowing that that place is the spot you spend time with God, helps you spend more time with God!
Especially if you are a new believer, you need to make an altar in your home. Give yourself every advantage as you're learning to know God. Train your body and mind to seek Him in your special place.
Are you ready to do this, but don't know how to start? Here's how to make an altar in your home:
1. Pick a place that's quiet and away from everything else.
Make it a place where you're not staring at piles of laundry or at dishes that need to be washed. Make it a place where you can hide from your kids, your spouse, your phone, your computer, or anything else that screams for attention.
2. Clean it up.
Believe it or not, the Holy Spirit rests on order, not on chaos. You will feel a tangible difference if you will clean your spot out. Even if you have to start with a 2-foot by 3-foot spot on the floor. If that's all you can clean, do it anyway. Make your spot clean and orderly, no matter how tiny it is.
3.  Place your Bible study materials in your altar, so you can always find them.
I keep my Bible (when I'm not using it somewhere else), my journal, a few pens, a highlighter, my Strong's Concordance, and whatever books I'm currently reading in my altar. This way, I rarely have to look for anything. It's simple and easy.
I also keep a couple of blankets there, simply because my husband likes our house way too cold for my taste at night, so when I wake up, I have to bundle up. 🙂
Oh yeah… keep some Kleenex and a wastebasket nearby too. 🙂
4. Make it beautiful.
Your spirit and soul crave beauty. God made you that way. When the beauty of your special spot feeds you, you will be able to connect with God more–because beauty comes from Him. Jesus is the Author and Picture of beauty.
When I lived in a different house, my altar used to be in a plain old storage room. It worked, but it sure wasn't pretty. Even after my husband and I moved to our current home, at first my special place wasn't beautiful at all. It was just a room with four walls and a window.
However, when I added a pretty blanket, and a colorful throw, and art on the walls, I really started to enjoy my time with God more. The beauty of my surroundings made me reflect on the beauty of God.
Then JUST YESTERDAY, I added the sheepskin rug you see in the photo above. (A 75% off find!!!) AND I LOVE IT. As soon as I sat down on it, I felt the Holy Spirit ministering to me. It's just so thick and luxurious and gorgeous. The Holy Spirit digs beauty. (And I'd drape myself in sheepskin rugs if it were socially acceptable.) 😉
So no matter where your altar is, start adding beauty where you can.
Maybe you don't have a whole room of your own to dedicate as an altar. That's ok. Maybe your special place is in a dry tub, locked in the bathroom by yourself. That's ok. Get some candles and a pretty basket and place them by the tub. Hang a pretty picture beside the tub. Make it as pretty as you can. You'll be glad you did.
That's it. That's how to make an altar in your home. I would really encourage every person to make a special place for you and God. Make an altar in your home. It will be one of the best things you've ever done to increase your intimacy with God.
Where can you find a spot in your home to set aside as an altar to God?