How To Cleanse Your House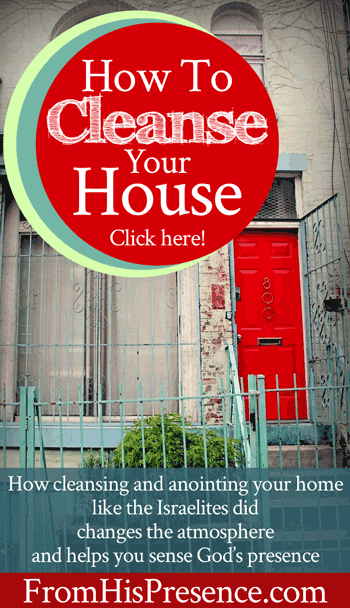 Do you feel spiritually uncomfortable in your house? Have things happened in your home that are unholy? If so, you need to know how to cleanse your house so you can get rid of any demonic forces that oppress you or your environment.
I first learned about how to cleanse your house almost by accident. It was many years ago, shortly after I was saved.
I wasn't planning to cleanse my house that day; I was planning to go to work, just like any other day. I had actually gotten in my car and begun driving down the street toward my office, when the Holy Spirit interrupted me. He spoke to me plain as day and told me to turn around and cleanse my house.
I called my supervisor, asked for a few hours off work, and then began the task.
Before I continue with the story, it's important for you to know that there is more than one way to cleanse a house.
When I cleansed my home the first time, the Lord showed me how to do it and what to do. I've been doing it the same way ever since, and I've never felt led to do things any differently.
However, one of my pastors cleanses a house slightly differently. I've talked to other people also who have done it slightly differently than I do it, and differently than my pastor's method also. That's all well and good; your method may be a little different too.
The important thing is that you pray and ask the Lord what YOU should do to cleanse your house.
Holy Spirit will show you what He needs you to do. He, and He alone, knows:
what's in your house;
what has happened there in the past; and
what kind of evil forces any items or history in your house may be harboring.
So even though I can tell you how to do the job based on my personal experience, you'll want to submit this to the Lord for your situation and follow His guidance, okay?
Why cleansing your house is necessary:
Cleansing your house–and keeping it cleansed–is crucial because evil forces (literal demonic spirits) always take up residence anywhere that a door has been opened to them.
In Leviticus 14:33-53 (which is too long to quote here; but you'll want to look it up), God prescribed specific ways the Israelites should cleanse a house when they entered the Promised Land. He prescribed that houses should be cleansed because the Israelites were entering a formerly-pagan land, where:
idols had been worshipped;
demonic offerings and sacrifices made;
and homes were literally and spiritually contaminated.
He even required a blood sacrifice in the process of cleansing the home.
But Jesus is our blood sacrifice that cleanses our homes.
If you are a blood-bought child of Jesus Christ, then demons have no place in you or in your life. However, if you've opened a door to them, they'll still oppress you until you get that door closed and get rid of them.
Demons can also take up residence in your house if you give them opportunity. And if they're in your home, it's 100% certain that you've felt them attacking you and your family. For example:
Do you have nightmares or night terrors? Those are inspired by demons, and the reason is often because something is in your house that needs to go.
Do you and your spouse start fighting as soon as you walk in the door, but you're fine until you get home? If so, something nasty is living in that house that is inciting the fighting.
Do you feel like you're being watched? Does the hair on the back of your neck crawl sometimes when you're at home? Yeah. You're not imagining it.
Demons can take up residence in houses if the door has been opened to them. However, you don't need to be afraid. You belong to Jesus, and the earth (with all the property in it) belongs to the Lord as well.
Psalm 24:1 says:
The earth is the Lord's, and all its fullness, the world and those who dwell therein."
Since the earth and all its fullness belong to God, that means your home and any real estate you may own or control belong to God. (When I refer to property you may "control," I mean if you're renting a home and don't own it, you still have legal authority over it in the spirit realm.)
Knowing this, and knowing that you have authority over all the works of darkness through the name and blood of Jesus, you can force any evil spirits in your environment to leave.
So here's how to cleanse your house:
Step 1: Purge your home of everything that depicts sin, agrees with sin, celebrates sin, or memorializes sin or other evil.
When I cleansed my house the first time, this was the very first thing the Lord told me to do. So I got a big trash bag and began to examine my belongings, walking from one room to another.
And my trash bag began to fill up really quickly. 🙁
The movie collection?
Yeah, Pretty Woman had to go. Why? Because the "pretty woman" was a prostitute, and the movie clearly portrayed fornication. I had several movies I had to get rid of–not movies that most people think of as bad, but movies that portrayed fornication; chick flicks that inspired lust; movies that showed murder and other kinds of sin.
The music collection?
I had CDs the Lord told me to throw away. They were CDs on which the singers sang about lust, sex, etc. They celebrated sin, and the Lord told me to get rid of them.
The book collection?
I had to get rid of books that inspired lust–even some that were Christian books.
I also had a huge collection of Western novels by Louis L'Amour, who was a very talented American fiction writer. L'Amour's stories were great, and they were about the Western countryside that I love. However, they are full of shooting, killing, robberies, kidnappings, etc. The Lord told me to get rid of them. They memorialized sin.
Every time I threw an item away about which the Lord convicted me, I felt a little lighter. The air felt a little brighter, and the atmosphere felt a little cleaner. And when I finished, I could tell a HUGE difference. The air in my house seemed to sparkle with God's Presence, glory, and the anointing of the Holy Spirit.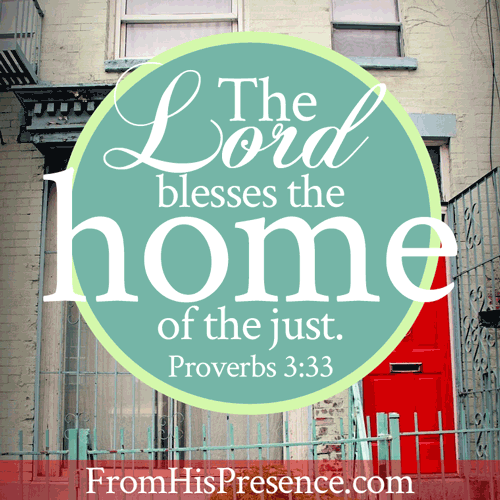 Recently in the LifeGroup that I teach, Holy Spirit led our conversation to this topic of how to cleanse your house.
And various people in the class mentioned that the Lord had convicted them to throw away things like:
Jewelry containing symbols from other religions, including horns and crescents;
Items depicting skulls;
Home furnishings that had been used for unholy things in various ways; and
Dark things, like scary, evil-looking figurines and even clothing.
Why was the Lord showing people to get rid of these things? Because:
Items depicting symbols of other religions (like horns that depict the demon principality Baal, and crescents that depict the demonic religion of Islam) invite the demon spirits over those religions into your home.
Memories triggered by various home furnishings caused people to think about or dwell on sin;
Skulls represent and memorialize death, and they invite and harbor spirits of death in your home.
Dark things harbor any number of evil spirits, just depending on what the dark thing is.
The Holy Spirit was already dealing with people before the conversation in our LifeGroup ever started. Our conversation simply served as a confirmation. And we had testimonies afterward about how people who had never tried it before went ahead and purged things from their home, and they saw a dramatic difference.
Yeah. Worth it.
So, the first step in the process of cleansing your house is to get rid of everything that incites, inspires, memorializes, celebrates, or depicts sin.
Can you help me? I'm praying earnestly for 1,000 partners who give monthly to help me minister to people (in writing and in person) as a domestic missionary. It's only through gifts of partners like you that this blog is made possible. Find out why, how, and the benefits of partnership for you here. And, thank you in advance for your support!
If you aren't sure what all to get rid of, just start at your front door with a trash bag.
Start at the front of your house and walk through your entire home. Look at every bookshelf, every mantelpiece, every table, every desk, every piece of wall art, every collection, every closet.
As you walk through your home, ask the Lord to show you each individual item that needs to go.
He wants you to be free more than you want to be free, so you can be guaranteed that He'll show you! And as He does, I encourage you to follow Him without fear or hesitation. It's just stuff, and His Presence, glory, and peace in your house are worth so much more.
Why is it so important to throw away items that depict sin and evil?
Because allowing those things to enter/remain in your house gives permission for the demon that inspires those things to come in and stay.
When you get rid of the things that depict sin and evil, you are coming out of agreement with those spirits. You're basically renouncing your permission for those things to occupy your home.
Step 2: After you've gotten rid of everything that depicts/agrees with evil, verbally command every evil spirit to leave to leave your home and property in Jesus' name.
All power in Heaven and earth is contained in the name of Jesus. If you command those evil spirits to leave in the name of Jesus, they have to leave. And they can't come back unless you invite them back.
Simple, right? All you have to say is this:
"In the name of Jesus, I command every evil spirit in this house and on this property to leave right now and go where Jesus Christ tells you to go."
Don't pray it; you're not praying to demons. Just command them to leave in Jesus' name.
Related resource: If you need confidence in knowing how to walk in supernatural authority like Jesus did, please get my 4-MP3 teaching set on Kingdom Authority 101!

Understanding Kingdom Authority is absolutely critical if you want to learn how to dominate and govern in the spirit realm the way Jesus does. Download Kingdom Authority 101 instantly on my Gumroad store here!
And on to step 3!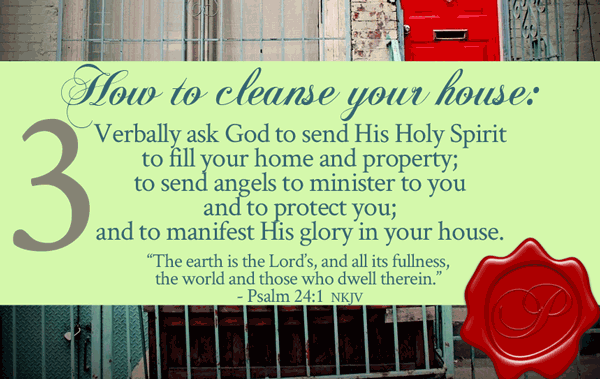 Step 3: Verbally ask God to send His Holy Spirit to fill (manifest Himself in) your home and property.
Also, ask Him to send angels to minister to you and protect you. Ask the Lord to manifest His glory in your house.
A simple prayer you can use for this is as follows:
"Father God, in Jesus' name, please fill this house with Your manifest Holy Spirit, with Your Presence and with Your glory. Father, I know Your Spirit is already here, but I ask You to manifest Yourself here; to take up residence here; to be at home here. I'm welcoming You here, Holy Spirit. I love You.

And Father God, please send Your angels to watch over me and my family and this property. Let Your angels link arms around this house and property–around its side space, above space, and beneath space. Let them protect us and not allow any evil thing to pass here in Jesus' name. And Father God, I pray that Your holy angels would minister blessings from Heaven to me and my family here in Jesus' name."
By the way: Yes, the Holy Spirit is already here. So, you're not asking Him to come into a place where He's not.
However, you ARE asking Him to manifest Himself; to help you sense His presence; and to do all the ministry in your house He wants to do. You're inviting Him, welcoming Him, and giving Him first place in your house.
Make sense?
Related: 21 Days to the Manifest Presence of God (my free devotional series)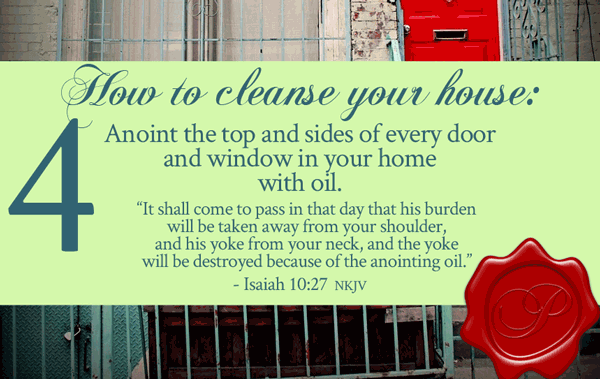 Step 4: Anoint the top and sides of every window and door in your home with oil.
When I cleansed my house the first time, I didn't own any anointing oil. So I used what I had–cooking oil from my kitchen. It worked just fine!
Like the Hebrews of old anointed the top and sideposts of every door with blood at Passover, the Lord told me to put a tiny dab of oil on the top and sideposts of every door and window in my house. Including closets.
So I walked through the house from front to back. I anointed both the inside and outside of the front and back doors. Then I anointed every window, opened every closet door to anoint both the inside and outside, and anointed every interior door.
I'll admit that it was tedious. However, it was worth it.
I began feeling the difference in the house before I was even finished anointing.
I don't remember exactly how much of that house I had to anoint before I could feel the difference. However, in the house I live in today, if I mess up and let something bad into the house–for example, if I'm watching a movie and something bad comes on the movie that I didn't expect, but I fail to turn it off and I allow it in my house–I anoint my house again.
Every time I do, I can feel the atmosphere change when I'm about 2/3 to 3/4 of the way through the house. And as I finish, including anointing my property:
I can feel any doors that were open to evil close.
I can feel my home filling with the anointing and with peace.
I can feel Holy Spirit manifest Himself again.
I can feel the atmosphere being zipped up and protected.
It feels like a Zip-loc freezer bag closing. No more open doors.
It feels wonderful.
Step 5: As you anoint your home, decree the name of the Lord over it.
The first time I anointed my home, the Lord told me to decree His name as I walked around the property lines outside. Since that time, I just go ahead and decree His name through the whole thing, and it makes a huge difference.
And as the lay intercessory prayer leader, I do the same thing at my church sanctuary every Sunday morning.
Here's the name which Holy Spirit told me to decree over my property:
"The Lord, the Lord God, merciful and gracious, slow to anger, and abounding in mercy and lovingkindness."
It's from Exodus 34:5-6, where God hides Moses in the cleft of the rock and passes by him, to show Moses His glory. In that passage, God proclaimed His own name as follows:
The Lord descended in the cloud and stood with him there, and proclaimed the name of the Lord. The Lord passed before him and proclaimed, "The Lord, the Lord, a God merciful and gracious, slow to anger, and abounding in steadfast love and faithfulness …" (Exodus 34:5-6 ESV).
So as I walk through my house to anoint it, I declare God's name through the whole thing. The whole time I'm anointing, I'm either praying in my prayer language or speaking this name out, over and over.
When you do this, you are claiming possession of the place for God.

Step 6: Anoint the ground at the four corners of your property, and walk your property lines (decreeing the name of the Lord over it) if possible.
I actually go outside and touch the ground with anointing oil at the corners of my house lot. I also walk the perimeter of the property. (My land is small, so I can do this easily.)
I encourage you to walk the edge boundaries of your property if it's possible to do so. And as you walk, decree the name of the Lord; and anoint the ground with oil when you get to a corner of the property.
(By the way, if you own so much property that you can't walk the boundaries of it, have you thought about partnering with me to get the Gospel out? Love to have ya.) 😉 #TwistedWriterHumor 😉
When I cleansed my house the first time, I lived in a not-so-great (i.e. somewhat dangerous) neighborhood.
However, Holy Spirit specifically told me walk the boundaries of my property and decree His name–the one written above–over it. I did so, and I can tell you I never had one moment's trouble in that house:
Nobody bothered me.
I was never afraid.
No crimes occurred.
Nothing bad happened at all. I was at perfect peace and had perfect safety.
I truly believe that the peace I had there happened because I claimed the property for the Lord and anointed it, decreeing His name over it. It was like His name put up a hedge of protection around my land, and nobody could penetrate it.

Step 7: As you finish circling your property, decree that the circle of protection be unbroken.
When I anoint my property (which I do after anointing the inside of the house), I finish back where I started. Again, I touch the ground with oil, and I decree the following:
"Let the circle be unbroken."
I do this because I feel led by Holy Spirit to do it. And I believe He told me to do that because it's literally making a decree/command (just like "Let there be light!" from Genesis chapter 1) that the circle of anointing and protection I just created must remain and be unbroken.
In other words, by my spoken word, I am creating a holy barrier of protection and anointing around my property.
When I anoint my church's sanctuary on Sunday mornings, I always end where I started and seal the circle with the same declaration. I touch the same place with oil again and say, "Let the circle be unbroken."
And when I say that, I can feel a sealing in the spirit realm.
There you go. How to cleanse your house in seven easy steps.
Yes, it's tedious. Not gonna lie. But, it is SO, so, so, so, SO worth it! After you've cleansed your house once, you'll feel the difference. You'll feel the anointing. You'll sleep better and feel God more.
And finally, another story to inspire you:
Awhile back, a woman took refuge in my home to get away from a difficult situation. When this lady came in, she was in a horrible frame of mind. She had had a really, really bad evening.
I didn't try to fix the situation; it wasn't anything I could fix–and it wasn't the time to even try. I just gave her a place to rest. I showed her to my guest bedroom–a bedroom for which the Lord gave me the furnishings, and which He had helped me decorate. 🙂 And then I left her alone for the night.
In the morning, I woke to a totally different guest in my home.
When we talked, the lady told me that she felt such a peace in my home. And as she lay in bed, the Holy Spirit settled on her so strongly that He convicted her, changed her heart, and healed the situation with which she had been dealing.
Do you see, beloved? God did that. I didn't do a thing–not a thing.
But this precious lady felt Holy Spirit's Presence so strongly in my home that the peace in the atmosphere healed her.
I was awestruck when she told me that. I knew it was all God, and I praise Him for it. But I was awestruck because it was tangible proof that this really works. It's not just in my head. It's not a pie-in-the-sky crazy concept. It's real, and it matters, and it makes a difference not only to me and my family, but also to others.
Do you feel chaos in the atmosphere of your home? Do you sense demonic oppression when you're at home? Do you suffer from night terrors or other demonic manifestations?
If so, then please. Cleanse your house. Do it today, and you'll notice the difference.
Is Holy Spirit speaking to your heart right now about cleansing your house? If so, please leave a comment below. I'd love to hear from you!