Pray for the Releasing of Fire Angels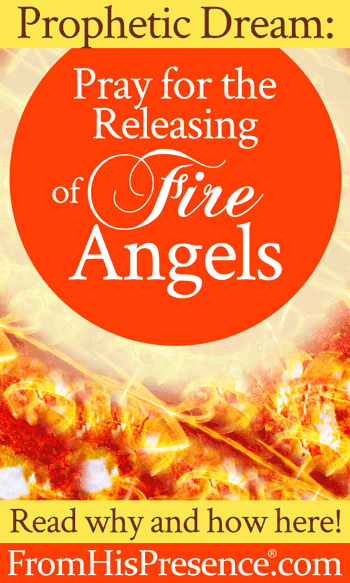 Are you ready to see purifying and refining in your heart, neighborhood, family, church, and nation? Good! Because the Lord spoke a specific prayer assignment to me this morning: Pray for the releasing of fire angels!
Early this morning, I had a dream. I dreamed that I saw six "fire angels." (I knew that "fire angels" was what they were in the dream; they were angels whose assignment is to release fire.)
It was the darkest of night, but I could see the angels just fine. These six fire angels appeared out of thin air, all at the same spot. It was as if they had arrived through a portal in heaven, and they walked out of that portal one after the other.
As the fire angels appeared, one after the other in an orderly line, they passed before me single-file.
The angels wore identical clothing: golden shirts and golden pants. The shirts were solid gold, of very fine, soft fabric like silk. Their pants were dress pants, like khakis, except made with gold thread throughout the khaki fabric. Their pants were lighter in color than their shirts, and the fabric of the pants looked finely woven with the gold.
I remember being very impressed by how professional-looking their outfits were, and by how delicate the gold fabric of their shirts was–and how fine and expensive the khaki/gold fabric of their pants was.
These six fire angels appeared and passed before me as if they were troops to be reviewed.
They were headed out to their assignment. Some of the angels were male in appearance and at least one was female in appearance. (I am not saying that angels have genders; I am simply saying I specifically remember that at least one of the angels resembled a human female, while others resembled human males.)
As the angels passed before me and I counted them, I was surprised that there were six angels, and not seven. I expected seven, but there were only six.
I woke up with "Pray for the releasing of fire angels" resounding in my spirit.
Here's what I believe the dream about the fire angels means:
1. It may look like the darkest of night, but God's strategy and help is clear.
I had all the light I needed to see the fire angels; it was light all around me when they passed by. What does this mean to you and me? Even if things look dark all around, God's strategy is clear. His help can be clearly seen.
2. The color gold represents purity, holiness, and something very precious and of high value.
The fire these angels are assigned to release is precious, and the fire is to bring purity and holiness.
3. Six is the number of man.
These fire angels are assigned to mankind–both men and women–to bring fire on the earth, as well as fire in our hearts and minds.
4. As I prayed in the Spirit about this dream, Holy Spirit told me that the angels are being sent to burn off the chaff.
In Matthew 13:36-43, Jesus explained one of His parables to the disciples. He said:
Then Jesus sent the multitude away and went into the house. And His disciples came to Him, saying, 'Explain to us the parable of the tares of the field.'

He answered and said to them: 'He who sows the good seed is the Son of Man. The field is the world, the good seeds are the sons of the kingdom, but the tares are the sons of the wicked one.

The enemy who sowed them is the devil, the harvest is the end of the age, and the reapers are the angels.

Therefore as the tares are gathered and burned in the fire, so it will be at the end of this age. The Son of Man will send out His angels, and they will gather out of His kingdom all things that offend, and those who practice lawlessness, and will cast them into the furnace of fire. There will be wailing and gnashing of teeth.

Then the righteous will shine forth as the sun in the kingdom of their Father. He who has ears to hear, let him hear!'"
I'm praying earnestly for 1,000 partners who will help me with my work of reaching people for Jesus as a domestic missionary. If you're interested in partnering with me financially on a monthly basis, I'd love to have you on board! Find out why, how, and the benefits of partnership for you here. And, thank you in advance for helping make this blog and everything we do together for the Kingdom possible!
I believe the task of the fire angels is threefold:
to separate the wheat from the tares;
to bring fire that purifies and refines as pure gold; and
to release fire that causes God's people to burn and shine brightly in the Kingdom.
5. This is an orderly angelic assignment, not a chaotic one. And it is specifically to be released by God's people.
In my dream, God sent the angels with their assignment, but they passed by me to review, as if I were their military commander.
What is the meaning of reviewing the troops? Simply this: Our job, as the Church, is to pray and release these fire angels on the earth. God has sent them, but He has allowed US the privilege of agreeing with His will in prayer in order to see His will released on the planet.
Our God is a consuming fire. As it says in Hebrews 12:28-29:
Therefore, since we are receiving a kingdom which cannot be shaken, let us have grace, by which we may serve God acceptably with reverence and godly fear. For our God is a consuming fire" (Hebrews 12:28-29).
So, will you join me in prayer right now for these fire angels to be released upon the earth?
Pray this:
"Father God, in Jesus' name, we thank You for protecting us Your people in these last days. We thank You that You have a plan; that You are in control; and that You have allowed us to participate through prayer in Your plans and purposes for the earth.

So Father God, because Your Word says that it's Your desire to send angels to separate the wheat from the tares and to burn off all unrighteousness, we invite you right now: Release Your fire angels on the earth!

Father God, let Your fire be released. Let it bring purity and holiness. Let Your angels release the fires of the Holy Spirit around the globe, and in the hearts of Your people.

Jesus, baptize us again in fire. Let the hearts of Your people burn brightly again for You. Purify us. Refine us. Bring purity and refining to the lost. Save them, Lord. Let a great, billion-soul harvest of souls come forth, so that many may be saved for Your Kingdom.

Father God, in Jesus' name, let the Lamb that was slain, Jesus Christ Your holy Child, receive His full inheritance on the earth through this releasing of fire angels to do Your work and carry out Your plan for these last days.

Thank You, Father. In Jesus' name, amen."
Is the Holy Spirit burning this word in your heart like He is mine? Is this a confirmation of something the Lord is saying to you also? Leave a comment below if so! I'd love to hear from you.