Asking For Your Specific Prayer Requests Again!
Hey family,
At the very beginning of this month, I put up a blog post asking for your specific prayer requests. I have been heavily burdened for you in extraordinary ways, and I wanted to intercede for you individually.
Many, many of you responded, and I agreed with you in prayer for your specific requests. By name and claiming God's promises over each need. And I've received so many emails from you, letting me know that God has answered.
Thank You, Abba Father! We love You!
Well, I am so thrilled over all the answered prayers that we're going to do it again. 🙂 I'm going to agree with you in prayer individually for your need, and lift up God's Word to Father. 🙂
If you want me to intercede for your specific prayer request, please do the following:
Leave a brief note with your specific prayer request in the comments below.
Please do not email me your requests; I get so many emails that I don't want the requests to get lost. I need all the requests in one place, at the bottom of this post.
When God answers, please let me know. 🙂
Like last time, please note that I will not be able to respond to individual requests. There are simply too many. However, I will be praying for you by name.
Also, because there were so many themes last time–e.g. the need for jobs, financial provision, and healing of family relationships–I'm making something right now that will help you. 🙂
You all have actually been asking me to do this for years, and I finally am. 🙂 I'm putting all my Biblical prayers, plus new prayers I'm writing for your prayer requests, into a prayer book. I'm also annotating each prayer with the Scripture references from which I take each portion of the prayer.
This book will make it easy for you to both pray effectual prayers AND learn the promises throughout God's Word that apply to each type of situation.
Here's an example of the work in progress. This is from my Prayer to Reverse Unjust Situations: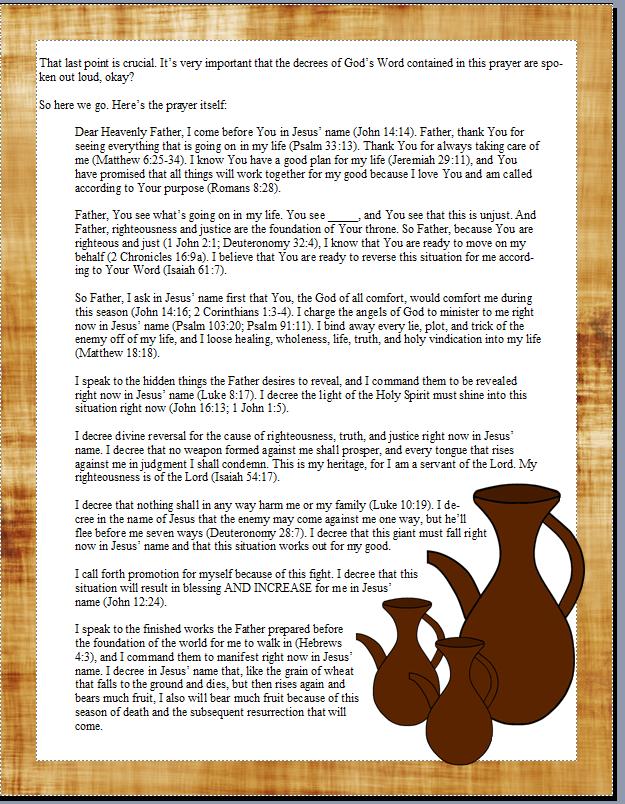 So, if you need a Biblical prayer for a specific situation, you are welcome to mention that in the comments below also.
I'll already be including many prayers from existing blog posts (but the blog posts don't contain the Scripture references). But I'll also be writing new prayers based on readers' needs, and a number of those new prayers will be included as well. 🙂
Ok, so that's all for now. If you have a specific prayer request, go ahead and add it to the comments below. And I will agree with you in prayer!
Again I say to you that if two of you agree on earth concerning anything that they ask, it will be done for them by My Father in heaven" (Matthew 18:19)
Beloved, would you help me with my work of reaching people for Jesus as a domestic missionary? This blog, and all of my mission work in person, are made possible through your partnerships, donations, and product purchases. If you'd like to help me, please check out the partnership details or products available for sale here. And, thank you in advance for helping make this blog and everything we do together for the Kingdom possible!