Awakening to Dreams That Are Big Enough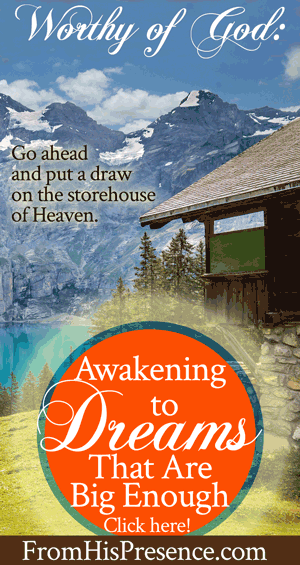 It was 1:00 in the morning. I had been up in the middle of the night taking care of an emergency. The emergency was finally over, and I was mindlessly surfing Facebook, trying to de-stress before going back to bed.
Suddenly, I saw a short video clip of someone else doing the exact same thing I KNOW I was destined to do. Out of curiosity, I pressed "play."
The woman on the video was a famous person about whom I had heard, but whom I had never seen in action. And within the space of one three-minute video clip on my Facebook newsfeed, my life changed.
It wasn't the subject matter she was discussing that got to me. Oh, she was a professional speaker and her delivery was flawless. She demonstrated magnetic charisma on the stage. But that wasn't the important thing.
The important thing was that this woman is doing with her life what I have known for years I was born to do … and I wanted it.
I didn't want what she had in any kind of envious way. Whenever someone has arrived at his or her destiny, there's never a reason to be envious. I know they have paid a tremendous price to be where they are, and I'd never begrudge them the success.
Plus, envy–at its core–is a total disrespect, disregard, and disvaluing of Holy Spirit and what He is doing in my life.
In other words, if I envy someone else, it means I think God has wronged me by placing me or allowing me to be where I am right now. Holy Spirit convicted me of that particular sin a long time ago and delivered me from it as well. (Read my embarrassing story about how I was envious of a sixth grader here.)
Since the Lord convicted me, I have learned to have too much joy in my journey–and too much appreciation for the Holy Spirit's work in the process of my life–to allow envy back into my life.
However, I was gripped as I watched this woman's message because I realized I had become complacent.
I was no longer dreaming big dreams. Somewhere back in time, I had allowed God's big vision for my life to drain right out of my heart. I had become content where I was.
Oh, I was still working diligently. I had small goals for myself; but I have to admit they were small goals—moving targets without an action plan, not truly not goals at all. I still hustled every day, rising early each morning in order to have time to do what I'm called to do before the cock crows—and before the responsibilities of the day overwhelm me.
I was being diligent. I was being faithful.
But I was not being me—at least not the version of me that God showed me I would become many, many years ago.
Watching Facebook that day, I was riveted as the Holy Spirit gripped my heart with this realization. Gripped, awestruck, frozen with eyes wide open.
If you asked me before that moment what my five-year goals were, I couldn't have told you.
I've had many goals in the past … but I achieved most of them, and somewhere along the way I had forgotten to renew my faith and courage to believe God for more. I had stopped dreaming.
But in that one tender moment as I was gripped with the realization that I had stopped chasing God's dream for my life …
… as I realized that I had ceased my relentless pursuit of the call He had placed on my life a long ago …
… a whispered prayer rose up in my spirit.
"Papa, within five years, I want to _____."
And I felt Him receive my prayer as if it were a draw on the storehouse of Heaven.
Related: 4 Prophetic Prayer Directives About Your Dreams
I literally felt His heart receive my prayer and agree with it. I felt Him say the "amen"–the "let it be so"–to my agreement with His own dream.
I felt His power and inspiration flow into my heart, body, soul, and spirit as He refocused me like a laser beam on His will, His giant plan, for my life.
It was like we made a pact, Papa and I.
We entered into a transaction in which I put a demand on Him in faith for His perfect and highest will, and He gave the divine "yes" to that demand.
Maybe that's why 2 Corinthians 1:20 tells us:
For all the promises of God in Him are Yes, and in Him Amen, to the glory of God through us."
Beloved, every promise Father God has ever spoken carries with it a "yes" from His heart to yours.
His heart is giving you divine permission right now to make every one of His promises happen. And as you allow yourself to come into agreement and resonate with His plan for your life, you will hear His divine whisper seep deeply into your soul: "Let it be so."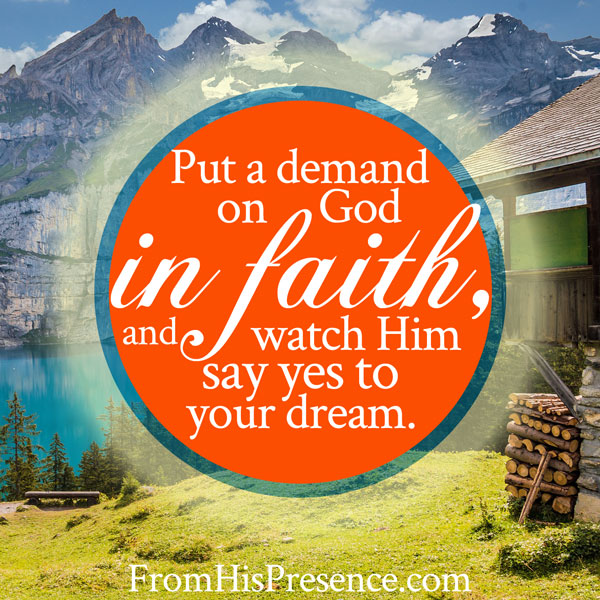 It's time to believe again. It's time for awakening to dreams that are big enough; dreams that are worthy of God.
Do you remember when you felt like you had a vision for your life—something bigger than where you could ever arrive on your own? Can you remember the awe you felt as you looked at a God-given vision of what could be the future you?
Have you ever watched yourself on the movie screen of your mind, only to find yourself breathing in little gasps, unable to speak, able only to whisper because the vision became so real in your spirit?
Have you felt the divine touch in that deep-down place inside you that only God has ever seen and only He could have accessed?
Can you remember a moment in which you truly—even if only for that moment—awakened?
If so, it's time to remember; to reclaim it; and to let Holy Spirit brood over that dream in your heart again.
And if not …
Precious friend, if you have not experienced such a moment of awakening, it's time for you to experience one now. Pray the simple prayer below with me, for Holy Spirit waits to breathe on your soul with His awakening right now.
Here's a simple prayer of awakening:
"Abba Father, I come before You in Jesus' name.

Father God, I love You so much. I want Your best and highest and most perfect will for my life, so much. But Father, I need You to wake me up. I can't awaken myself; I depend upon You completely.

So Father, I ask in Jesus' name right now that You would instruct me and teach me in the way that I should go. I pray that You would guide me with Your eye upon me.

Lord, in Jesus' name, I pray that Holy Spirit would come from the four winds right now and breathe on me, that I may live.

Wake me up to awareness of You, and to intimate knowledge of Yourself, more than I've ever been awakened.
Wake me up to Your plans and Your purposes for my life.
Wake me up to my calling in Christ Jesus.

Help me to know exactly who I am in You and what You have called me to do. Give me Your holy boldness to pursue and overtake everything You have for me in this age and in the age to come.

Father God, I pray that, like the apostle Paul, I would boldly forget those things which lie behind and press toward those things which are ahead. Let me press toward the prize of Your high call in Christ Jesus with my whole heart.

And Abba Father, as I press toward You–as I seek You–I pray that my motives would always be pure. Keep me on a short leash, God. Don't let my focus wander off of You; but help me keep my eyes on Jesus, the Author and Finisher of my faith. Help me to seek You for Your face, and not just Your hand.

Thank You, Father. As I seek You, I know that I will find You, and will apprehend everything You have for me. I choose to rest in Your promise that You who began a good work in me will be faithful to complete it until the return of Jesus.

Thank You, Father God. I love You, and I give You all the praise. In Jesus' name, amen."
Are you ready to awaken to dreams that are big enough? If so, leave a comment below! I'd love to hear from you.
Beloved, would you help me with my work of reaching people for Jesus as a domestic missionary?

This blog, and all of my mission work in person, are made possible through your partnerships, donations, and product purchases. If you'd like to help me, please check out the partnership details and products available for sale here. And, thank you in advance for helping make this blog and everything we do together for the Kingdom possible!