How To Beat Depression If You're Discouraged About Your Calling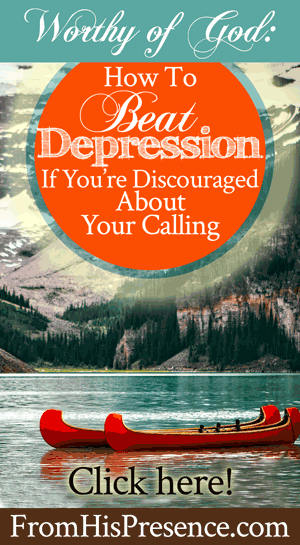 Do you feel depressed or discouraged about your calling? If so, the Lord has given me a word for you today about how to beat depression so you can move forward into your dreams.
Note: Before you read this post, it's extremely important that you read how Your Dream Is Your Key To Financial Breakthrough, here. That post is a prophetic word that lays the foundation for what I share below.
Beloved friend, if you're discouraged about your calling, you are not alone. Person after person has come to me recently, talking about how discouraged they are because they feel they're not making progress toward their destiny.
It's the unfortunate truth that, if you're hungry to walk in everything God has for your life–but you're not yet walking in it–sometimes depression can set in.
Deep down inside you, there is something that knows when you're frustrated, at a stalemate, or staring at a wall. It's called your spirit, and it's the part of you that makes you you. It's the part of you that connects you to God and is filled with God. It's the dwelling place of the Spirit of God, and it's constantly receiving downloads from God.
If you have given your life to Jesus Christ, your spirit is intimately connected with God.
And because of that intimate, life-giving, life-receiving connection, sometimes your spirit knows things that your mind doesn't.
Even if your mind has not yet made the connection, your spirit knows when you're not fulfilling your destiny.
Your spirit knows when you're constricted. It can sense the bottleneck of anointing and vision that God has put into you, but which has not come out.
And when the anointing, power, vision, and dreams God has given you are not flowing out of you, depression results.
It did for me, and you've probably experienced the same thing and know exactly what I'm talking about.
Years ago, I started attending seminary, but I quit within a month or two. I quit because:
I was struggling with time management;
struggling with getting my homework done;
struggling with my health;
trying to sell a house; and
my husband and I were in the middle of moving to another home that we had just purchased.
It was a hard time. Could I have persevered? Absolutely. But I didn't. I got overwhelmed; and instead of buckling down, clearing my schedule, and sitting my tail in the chair working until I caught up …
… I quit.
Just like that.
At the time, quitting was a relief.
We moved to our new house, dealt with nasty financial situations when our first home didn't sell (another story for another day), and got a cat. We were building a life.
But I wasn't living, not really, because I wasn't doing what I was called to do. And I got depressed.
I mean really, truly, deeply depressed.
Years passed. Things were hard. Eventually, however, I "came to myself" one day and realized I had to chase the call of God on my life. Had to. No other options.
And I knew I had to go back to seminary.
My husband and I talked and prayed. At first, he didn't believe I was serious; but I persisted. Eventually, he agreed. I began seminary with an independent study course right away.
And as soon as I started that seminary course, I had peace. The bottleneck of anointing that I had sensed—the hopelessness; the sense of being hemmed in and trapped—left immediately.
It left because now I was walking in my destiny. Even though I had only taken baby steps, my spirit knew I was back in the saddle again.
Holy Spirit was suddenly able to flow through me again, because simply by beginning—simply by taking tiny steps toward my destiny—I was walking in His plan for my life.
Two years later, I graduated with my seminary degree. Jamie Rohrbaugh, Masters of Biblical Studies. Nice to meet you. 🙂
So here's how to beat depression when you're discouraged about your calling:
There are any number of causes for depression, and an equal number of potential cures. In this post, I'm only addressing one cause of depression: the depression you experience when you long to walk in your destiny, but you are not doing so.
It's the depression you experience when you have no opportunity. The depression you experience when you feel trapped, hemmed in, forgotten, and hopeless.
It's a depression that is literally caused by a bottleneck of the anointing (Holy Spirit's unction) and of God's power on your life.
And in order to beat depression of that kind, you've got to uncork the bottleneck. So, want to know how to beat depression when you're discouraged about your calling?
Here's the answer, in one word:
Start.
That's it. Just start.
See, if you start, and keep at it every day, then in one month, three months, one year, three years, your life will be so far ahead of where you are now that you wouldn't be able to recognize it if you were looking at it in this moment.
All it takes is to start.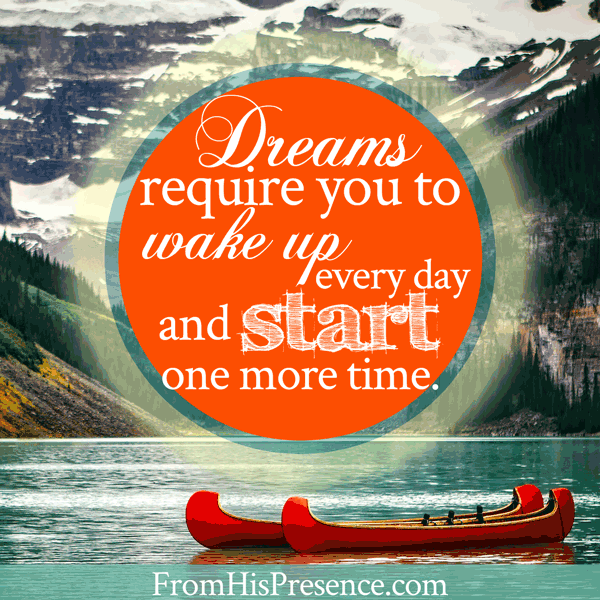 As I am writing this, I have been writing professionally for more than four years.
I started small—really small. Growth has been slow. But I started.
Day in and day out, I woke up early, sat my butt in a chair, and worked on my dream. Sometimes only for an hour a day … but I started. I made a plan and, slowly, breath by breath, I executed that plan.
I did it without any help, except for God's help. I did it without anyone teaching me. Google and I became close buddies. I researched, learned, and executed the plan.
And, as of the day of this post:
I'm writing for multiple publications;
have a book placed with an agent, praise God;
and am reaching people over 70,000 times each month through my blog alone (not counting other social media content). (Yes, oops, I'm letting the cat out of the bag before my official update, but yes, we exceeded 70,000 pageviews in October!) 🙂
To make things even better, I'm mentoring a group of writers who are spread around the world. I'm teaching writing to others. And I'm helping pastors and Gospel workers build websites they can use to communicate their individual messages as loudly as possible to reach people for Jesus.
That's just the writing stuff. In addition to ministering and teaching and mentoring and all manner of other types of service which the Lord has blessed me to do.
I give God all the glory. He made it possible. He wrote through me and continues to do the work through me to this day, and I praise God from whom all blessings flow.
But if I had seen four years ago what my life looks like now, I would have thought it impossible.
But it wasn't impossible. All it required was to start.
And tomorrow, to start again. Dreams require you to wake up every day and start one more time.
Related: How To Give Wings To Your Dreams
But as you do, you'll find yourself receiving more anointing, more joy, more excitement, passion, and fulfillment than you ever dreamed. You'll look at yourself one day and realize that you're coming alive again … and being fully alive feels fully wonderful.
So here's the key question I want to ask you today:
In four years, you'll be four years older whether your life has changed or not. If nothing has changed in four years, will you be okay with that?
If you just said no, then start.
Start today. Start again tomorrow, and the next day, and the day after that.
Beat depression. Beat stagnation. Beat the enemy, who's trying to keep your voice, your calling, and your ministry out of the Kingdom of God.
Give God something to work with. Start today, and let the anointing (the holy unction) that is in you flow out of you. Begin taking steps toward your dreams today.
Is Holy Spirit speaking to you through this word? If so, please leave a comment below. I want to hear what's going on in your life in this area, and how you plan to beat depression over your calling!
Beloved, would you help me with my work of reaching people for Jesus as a domestic missionary?
This blog, and all of my mission work in person, are made possible through your partnerships, donations, and product purchases. If you'd like to help me, please check out the partnership details and products available for sale here. And, thank you in advance for helping make this blog and everything we do together for the Kingdom possible!