Beating the Spirit of Poverty When It Attacks Your Calling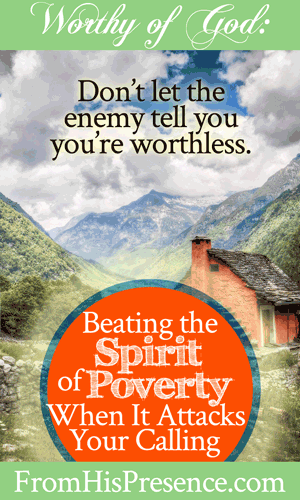 As we've discussed before, there is an actual spirit of poverty—a demonic force—in the world that loves to rob and steal from God's people. Today, we're going to talk about how to beat the spirit of poverty when it attacks your calling.
This is part 3 of the Worthy of God series, about awakening to dreams that are big enough. Read part 1 here and part 2 here.
The spirit of poverty plunders Christians not necessarily by taking away things, but by influencing your thought patterns.
If you want to carry out dreams that are worthy of God, you'll need to take proactive steps to beat that foul spirit.
The spirit of poverty wants you to believe that you are worthless. Not only does it want you to believe that you are worthless, but it also wants you to believe:
that your call and ministry are worthless;
that your voice is worthless; and
that your net worth should demonstrate worth-lessness.
But you know what? The devil and his minions are liars, and none of those evil whisperings are true.
The TRUTH is that you have immeasurable, inestimable value and worth.
Jesus Christ deemed you so valuable that He was willing to be:
imprisoned;
beaten;
stripped naked in public;
accused;
abandoned;
betrayed;
publicly humiliated;
convicted unjustly of crimes He didn't commit; and, ultimately,
give His life …
FOR YOU. Yes, YOU are worth that much.
Jesus paid the price for you with something far more precious than money.
He poured out His life for you. He freely gave every drop of blood in His innocent body for you. You were worth it to Him then, and you're worth it to Him now.
The thing is, blood was the currency that paid for sin.
Blood bought forgiveness and re-introduction to God's presence for everyone who desires to access that presence through Christ. And now that the price of forgiveness has been paid, additional blood is no longer needed for most transactions.
It's true that blood is still a required currency for some transactions. Freedom, for instance, is unfortunately usually purchased with blood. The shores of Omaha Beach and the halls of history prove this to be a fact.
But blood is not the general currency that pays for lesser things.
You don't purchase gasoline at the filling station with blood. You don't buy your lunch with blood. You don't purchase groceries at the grocery store with blood.
Why? Because these are lesser things. They do not require paying the ultimate price.
Nowadays, we pay for lesser things in good old cash money. Money is the currency, the method of exchange, by which we benefit from other people's experience, labor, and knowledge.
What's my point?
Only this:
If God thinks you were worth dying for–and He's the One who created both your time and your testimony–then other people can sure as shootin' pay you with money for your time, your message, and your labor.
Nothing worthwhile comes without exchanging one thing of value for another thing of equal or greater value.
See, the enemy would love for you to think you have to give everything away.
I did that once with a makeup home-sales business, and I went out of business really fast. You can't make money when you sell everything at cost and then give away inventory as free gifts.
The enemy would also like for you to think that you, your efforts, your experience and wisdom, and the price you paid to get that wisdom are worth nothing. It's a trap; don't fall for it. Your experience, expertise, knowledge, skills, and time are valuable.
The enemy will also try to convince you that no one will be willing to pay for your time, labor, and expertise. That's a lie also. If you do something well, people take notice and someone will want what you have—and be willing to pay for it.
Everyone doesn't have to want what you have; you just need to find out who your people are and work with them.
You can beat the spirit of poverty.
You can beat it when it attacks you and your calling. You can beat it when it attacks anything at all, really.
It's all by the blood of Jesus–that blood which Jesus shed when He did make the ultimate sacrifice, so He could purchase all the best of everything, like:
access to God;
forgiveness of sins;
our adoption as God's sons and daughters;
intimacy with God;
blessing;
provision;
wealth;
relationships, and more–for you and for me.
Here's how to beat that poverty spirit:
Learn how to recognize it. Learn how it operates. Allow Holy Spirit to expose it in every area it may be operating in your life.
In an article I wrote awhile back, called 7 Signs of the Spirit of Poverty, I exposed seven ways you can tell if this thing is operating in your life. And along with each sign, I taught how you can beat that thing and kick it out of your life.
The info is free. All you have to do is go read it–well, and act upon it. 🙂
The evil spirit of poverty would love to rob you of the joy and blessing that accompany your calling. Don't let it. The blessing of the Lord makes rich, and He adds no sorrow to it.
Does this post resonate with you? Is Holy Spirit speaking to your heart? If so, please leave a comment below. I love hearing from you!
Beloved, would you help me with my work of reaching people for Jesus as a domestic missionary?
This blog, and all of my mission work in person, are made possible through your partnerships, donations, and product purchases. If you'd like to help me, please check out the partnership details and products available for sale here. And, thank you in advance for helping make this blog and everything we do together for the Kingdom possible!
Read the rest of this series: