How To Give Wings To Your Dreams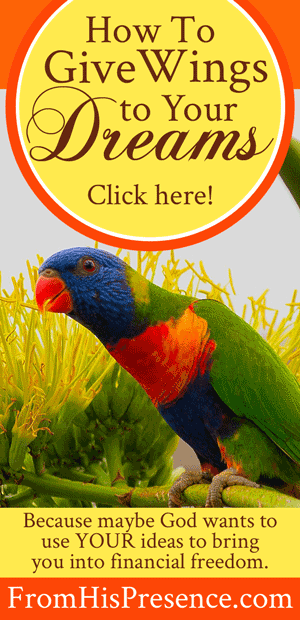 Are you ready to start chasing your dream, but you're not sure what to do first? If so, I believe I have a word from the Lord for you today about how to give wings to your dreams.
If you're not sure what to do first or next, you're not alone. I've also been struggling with this:
I have so many ideas for what to do with writing and with the mission/ministry work that I do.
So many ways I'd like to volunteer to help at my church.
And so, so many things I need to get done at home! (Cough … we won't talk about all that home work that needs to get done today, though.) 😉
So I've been praying and asking the Lord to order my steps. And last Friday morning, May 27, I had a dream just before I woke up–a dream that I knew contained the Lord's direction for me about what to do next.
It was so beautiful and simple, yet very powerful, so I wanted to share it with you too. First, I'll share the dream, and then I'll give the interpretation and application below. 
If this dream were a movie, I would call it "The Lory." Here's the prophetic dream:
Setting:
In the dream, I was in the dining room of my old house–a house I lived in as a child. It was daytime, and light was shining brightly. One whole wall was solid windows, and there was a dining room table there made of yellow and white formica.
Plot:
I dreamed I had a parakeet (also known as a budgerigar or "budgie") that should have been dead long ago. He was in a cage, and I hadn't fed him or watered him in months. Somehow, though, he was still alive … but just barely.
I noticed him, took him out of his dirty, smelly cage, and carefully placed his beak up next to some clean water. He sipped the water as I fed him by hand, and he revived. Then I put him in a big, clean cage in front of a big window in the dining room of my old house.
Then I found another bird, and another, and another … all in my dining room. I noticed just one bird at a time. Several of the parakeets were in the same condition as the first; I had not been feeding or watering them. However, as I picked them up and took care of them, they all revived. And even though I didn't have cages for them, an appropriate cage/house appeared for each bird out of nowhere, just when I needed it.
The birds were many and varied. For example:
There was a bright yellow lorikeet (lory). Its feathers were solid, brilliant yellow; it didn't have any other colors on it except yellow. It was GORGEOUS! (After the dream, I did a web search to see if such a bird existed. It does: it's a lutino lorikeet, but they are very special and not common.)
There was a small, white cockatoo (its size meant it would have been young, because a cockatoo is a big bird);
There was at least one peach-face lovebird;
a couple of mynas (not exactly exotic, but they were in the dream anyway);
And a couple of parakeets that had not been fed or watered for months … but still they lived on.
All the birds except the parakeets were healthy, and they appeared out of nowhere. And the healthy birds appeared after I rescued the parakeets.
As I picked up each bird and placed it in its cage, I stacked the cages next to the window.
And I knew in the dream–the kind of knowing that only comes from the Holy Spirit–that I was to sell each bird; that the birds were being given to me to get my husband and I totally out of debt.
I also knew that the yellow lorikeet (lory) alone was worth $2,000. (In real life, lutino lories are not worth that much. But in the dream, it was a $2,000 bird.) 🙂
The birds kept appearing out of nowhere.  Toward the end of the dream, I counted them. There were about 40 birds of many different kinds–many parrots, but other kinds of birds as well. They were all beautiful, and had bright, gorgeous feathers.
All the birds were friendly, too! They all let me hold them in my hand, even if they should not have been friendly if you saw these birds in the wild.
Then there was a crow named Poppycock.
Only one of the birds wasn't beautiful. There was a crow. In the dream, instead of putting him in a bird cage, I put him in a cat carrier instead!
This crow was a talking bird. His name was Poppycock, and he talked to me. He was nice, but I didn't want a crow! I put him in his cat carrier and forgot about him. Then, later, I noticed him again and set him free outside to get rid of him.
Other important points about the dream:
Throughout the dream, the smallest birds were the ones I hadn't taken care of–but they lived and revived as soon as I gave them water and food.
The small, starving birds appeared first, and I took care of them first.
A parakeet isn't worth very much. You can buy one in the US at a pet store for about $20.
But the parrots were very expensive. They range in value from the hundreds of dollars to the thousands of dollars.
The big, rich birds appeared out of nowhere, fat and for the taking – like the yellow lori. They were perfectly healthy. God created them out of thin air after I started taking care of the emaciated little parakeets.
None of the birds' wings were clipped, and I didn't clip them–although I thought I might need to when I prepared to sell them.
At one point in the dream, one of my spiritual sons came and stood in front of my wall of bird cages to see these birds that had appeared out of nowhere. As he gazed at the birds, I knew that it was a testimony to him and to others about what God could do to set us free financially.
Here's the interpretation of the dream: The birds represent dreams and career/business/money-making ideas. They have wings.
Point 1: The Lord was showing me that I have had many ideas that I haven't taken care of. These were ideas from Him, but I have neglected them. These ideas may not look glamorous, and they may not produce tons of money, but they are key to my foundation. I need to get these ideas out, feed them, and take care of them.
Point 2: The big, most beautiful, expensive birds showed up out of nowhere after I took care of the emaciated birds. From this, the Lord told me that, after I take care of the basic, foundational ideas He has given me, my obedience will make a way for Him to drop very profitable, fat ideas into me out of nowhere–ideas that don't need a lot of caring for; they will be ready to bring in income right away!
Point 3: In the dream, I knew that the most expensive bird was the $2,000 yellow lorikeet. In Biblical symbolism, the color yellow represents a renewed mind, hope, and courage. I knew God was saying He is giving me hope for abundant financial freedom.
Point 4: It's important that the lorikeet was a lorikeet. Why? Lorikeets are special because they have a special tongue that is made to drink nectar. They drink nectar! And Jesus is like sweet nectar. The Holy Spirit is sweet nectar. The most expensive ideas come from dwelling in the secret place of the Most High and drinking the sweet nectar of Jesus!
Point 5: In the dream, my son came and looked at what God had done. It was a testimony to him. I believe this means that the freedom God is bringing will be a witness–a testimony, a sign, and a wonder–to the generations to come.
Point 6: The word "Poppycock" means "lies." When  you say, "That's poppycock!" it means "That's a lie!" In the dream, "the lies" talked really nicely to me and sounded sweet, but I knew there was no place for them in what God was doing. I kicked the lies out the door. We need to kick all the lies out the door … and if something isn't gleaming with hope and beauty, it's a lie! Don't tolerate any lies!
Point 7: The fact that I put Poppycock in a cat carrier is important too. Symbolically speaking, cats represent independent thinking (at their best) and rebellion at their worst. Lies belong in the way of rebellion. Get rid of rebellion and independent thinking and all the lies that go with them. 🙂
Point 8: The birds' wings weren't clipped. This means the ideas aren't limited. Their potential is not limited. They can fly and soar high!
Point 9: The fact that I was in a dining room in the dream, and there was a table there, is significant. Papa is feeding us at His table of provision. 🙂
Point 10: It's also important that the dreams were in front of windows. There is an open Heaven over us and Papa has opened the heavens to bless us.
What this dream means to you:
Second Corinthians 1 says that any word of encouragement that God gives to one person is meant for all believers. So, this dream is for you too–just like it is me.
What ideas do you have that you have neglected, cast aside, or let lie in the dark? Don't let yourself get under condemnation about those ideas. Just make a list!
My list looks like:
Several articles the Lord has given me that I have, just, you know, not done anything with–including one for a national magazine that the editor even invited me to submit! 🙁 And it's already written! And I haven't done a thing with it!
Books and CDs that I need to have printed, to offer in print form as well as downloadable form.
My own book that I need to finish.
And lots more.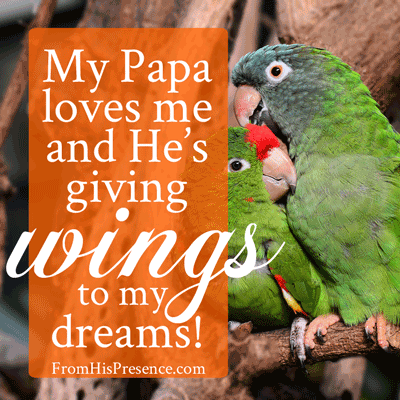 What does your list look like? Write it down!
Then, one day at a time, start working on one thing at a time from that list. Start with the most basic, least-glamorous ideas. Those are your foundation. Even if you knock them out in 10 minutes at a time, just plug away at them.
Don't worry about it being too late for your ideas. In the natural, those ideas maybe should have been dead–but God has sustained them. They are still breathing, and they'll revive as soon as you get them out and feed them.
As you are diligent to rescue those old ideas that have been starving, I believe God is saying that He will drop more ideas, and more profitable ideas, out of nowhere.
Those ideas will be ready to go. They won't require as much work as your foundational ideas will. They will be fat and beautiful and ready to sell. And your ideas will not be limited! (For more about that, read my prophetic word here that the Lord gave me for this year about how the limiting spirit is off.)
But one important thing: Get rid of the lies! Don't allow Poppycock to whisper in your ear, no matter how nice he may seem! He's a crow, and he eats carrion and gross stuff! Even though he seems nice, he only wants to devour your flesh! Get rid of Poppycock!
Papa God wants to give wings to your dreams. Are you ready to jump in?
Precious brothers and sisters, it's time. You can do this! One step at a time, the Lord has provided the way already for you to become financially free.
It's time to get started on your list of old ideas. Papa God will provide out of nowhere and build on your foundation as you begin to work through your list. And what He will do for you will be a sign and a wonder to the generations to come.
Does this dream resonate with you? If so, please leave a comment below. I'd love to hear from you!