Prophetic Word: Your Dream Is Your Key to Financial Breakthrough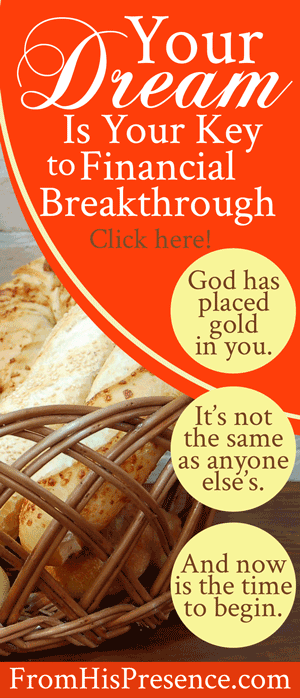 Dear readers, the Lord downloaded this word to me about how your dream is your key to financial breakthrough suddenly awhile back. It's been brewing in my spirit since that time and I have seen it confirmed over and over again, in people from many areas of business and investments–not just the four areas I mentioned below.
This word is more directive than I usually write, but I believe it is absolutely timely. If it confirms something the Holy Spirit has already put in your heart, then link your faith with this word and act on it. If you do, I believe you will see results over time beyond your wildest dreams.
That being said, here's the word:
Your dream is your key to financial breakthrough.
The Lord told me suddenly that the season had changed and He is pouring out a grace for you to turn your dream into a profitable business.
I have specifically seen Papa God pouring out grace on four areas of business. There will be other areas as the season unfolds, but I have already seen:
Artists who have long dreamed of earning a living from your art;
Musicians and songwriters with great psalmist gifts, who dream of hearing your songs reach people through radio and national platform;
Writers who dream of operating a profitable, online business of publishing books and other products; and
Ministers-in-waiting who have been faithful to serve and are now being launched into full-time ministry.
Many of you are entrepreneurs whom God has called and gifted.
You have long held dreams in your heart that have not come to fruition. You have had many business ideas in the past, and you've pursued some of them, only to meet with failure.
But the Lord wants you to know that if He had allowed your past ventures to come to fruition, your success would have prevented you from pursuing the most sacred dreams of your heart–the dreams that He gave you–the dreams that would bring you ultimate fulfillment.
Your past ventures would never have satisfied. Now, the Lord says, it is time for your most closely-held dreams to be the basket for His provision in your life.
AVAILABLE IN EBOOK OR PAPERBACK FORMAT!
Over Not Under: Financial Prosperity God's Way
Do you want God to empower you to get wealth, as He promised in Deuteronomy 8:18? Then this book is for you!
Over Not Under will help you gain deep insight about God's financial principles—and about how to activate His provision, blessing, and abundance in your life!
Deuteronomy 28:5 says:
Blessed shall be your basket and your kneading bowl."
In this passage, Papa God promised to bless your basket and your kneading bowl if you will diligently obey His voice and be watchful to keep His commandments. Many of you have been diligently obeying the voice of the Lord. You have earnestly sought the Lord for many years with clean hands and a pure heart. However, you have not seen the blessings you should have seen.
You have not seen those blessings because you have not had a basket or a kneading bowl.
A basket is a thing used to carry your provision. If you have nothing in which to carry your provision, you cannot receive what the Lord wants to pour out for you because you have no way of holding it.
A kneading bowl is the container in which you get your provision–your bread–started, and it sits and grows (rises) until it is large enough to meet your needs.
What does this mean to you in regards to financial breakthrough and seeing your dreams become profitable?
Two things:
1. Your basket is your business or ministry.
It is the vehicle into which your Papa can pour provision. It could also be:
a partnership program the Lord has told you to launch;
a grant for which He has asked you to apply; or
a website that will help you build your reach online.
If you do not have a business, ministry, website, etc into which the Lord can pour provision, you will not see the abundance you desire since you have no basket in which to receive His financial blessing.
2. Your kneading bowl represents the seed efforts you make toward turning your dream into profit.
If you want the Lord to bless your seed efforts, you must first make those efforts for Him to bless! Dear entrepreneur, please hear this: you must begin building your business now.
Papa is pouring out a grace for entrepreneurship in this season, so you will see results much more quickly than you would have in the past. However, anything valuable will still take time to grow.
The exact amount of time will vary from person to person. But growth will take time, so now is the time to start building your foundation.
If you will start building your basket–your business–today, and simply take one step each day or each week, you will see financial results much sooner than you ever dreamed.
However, when you're baking actual bread, you must start making your bread dough before it can rise and expand enough to feed your family. In the same way, you must take small steps and start building your business before the Lord can expand it and use it to meet your need.
Partner update: I've asked people to partner with me financially in any amount per month. GOD ROCKS and He is bringing people who are helping me reach thousands of people for Jesus day in and day out. If that's you, THANK YOU! And if Papa is stirring your heart to help with this work,

go here to read the details about my partnership program

, what I'll be focusing on, what's in it for you if you partner with me, and how I will be accountable.

I'm believing God for 1,000 partners, so feel free to jump right in there, ok? 😉 Let's labor together in His harvest field and bring more souls into the Kingdom. And precious partners: I praise God for you and pray for you daily.
And while you build the basket of your business, keep this most important point in mind:
Your dream is the key to your financial breakthrough.
Your breakthrough will not come through pursuing someone else's dream or gift. Your breakthrough will not come through pursuing other people's ideas or the good causes into which your friends and neighbors try to enlist you.
Your breakthrough will come as you pursue your calling. God has placed gold in you, and it's not the same as anyone else's gold. You have a unique gift that Papa desires and needs to release in the world in order to expand His Kingdom.
Your gift is the one in which He can bless you the most. Your gift is the one upon which He has poured His anointing. It is in exercising your gift that you will find more joy and fulfillment than you ever imagined possible.
Related: Awakening to Dreams That Are Big Enough and How To Beat Depression If You're Discouraged About Your Calling
So let your uniqueness shine. Don't be less than you are.
Go ahead and own who Papa has made you to be. Know that our Father believes in you. His hand will be with you as you step out to obey Him.
Honor the deposits the Holy Spirit has placed inside you, and honor them enough to act on them in faith. He will back you up as you take one step at a time into His call on your life.
Beloved, it is time to build your basket. Build that vehicle into which the Lord can pour His provision. Put the ingredients of your labor together and let your starter dough rise so it can fill your kneading trough.
It is time to begin.
Does this word speak to your heart today? Does it confirm something the Holy Spirit has already been speaking to you? If so, please leave a comment below. I'd love to hear about what God is doing in your life!