If You're Tired and Worn Out, Jesus Is Like Sweet Nectar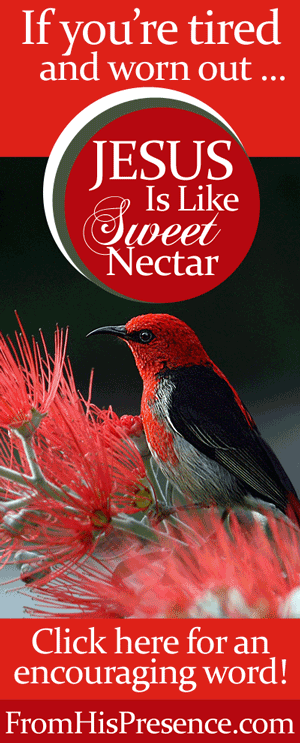 Are you thirsty? Do you feel tired, dry, and worn out, like you're just barely eking out an existence?
If so, I have a wonderful word of encouragement for you today: Jesus is like sweet nectar for your spirit, and He wants to bring you times of refreshing in His presence right now.
The backstory:
I woke up this morning with these words in my head: "Jesus is like sweet nectar." And I saw a picture of a nectar-drinking bird, like a hummingbird. (The little guy in the photo at left is a male scarlet honeyeater, but he drinks nectar too.)
This vision and these words really moved me because, so often, I feel like I'm expending all the energy I possess just to get through life:
My work week can be draining sometimes, and I spend a lot of time volunteering at church.
That's not to mention being a wife first and foremost, taking care of my home, and trying to pay attention to my health.
Then there are all the people that I love and desire to pour into from week to week.
So often, by Friday night, I feel like I have nothing left to give.
Do you ever feel the same way–dry, drained, tired, and worn out?
Maybe you feel that way right now. Between caring for your family, working at your job(s), going to church, getting groceries, mowing the lawn … the list never ends. You may feel overwhelmed, discouraged, and drained.
But look at the photo of the gorgeous bird above. Just like you and me, this beautiful bird uses an incredible amount of energy just to get through life. But the difference is that this little guy knows the secret of renewal. He knows how to replenish himself.
How does he replenish himself? His secret is this: he stops and drinks nectar.
He doesn't consume boring food; only the sweetest nectar will do. He would love the sugary nectar you might put in your bird feeder! It restores him. It refuels him. It gives him the energy he needs to keep going strong.
And for you and me, when we get tired, Jesus is like sweet nectar. He is the replenishment for our souls.
He is the sweetness we require in order to get back up and go again. And when we drink Him in, He refuels us and makes everything right again.
That's why John 7:37 says tells us:
On the last day, that great day of the feast, Jesus stood and cried out, saying, 'If anyone thirsts, let him come to Me and drink.'"
Can't you imagine Jesus standing in the temple, looking at all the tired, hopeless masses of people? Israel had been looking for their Messiah for thousands of years. The prophets were no longer speaking. John the Baptist–the first prophetic voice in four hundred years–had been killed.
The Israelites and Gentiles alike were dry and weary. They desperately needed a drink. And Jesus was the Solution they were looking for, but they didn't even know it.
Can't you see Jesus looking at these people with such compassion, seeing their dryness and thirst? Can't you see Him standing up and crying out, with passion and perhaps a little bit of frustration too: "If anyone thirsts, let him come to Me and drink!"
It was the cry of His heart. He was offering renewal, hope, energy, and restoration to worn-out people.
And Jesus is still offering to renew, restore, feed, and energize you today.
Jesus is the sweet nectar my soul longs for. When I come to Him and drink, He replenishes all of the energy that I have used up. I give Him everything that was wrong, and He gives me everything that is right.
The Holy Spirit gave me a new song recently that says:
I want to take another drink of You
I want to see another vision of Your beauty
I want to take another drink of You
I want to feel Your arms and Your embrace.
Listen to and download "Another Drink" here on Soundcloud for free: 🙂

Drinking of Jesus is what life is all about. I can't get enough of Jesus, can you?
I want to take another drink of Him, and another, and another. How about you? Are you thirsty? Do you feel worn out, discouraged, dry, or hopeless? If so, won't you come to Jesus and drink today?
Get alone with this sweet Lover of your soul. Open up your Bible and read His words in Matthew, Mark, Luke, and John. Drink in His very nature. The words that Jesus speaks are spirit, and they are life (John 6:63). As you read His words, He will renew and refresh your spirit!
Related: Ready To Feel Alive Again? and When Loving Your Sheep Hurts (my story of healing from betrayal in ministry).
Jesus is like sweet nectar for your soul. If you will come to Him and drink, He will make you new.
No matter how tired you have been, Jesus give you the courage you need to triumph today. He'll put the light back in your eyes and the spring back in your step. The cry of His heart, uttered two thousand years ago, is still for you today. "If anyone thirsts, let him come to Me and drink!"
Are you ready to take a long, deep drink?
Does this word speak to your heart today? If so, please leave a comment below. I love to hear from you!