Ready To Feel Alive Again?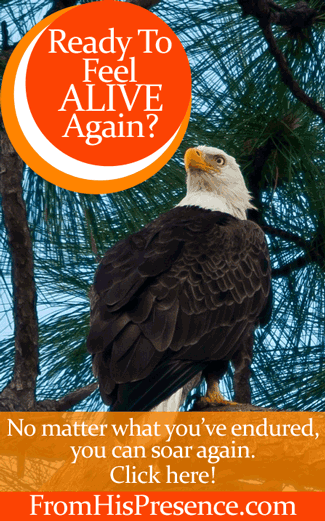 Have you ever had something happen that left you feeling dead inside? If so, are you ready to feel alive again?
Maybe you feel like you've been punched in the gut. Maybe you've been overwhelmed with depression. Maybe you feel like you've just been surviving.
Regardless of what happened, if you're ready to feel alive again, I can identify with that. There have been several days over the last few weeks when I felt hollow inside. My mind and body were still working, but I felt hollow in my spirit. That zeal and life that usually roar inside me were missing. I felt the difference acutely, too, and I needed to feel alive again.
I've been grounded, but I long to take to the proverbial skies again.
So I've been going to the Father, over and over. I've pulled back from almost everything so I can get in the Word more. I know I need MASSIVE doses of the Word in order to get back on solid footing in my soul and spirit.
It's working, too. The first two days, I studied Hebrews 1-5, and the Holy Spirit ministered to me about resting in Him, and letting Him take care of me and all of His people. The day after that, it was First Peter, and precious Holy Spirit spoke to me and comforted me even more. This morning, it was Deuteronomy 8 and Psalm 118. Each verse, each word, each passage feels like it is raising my soul and spirit back into life.
And while I was reading Deuteronomy 8, the Lord showed me why I was starting to feel alive again. Check this out:
So He humbled you, allowed you to hunger, and fed you with manna which you did not know nor did your fathers know, that He might make you know that man shall not live by bread alone; but man lives by every word that proceeds from the mouth of the Lord" (Deuteronomy 8:3, emphasis mine).
We do not live by outward provision. We don't live because of food, water, clothing, or shelter. We don't even live because of outward appearances. Everything might look right in the world around us, but we can still be dead inside.
Why? Because our source of life is God's Word. We literally live by every word that proceeds from the mouth of the Lord.
Even Jesus taught this principle. In John 6:63, Jesus said:
It is the Spirit who gives life; the flesh profits nothing. The words that I speak to you are spirit, and they are life" (emphasis mine).
God's words are life. They produce life in us because they actually ARE life. They are a manifestation of God, who is Life Incarnate. His words are alive and powerful (Hebrews 4:12).
That means that, when we read, study, meditate on, and receive His words, they produce life in us. His words are spirit, and they are life.
So are you feeling dead inside today? If so, are you ready to feel alive again?
Here's how:
Get in the Word. Study massive doses of Scripture, and before you even start, ask the Holy Spirit to open His Word up to you, speak to you, and give you life.
If you'll ask Him, He will. As you receive His words, you will find yourself coming to life again.
God is a God of life. He is the Source and Wellspring of life. Jesus came that we might have life, and have it more abundantly. So let's get in the Fountain of Life and drink from the well that never runs dry, shall we? As we do, we will find His life roaring inside us again.
Do you need to feel alive again? If so, won't you take in some massive doses of the Word today?
Related: When Loving Your Sheep Hurts: How I Found Healing After Betrayal
Image courtesy of Ricardo Mangual on Flickr via Creative Commons license. Image has been cropped and graphics added.