A Vision of Jesus Keeping Watch
Beloved, have you been trying to bear burdens that are too heavy for you? Are you desperately in need of rest? If so, the vision of Jesus the Lord gave me is going to encourage your heart today.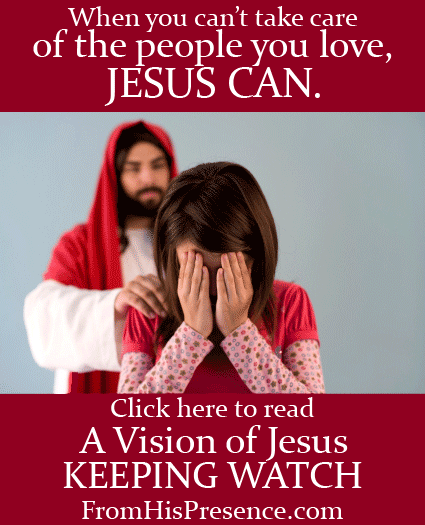 First, the Lord wants you to know today that HE is keeping watch over you. He is perfecting all things that concern you, and He will never fail you.
How do I know?
Because once upon a time, I saw a vision of Jesus keeping watch.
In my vision, I saw Jesus pacing up and down in the street in front of my house. He wasn't worried or afraid. He was there as a sentinel: alert, careful, all-knowing, all-powerful.
In this vision, Jesus was keeping watch. The King of Heaven and Earth, the Lord of Hosts was keeping watch over my house, my life, and over everything that concerns me.
I saw this vision as I was studying Hebrews, chapters 1-3, when I got to this passage (Hebrews 3:1-6):
"Therefore, holy brethren, partakers of the heavenly calling, consider the Apostle and High Priest of our confession, Christ Jesus, who was faithful to Him who appointed Him, as Moses also was faithful in all His house.

For this One has been counted worthy of more glory than Moses, inasmuch as He who built the house has more honor than the house. For every house is built by someone, but He who built all things is God.

And Moses indeed was faithful in all His house as a servant, for a testimony of those things which would be spoken afterward, but Christ as a Son over His own house, whose house we are if we hold fast the confidence and the rejoicing of the hope firm to the end" (emphasis mine).
This speaks to my heart so much, and I pray it will speak to you today as well.
Remember these things:
I cannot keep watch over people I love, and neither can you. But, He can and He will. He loves those people even more than we do, and they are more important to Him than they are to us.
I cannot build the church, and neither can you. It's His church.
I cannot physically protect my family, and you can't protect your family either. They are His people and the sheep of His pasture, and only He can keep them safe.
And honestly, you and I cannot even take care of ourselves.
I cannot number the times when I have collapsed at the feet of Jesus, utterly hopeless or exhausted or burned out or discouraged or burdened or afraid or heartbroken. Have you ever done that? (I'm assuming the answer is yes.) 🙂
But even in those times, there has never been an occasion when I have been able to fix myself. I am simply beyond my own ability to "fix." However, HE has been able to fix me–every time. And He is ALWAYS ready, willing, able, and eager to heal and "fix" YOU as well–together with fixing everything in your life that's wrong; everything in your life that doesn't look just like Heaven.
What a comfort that is!
Father's faithful watchcare over you is what Hebrews 3:6 is all about.
Jesus Christ is faithful over His own house. You and I are that house if we hold fast our confidence and rejoicing of hope firm to the end, and Jesus is faithful to keep watch over you and me.
That also means He's watching over the people we love.
Beloved, you may have a loved one who's away from the Lord. You may have a loved one in jail or on the streets. Maybe you have a loved one who is hooked on drugs. I know your heart hurts for them.
But beloved, when it comes right down to it, you can't fix them yourself.
These precious ones are His people and His sheep; the sheep of His pasture. They belong to Him. You cannot bear the burden for them; it's too heavy. We must drop it at His feet. And if we WILL drop that burden at His feet, we will find that He will be faithful to take care of it.
Jesus is the Good Shepherd; the Good Shepherd lays down His life for His sheep.
He already laid down His life for you and me, and we can trust Him with ourselves and with everything that pertains to us.
Jesus is good at His job. But let's face it: You and I are lousy at His job.
This is why God, in His mercy, gave me a vision of Jesus keeping watch. That's why I saw Jesus pacing in front of my house. It's a word of comfort to show us that JESUS, and only Jesus, can perfect the things that concern us.
Friend, Jesus is pacing in front of YOUR house today too. He is keeping watch over YOU too.
Just as Jesus Christ Himself is keeping watch over me, my house, and everything that pertains to me, as one small part of His own house, so He is also keeping watch over YOU.
Jesus is pacing in front of your house too. He is on high alert. He's not scared, anxious, or nervous; He's simply keeping watch over your house:
Jesus is pacing in front of your house. Jesus is keeping watch over you. He doesn't even mind the weeds in your flower bed. He simply knows you and loves you anyway, and He's taking care of everything.
This word was of great comfort to me, for it helped me see that He doesn't want me to try to bear a burden that belongs to Him.
And He doesn't want YOU to bear a burden that belongs to Him either.
The same encouragement the Lord spoke to me above goes for you too. You are His house. He is keeping watch over you and everything that concerns you. He who began a good work in you will be faithful to complete it until the day of Christ (Philippians 1:6). Not only that, but He will complete His work in everyone you care about too.
So let your burdens go. Drop them at His feet. Enter into Father's rest, and let Jesus Christ, the Intercessor, the Burden-Bearer, the Shepherd from on high do the work instead.
We are His house, and Jesus is faithfully keeping watch over His own.
Have you been carrying any burdens you shouldn't be carrying? If so, does this speak to you too? I'd love to hear about it. Please leave a comment below.