God Has Already Perfected Your Life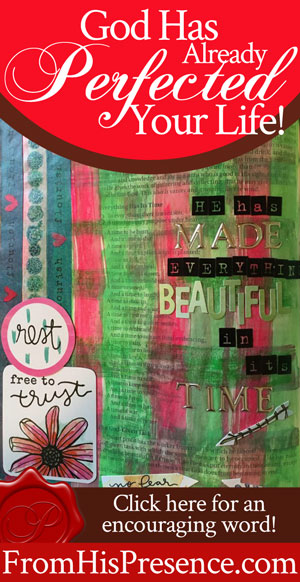 Dear Presence seekers, are you worried, anxious, or upset about something you're experiencing right now? If so, I have an encouraging word for you today: God has made everything beautiful for you already. He knows the end of the story, and it's going to turn out fine.
The Lord encouraged me personally about this subject recently, and I wanted to pass His encouragement on to you. 🙂
Here's what happened:
I received my Illustrated Faith Free to Flourish devotional kit for March. This is a kit that DaySpring produces; they make a new one each month. (Check out DaySpring's addicting new Bible study products here if you're interested, and read my Free to Flourish kit review and two other prophetic words here for more details.)
I receive these to review, and I LOVE them. Not just because they are fun, but because each month the Lord speaks to me out of them. He uses them as rhema (His timely, prophetic word) in my life.
So when I got the Free to Flourish kit, I was delighted. Why? Because something yucky happened in my life recently that made some of the challenges I went through last year look like child's play. (And if you've been in our community any length of time, then you remember how hard last year was for me.) #ThankGodIt'sOver
But something else happened that was really, really challenging. And you know what? God started talking to me about flourishing ANYWAY.
That's right. God said He wanted me to flourish anyway.
In other words, I knew in my heart that the will of the Lord in this case was for me to just go on. To keep my eyes on Him, believe His Word, and bloom and grow anyway.
The Scripture He took me to was Ecclesiastes 3:1-13, which says:
To everything there is a season, a time for every purpose under heaven:

A time to be born, and a time to die; a time to plant, and a time to pluck what is planted;
a time to kill, and a time to heal; a time to break down, and a time to build up;

a time to weep, and a time to laugh; a time to mourn, and a time to dance;
a time to cast away stones, and a time to gather stones; a time to embrace, and a time to refrain from embracing;

a time to gain, and a time to lose; a time to keep, and a time to throw away; a time to tear, and a time to sew;
a time to keep silence, and a time to speak; a time to love, and a time to hate; a time of war, and a time of peace.

What profit has the worker from that in which he labors? I have seen the God-given task with which the sons of men are to be occupied. He has made everything beautiful in its time. Also He has put eternity in their hearts, except that no one can find out the work that God does from beginning to end.

I know that nothing is better for them than to rejoice, and to do good in their lives, and also that every man should eat and drink and enjoy the good of all his labor—it is the gift of God" (Ecclesiastes 3:1-13).
And what the Lord wanted–for me to just go on and flourish anyway–felt challenging to me.
Uh, real challenging. #IfYouGetMyDrift
Why? Because, when trials come, our flesh doesn't want to rejoice anyway, believe God anyway, rest in God anyway, and have peace anyway. And the enemy certainly doesn't want us to do any of those things.
But God does.
And you know what He said to me out of the passage in Ecclesiastes above? To write it like a poem, He said that:
He: Yes, He!
has: Past tense; it's already done!
made: With His own two hands He crafted it!
everything: Absolutely everything about my life, including the ups and the downs and the yucky parts and the things I was worrying about!
beautiful: I mean really beautiful; so beautiful that if I could read the storyline, I wouldn't change a thing.
in its time: meaning that, at the time He has appointed, I WILL see the storyline. Not in my time, but in His.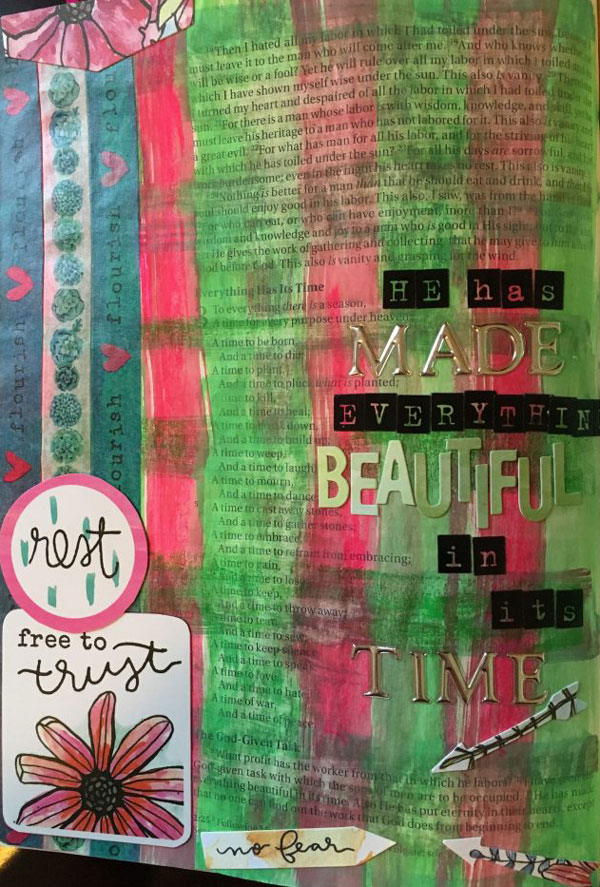 He has made everything beautiful in its time.
For example:
All the stuff I have been worrying about.
All the stuff I like.
All the stuff I don't like.
All the good stuff.
All the bad stuff.
All the trials, tribulations, joys, sorrows, laughter, and storylines that all intertwine in my life.
He has made all of these things beautiful in their time.
And Papa God has already made everything beautiful in its time for you too. He has already perfected your life, even if you don't see that perfection yet.
What have YOU been worrying about lately? I don't know what is pressing on your heart, but God sure does. I don't know what is making you sad, but Abba does. I don't know the hopelessness you might feel right now about your situation, but Papa God–your good, good Father who loves you–sure does.
He knows all of it:
He sees the fear that assails you.
He knows your sorrow.
He sees your struggle.
But He is also calling you to trust Him. To commit your way to the Lord; to trust also in Him, and He will direct your paths … because He has made everything beautiful in its time.
God has already perfected your life, past tense. He has already written a beautiful storyline for you. He finished all the work.
God has already finished the good works He created for you to do. Ephesians 2:10 says:
For we are His workmanship, created in Christ Jesus for good works, which God prepared beforehand that we should walk in them."
And Hebrews 4, verses 3, 9, and 10 say:
For we who have believed do enter that rest, as He has said:

'So I swore in My wrath, 'They shall not enter My rest," although the works were finished from the foundation of the world. … There remains therefore a rest for the people of God. For he who has entered His rest has himself also ceased from his works as God did from His."
So even if you are going through a hard time right now, God says that you don't have to worry about it.
You can rest, and trust Him. (In fact, God takes it really personally if you refuse to rest and trust Him! See my series called Rest in God, Reach Your Destiny for more about that.)
You don't have to worry about it because Father will perfect all things that concern you. He has already made everything beautiful in your life, and He's bringing you into that beauty right now.
He's bringing you from glory to glory, from faith to faith, and from strength to strength. He's building you and leading you and growing you.
And He has already made everything beautiful for you. Papa's got it under control.
So will you rest? Will you trust Him? Will you flourish anyway–despite any circumstances that may be swirling around you?
Pray this simple prayer with me:
"Heavenly Father, in Jesus' name, I choose to rest in You today. I thank You for having everything under control. I trust You, Lord. Even though I don't always understand, I trust You.
So Father God, in Jesus' name, help me to rest in You today. Help me to set my mind and keep it set on things above, where Christ is. I bind my mind to You, Jesus. Keep me at perfect peace, for my mind is stayed on You. And help me to look at You and only You, and to hide Your Word in my heart, that I might not sin against You.
Lord Jesus, thank You for perfecting all things that concern me when You died on the cross. You paid the price to redeem, build, heal, and restore my life. I plead Your blood over me, my life, my mind, and my thoughts today. Let Your Kingdom come and Your will be done in my life on earth as it is in Heaven.
Thank You, Father God. In Jesus' name, amen."
Did Father God speak to your heart also using this word? If so, please leave a comment below. I love hearing from you!
Would you help me with my work of reaching people for Jesus as a domestic missionary? I need you! This blog, and all of my mission work in person, are made possible through your partnerships, donations, and product purchases.
If you'd like to help me, please check out the partnership details and products available for sale here. And, thank you in advance for helping make this blog and everything we do together for the Kingdom possible!