Prayer to Break Drug Addiction
Beloved, are you praying for someone who is addicted to drugs? Or, are you addicted to drugs yourself, and you desire to be free? If so, I believe that as you pray today's prayer to break drug addiction, the Lord will help you choose to be free. He whom the Son sets free is free indeed!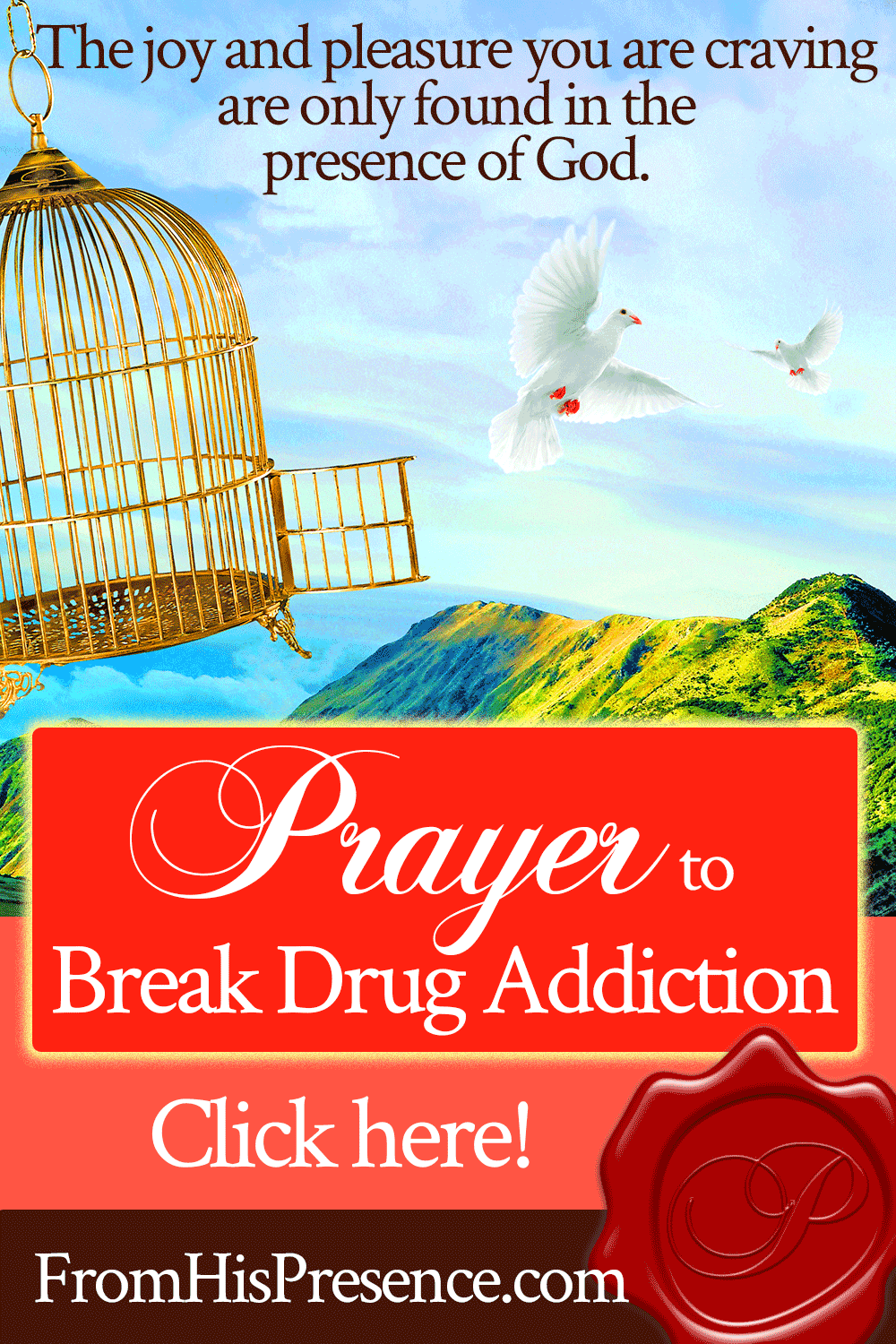 First, you need to know that drugs are an unholy substitute for the presence of God.
Psalm 16:11 says:
"You will show me the path of life; in Your presence is fullness of joy; at Your right hand are pleasures forevermore."
There are some cravings in life that actually feel like other cravings, because they produce similar results.
For example, when you're thirsty and dehydrated, a person will often crave sugar. Why? Not because your body really needs sugar, but because sugar provides a similar experience as drinking water does. (It never works out as well, though.)
Well, drugs are an unholy substitute for the presence of God. They are Satan's device that he uses to try to woo people away from the presence of God.
Think about it: people who take drugs are, at the root level, looking for joy, pleasure, escape, and relief. They're looking to numb the hurts of this world (hurts of whatever type) and feel a good feeling instead.
Drugs don't solve any problems or heal real hurts, though–and they don't provide lasting joy OR pleasure.
Nevertheless, Satan, our enemy and the Deceiver, tempts people to place their trust in drugs for help and escape, instead of placing their hope in the Lord. Satan doesn't want you to know Jesus, for it's in Jesus' presence that we can find TRUE fullness of joy and pleasures forevermore.
And when people choose to give in to Satan's temptation to seek pleasure in drugs instead of in Jesus, they become quickly addicted and chained to drugs.
BUT GOD.
Our God is bigger than drugs, and He is greater.
Our God's power to heal, save, and deliver knows no bounds. And no matter who you are–no matter how long you have been addicted to drugs–GOD can deliver you and help you make better choices.
Even if you are not addicted to drugs yourself, but you know and love someone who is, GOD can deliver that person, heal them, and set them free through your prayers.
Isaiah 53:5 says:
"But He was wounded for our transgressions, He was bruised for our iniquities; the chastisement for our peace was upon Him, and by His stripes we are healed."
Related post: To Hell With Redemptive Suffering! Jesus Paid It All
And Isaiah 59:1 tells us:
"Behold, the Lord's hand is not shortened, that it cannot save; nor His ear heavy, that it cannot hear."
God is not intimidated at all by drug addiction. His heart breaks over your pain, but He is easily able to save and deliver you from your addiction.
Of course, it will require you to CHOOSE freedom, though.
You can pray the prayer to break drug addiction, which I have placed below. And God can and will deliver you in a moment, as soon as you ask, if you believe.
BUT, YOU will have to make the choice day in and day out, going forward, to walk in that freedom. You will have to CHOOSE to embrace the presence of God as your joy and pleasure, seeking Him and receiving release and escape from your burdens in Him.
You can do it, though, because God will help you if you ask. You will NEVER be alone; our God will always be with you. Jesus said so in Matthew 28:20:
"… and lo, I am with you always, even to the end of the age.' Amen."
Jesus loves you so much and wants you to be free.
He is ready to deliver you right now, and He will help you walk in your freedom and seek Him instead of the temporary, harmful escape of a drug high. And no, it's not too hard. You can do it because God will help you.
On this journey, beloved, you will never be alone or without support. The One who loves you most and knows you best will be right with you, walking beside you the whole way–forever. 🙂
So today, I want to offer you a sample prayer to break drug addiction.
Are you ready? Pray this with me:
"Dear Heavenly Father,
I come to You in Jesus' name. Heavenly Father, thank You for hearing my cries when I am broken.
Thank You for being the solution to all my troubles if I will just cast them on You. Thank You for loving me and hearing my prayer today.
Heavenly Father, I repent for seeking drugs instead of seeking You. I confess that I have been seeking escape, fulfillment, relief, comfort, and even reward in drugs instead of in You.
I confess that drugs have been my idol; I have been going to them for everything I need, instead of to You. O God, forgive me. Have mercy on me, for I have sinned against You; I confess it and I repent of it. I'm so sorry, Lord. Thank You for forgiving me.
Father, I don't want to sin against You anymore. I desire to be free from drugs; I desire to cling to You instead of clinging to drugs.
Therefore, Father, I come to You as a little child–Your child. Thank You for loving me; thank You that Your ears are open to hear my prayer of repentance.
And because You said that by Jesus' stripes I am healed, I receive my healing and deliverance and freedom from You right now. I simply receive, Father.
Jesus, I thank You that I don't have to earn it or be good enough.
Your Word says that You bled on the inside for my iniquity–for my inner delight in sin. So since You bled and died for me, that I may be free and healed, I receive Your blood right now, Jesus. I receive Your blood to expunge all addiction and iniquity out of my soul.
Father, please forgive me for seeking drugs for so long.
I was wrong, Father, but I thank You that 1 John 1:9 tells me that if I confess my sins, You are faithful and just to forgive me my sins, and to cleanse me from all unrighteousness. Thank You, Father. Thank You for Your mercy. Thank You for forgiving me, and thank You for loving me.
Now Father, I ask in Jesus' name that You would help me cling to You with all my heart, soul, mind, strength, and body from now on:
Please help me learn to love You like You deserve to be loved.
Help me desire You and yearn for You like You deserve to be desired and yearned after.
Help me to seek You like You deserve to be sought.
Help me to crave You in my inmost being, and to always know that it's YOU my soul craves–not drugs or anything else.
Help me to seek only You, and not seek anything or anyone else.
Help me to get lost in Your presence day after day after day, morning and evening and noontime and midnight.
Teach me the fullness of joy that is found only in Your presence.
Help me to daily experience the true pleasures that are only found when I am abiding in You and dwelling in Your presence.
Father, please help me to abide in Jesus.
Keep me on a short leash; keep me from temptation. I pray that with every temptation, You would quickly show me the way of escape–and help me to choose to submit to You and resist the devil with every moment of my life.
Father, I ask in Jesus' name that You would discipline me however You need to in order to bring me into LIFE ABUNDANTLY.
I yield myself to You, Father God. Jesus, I yield myself to You completely. Holy Spirit, I give myself over to You without reservation. You are Lord of my life. You are my God, and everything that concerns me is in Your hands.
And Father, Your Word says that You discipline the son whom You love.
You chasten the child You cherish. And since I know You love me, I trust myself to You. Father, please discipline me. Correct me. Teach me, and make me humble before You.
Father, I ask also that You would bring me into the accountability You desire me to have.
Please help me to be humble and submit myself to accountability every day. I do not ask this as an addict, for You are setting me free, Father. Instead, I ask this as a beloved son, in whom You are well pleased–and who is learning to walk before You in white.
Please help me learn, Father, to walk before You in community with others, and to be built up into my most holy faith in You every day.
Father, please help me feel Your love and affection.
I need You, Father. Please fill me and heal me down to the very deepest parts of my soul–those parts that not even I know about. Please also take away my old, stony heart and give me a new heart of flesh–Your heart. Take away my old spirit and fill me with Your Spirit.
Help me to become completely and totally obsessed with Jesus, my Lord and King.
Please fill me up with Jesus morning, noon, and night. Help me to fill up with You also. Speak to me in the night seasons, and help me understand what You are saying.
Give me discernment, Father; help me to cling to Your Word and reject anything that doesn't match or agree with Your Word.
Father, please help me to hide Your Word in my heart, that I might not sin against You (Psalm 119:11).
Keep me from sinning against You. Help me to fall so in love with Jesus that I NEVER grieve Him again. You can help me do that, Father, for You have freed me from sin and shame.
Father God, I give my life to You wholly and unreservedly.
In this moment, I make Jesus Christ Your Son my Savior and Lord–the Boss and Master of my life–wholly and unreservedly. I yield myself completely to You.
Be my God in all things, including in my behaviors. Be my Savior. Be my King. Be the Total Authority over my life. Forgive my sins and fill me with Your Holy Spirit.
I call upon You, Father, and I thank You for answering me.
Thank You for delivering me and honoring me with Your presence, Your love, and Your grace (Psalm 91). Preserve my life and keep me safe. Help me to be a witness for You and for Your glory. Please let Jesus be powerfully manifest in my life today and forevermore. Quicken my mortal body and give me life forevermore, and life abundantly.
Thank You, Abba Father. I give You all the praise. In Jesus' mighty and precious name I pray, amen."
Beloved, if you yield yourself to Jesus, He can and will set you free in an instant.
After that yielding, you will need to move forward every day choosing to be obsessed with Jesus. You will need to choose every day to dwell in His presence, so you can experience the fullness of joy and pleasures that are yours at His right hand.
That means you will need to make choices consistent with your obsession with Jesus, such as:
Surrounding yourself ONLY with people who are also obsessed with Jesus–even who are MORE obsessed with Jesus than you are.
Praying every day for God's precious Holy Spirit to help you be hungry and thirsty for Him.
Setting aside DAILY time alone with God, FIRST thing in the morning, for prayer and Bible study and worship, so you can get lost in His presence.
You will need to eliminate books, music, TV, and movies that do NOT portray an obsession with Jesus–and fill your life with things and sounds that DO magnify Jesus. (This converts the headwind of unholy media in your life into a tailwind of God's glory that will propel you farther into God's healing, glory, and love.)
These are the things it takes to develop an obsession with Jesus, and to walk daily in His manifest presence–in which you will find fullness of joy and pleasures forevermore.
Beloved, Jesus loves you. He loves you more than anyone on earth could ever love another person.
HE is the One you have been seeking. HE is the One you have been yearning for. HE is the Lamb of God who takes away the sins of the world. HE is the Man of sorrows, who bore your sins, sickness, infirmities, and addictions all the way to the cross.
And JESUS is the One who sets you free.
You'll never know another love like the love of Jesus. You'll never know a better freedom than the freedom that Jesus brings; He whom Jesus sets free IS truly free indeed. And you'll never know a better joy than the joy that comes from the presence of Jesus, from walking and talking and living with Jesus.
To encourage yourself, download "Only In My Father's Presence," a song Jamie wrote that is available for FREE download here:
Beloved, in the presence of Jesus everything becomes all right.
In the presence of Jesus, you will receive comfort and peace. In the presence of Jesus, you will be empowered to see with Spirit eyes. In the presence of Jesus you will receive wisdom, guidance, and instruction.
JESUS is wonderful. He's marvelous. He's magnificent, and He loves you.
Jesus Christ is obsessed with You. Father God loves and created you, and He has been waiting on His front porch for you all these many years. He sees you coming toward Him, and He started running toward you the moment you began confessing your sins today.
Beloved, your Father is running toward you not to discipline you, but to forgive you, wrap His arms around you, put His ring on your finger, and place His robe on your back.
Will you receive Him today? Will you choose Him, and to walk in the freedom and pleasure and fullness of joy that being in His presence brings?
Beloved, did this prayer to break drug addiction help you today? If so, please leave a comment below. I love you in the Lord, and I will be praying for you.