Prayer for Weight Loss and Health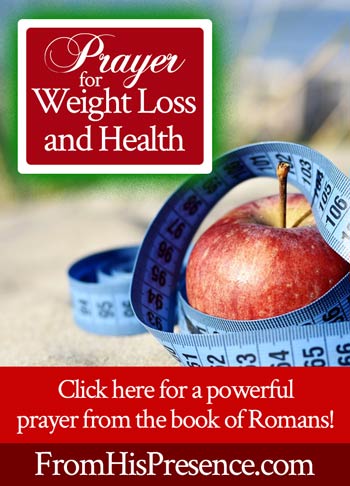 Do you desire to be slimmer, trimmer, healthier, and fit? Do you need Papa God's supernatural help to get that way? If so, pray this prayer for weight loss and health with me! When you do, you'll see God work miracles on His part PLUS send you His grace, strength, and anointing to help you with your part!
Yesterday, the Lord told me to read Romans 8. That chapter was nowhere on my Bible reading plan for today, so I wondered what He had in mind. I began to read, when all of a sudden, a verse LEAPED off the page at me–and Holy Spirit started talking to me about weight loss, of all things.
Here's the backstory:
For years, I weighed a slim 145 pounds. I could eat anything and do anything, and still I weighed 145 pounds. It was great! But then, stress began catching up with me. I went through a few years of depression also, and that made things worse. The pounds piled on.
Then, last year, I had a baby. I gained a lot of weight during pregnancy, as one does. 🙂 I have gotten pretty much back to my pre-pregnancy weight at this point. BUT, my pre-pregnancy weight is still 3 pants-sizes too big.
Long story short, I need to get healthy, fit, and trim again. I need to be healthy to appropriate everything Father God has for my life …
… and so do you.
Do you struggle with getting fit and healthy too?
Getting healthy and looking good is one of the biggest things people struggle with. But you know what? It doesn't have to be that way.
Why? Because Father God cares about your health. He cares about your body. Jesus paid the price to heal you and bring you victory in ALL areas–including your health and weight.
By the stripes of Jesus, you are healed. Healed of all sickness and all disease–including obesity.
Yes, even if you got yourself into this mess, as I did.
So yesterday, as I was studying, Holy Spirit threw me His promise to help me with weight loss and health.
Then He told me to write about it–because it's for you too.
Here is the Scripture that Holy Spirit told me to pray about weight loss and about my health:
But if the Spirit of Him who raised Jesus from the dead dwells in you, He who raised Christ from the dead will also give life to your mortal bodies through His Spirit who dwells in you" (Romans 8:11).
How do you know if this Scripture applies to you?
It does–IF you have made Jesus the de facto Boss and Master (Lord) of your life. (Read how to make Jesus your Lord here if you aren't sure.)
If you have made Jesus your Lord, then you do have His Holy Spirit–the "Spirit of Him who raised Jesus from the dead"–dwelling inside you. He took up residence in your heart the moment you gave your life to Jesus.
How does this Scripture apply to weight loss?
Obesity is one of the biggest causes of death and sickness in the modern world. According to the Centers for Disease Control and Prevention, "Obesity is a serious concern because it is associated with poorer mental health outcomes, reduced quality of life, and the leading causes of death in the U.S. and worldwide, including diabetes, heart disease, stroke, and some types of cancer."
Obesity is a destroyer. It is a devourer and a robber of life. (Hey, that means you can pray this sixfold blessing against obesity too.)
But Romans 8:11 says that Father God, who raised Jesus from the dead, will give LIFE to our mortal bodies–yes, that means in this lifetime, not just in Heaven–through His Spirit. And since Father will give life to our mortal bodies, that means Father will help us be healthy and fit and of the proper weight.
But, you say, "Don't I have to do something too? Surely I have to do my part."
Yes, of course you do; I do too. We have to exercise, eat healthy foods, and generally care for our body.
The good news is that Papa God has something to say about that too: He will actually help you do everything you need to do. He'll do His part, and He'll help you do your part. That, my friend, is amazing news!
Philippians 2:12-13 is the Scripture we can claim for Holy Spirit's help with our part. This passage says:
Therefore, my beloved, as you have always obeyed, not as in my presence only, but now much more in my absence, work out your own salvation with fear and trembling; for it is God who works in you both to will and to do for His good pleasure" (Philippians 2:12-13).
Did you get that? He works in you to help you WILL–in other words, to help you want to–AND DO His good pleasure. He gives you the "want to" and helps you carry it out.
Thank You, Father God!
Beloved, we have to do our part to get healthy and fit. BUT GOD–He has promised to help you.
We can do nothing without Jesus. He told us that Himself in John 15:5:
I am the vine, you are the branches. He who abides in Me, and I in him, bears much fruit; for without Me you can do nothing" (John 15:5).
But you know what? WITH HIM, we can do everything. Absolutely everything. "I can do all things through Christ who strengthens me" (Philippians 4:13). And I am learning more and more that the way to see that activated in our lives is to apply it to the hard things–the things that we feel defeated on; the things we feel are impossible.
When we apply Papa's promises to the hardest things, we're testing Him.
More than that, we're testing our own faith. Stretching it. Forcing it–forcing our faith to fill up the nooks and crannies of our lives; the dark places that we haven't let Holy Spirit access yet.
God will always prove true when we test Him. But when you test Him and force our own faith to expand, not only will you grow spiritually, but you will also see results.
That is transformation territory.
Are you ready to walk on transformation territory with me? If so, pray this prayer for weight loss and health:
"Father God, I come to You in Jesus' name.
Papa, thank You for sending Your Son Jesus to die on the cross for me. Thank You for forgiving my sin. Thank You, Jesus, for being the Lord and Savior of my life. And thank You, Father God, for sending Holy Spirit to live in my heart now that I have made Jesus my Lord.
Papa God, Your Word says that, if Holy Spirit dwells in me, then You will give life to my mortal body through Him–through Your Spirit. I know You are referring to this body I live in now, for my heavenly body will be my immortal body–not my mortal one. And I know that Your Word says my body is the temple of Your Holy Spirit, and it belongs to You. I am not my own.
Papa, I desire to glorify You with my body.
I also desire to feel good; to be healthy, energetic, and strong. I desire to look good too. I desire to be and look fit and healthy and muscular, with no excess body fat, because I know that is Your will for me–and it will make a world of difference in my life too.
So, Abba Father, I submit my body to Your Lordship.
I ask right now in Jesus' name that You would give life to my mortal body through Your Spirit. I ask You both to help me do my part and I'm asking for Your miracle assistance. Please fire up my metabolism right now, Lord, and let my body begin to burn off the fat. Let the pounds melt away, Lord, without having the increased metabolism make me hungrier.
And Father God, since Your Word says that You are working in me both to want to do Your will AND to actually carry it out, please help me right now both to will and to do for Your good pleasure.
Specifically, Father:
Help me desire to be healthy and fit more than I desire to eat.
Help me desire to eat healthy food more than I desire to eat unhealthy food.
Help me desire to look good more than I desire to satisfy fleshly cravings.
Help me choose healthy foods over unhealthy ones every time.
Give me wisdom to know what foods are good for me and which foods are bad for me.
Help me choose to drink water, rather than drinking unhealthy things.
Help me choose to exercise purposefully every single day.
Help me choose to be active, even during my ordinary activities, every single day.
Convict me about every single thing I do that is unhealthy, Lord–everything.
I hold nothing back from You. Search me, O God, and know my heart. Try me and know my thoughts. See if there be any wicked way in me; and if there is, GET IT OUT! And lead me in Your way everlasting.
Father, I can do nothing without You.
I can do nothing without Jesus and Your Spirit. But WITH YOU, I can do all things. I confess Your Word that I can do all things through Christ who strengthens me. I confess Your truth that, with You, all things are possible (Matthew 19:26). And I confess that You are transforming me right this minute, activating and demonstrating all Your truth in my life as I believe and obey You.
Thank You, Father.
Please help me to keep track and watch for Your answers to my prayers.
Help me to track my weight and my progress. Help me to keep caring about my body and get healthier every day, from now through the rest of my life. And next year at this time, I will be completely different. I believe it, Lord, for I choose to submit to You–and day by day, I know I will see You giving life to my mortal body as we work together to manifest Your will in my life.
Thank You, Father. I give You all the praise. In Jesus' name, AMEN."
Does this word leap in your spirit? Did you pray the prayer–and will you dedicate this area of your life to Jesus' lordship? If so, please leave a comment below!
Also, be sure to print this prayer using the "print-friendly" button and pray it daily! 🙂